What You Will Learn?
Understanding Anaphylaxis and severe allergies
Indications of Anaphylaxis
EpiPen and AnaPen use
First aid management of Anaphylaxis
Other Management
Minimising the risks of anaphylaxis
Skills practice and scenarios
This course is conducted under the auspices of Healthcorp Pty Ltd RTO Number 91222
Who are the real first aid trainers?
Our qualified instructors are world-class legends. They're paramedics, firemen, critical care nurses and former military. These are people who know how to think on their feet and will teach you to do the same. Our trainers want you to be involved, ask questions and have a go. Great effort and planning is taken to ensure an inclusive, safe and non-intimidating learning environment. We don't want you to memorise a stack of information on 'how to apply first aid', we want you to experience it for yourself.
Meet The Team
How to choose a course?
Think of first aid training as a toolbox for life. The more training you complete, the more tools you will have in your toolbox. The more tools in your toolbox, the more you have to draw upon should you ever be faced with a real-life emergency. A great way to get your toolbox started is to think about why you want to complete first aid training. This will help determine what skills you may like to acquire first. There are many reasons why people complete first aid training. It could be to create a safer workplace at home or school or just to have the ability to help others. Your reasons can, and most likely will, change over time – and that's OK! You can always add to your toolbox.
Choose a course
Want to know more about Real First Aid training sessions?
Real First Aid training is conducted in groups. This can be at one of our venues, or we can come to you. If you're looking at first aid training for staff for example, this is an easy option – no travel required. Over the duration of the course you will take part in a series of 'simulated' emergency situations where you will be guided to respond effectively. Our priority is to ensure everyone in the group leaves feeling confident that they could apply first aid should they ever need to. We encourage team learning, problem solving and participation. One other thing, while we don't think emergencies are a laughing matter, we definitely don't shy away from making training sessions as engaging and enjoyable as possible.
Why choose Real First Aid?
There's a reason why Real First Aid receives on-going endorsements, industry and peer acknowledgement and positive reviews from graduates. Our dedication to delivering world- class first aid training is paramount. We truly want every student to engage, enjoy and learn from their experience with us. We understand that choosing a first aid trainer provider requires trust, and we want you to always feel like you're in safe hands.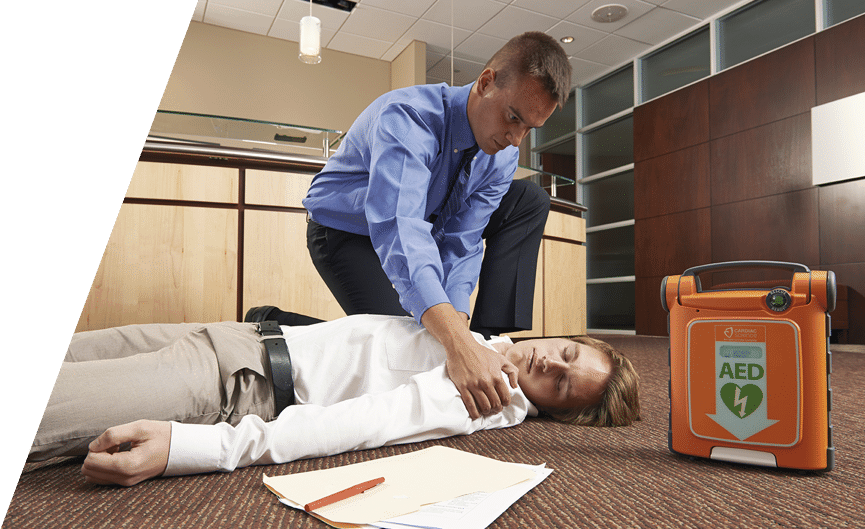 First Aid Management of Anaphylaxis
Anaphylaxis is a life-threatening allergic reaction that can affect various parts of the body. Symptoms can include breathing difficulties, a rapid drop in blood pressure, or both. Anaphylaxis symptoms appear suddenly and survival is dependent on fast action. The Real First Aid, Anaphylaxis first aid management course helps graduates understand the indications of anaphylaxis along with treatment measures to deal with this life-threatening situation. Anaphylaxis First Aid Management is a 3 hour nationally accredited course.
Real First Aid immersive courses are designed for deeper learning outcomes that arm graduates with the know-how to respond quickly and efficiently in any emergency. Every second is crucial in life or death situations, so Real First Aid instructors are dedicated to empowering students with the right mental approach alongside specialised medical emergency procedures. Simulation training is used to replicate real life emergencies in a 'learning by doing' environment, allowing students the opportunity to engage in realistic emergency responses. Simulation training encourages team work, critical thinking and appropriate response, along with much greater knowledge retention.
Anaphylaxis First Aid Attainments
This specialised course is solely dedicated to Anaphylaxis diagnosis and treatment procedures. Students develop a thorough understanding of allergic reaction symptoms including breathing difficulties, swelling of the throat, heart rate fluctuations, abdominal pain and more. Anaphylaxis first aid treatments are commonly performed by emergency services personnel, and the knowledge provides a valuable resource for accredited first aid practitioners. First Aid Management of Anaphylaxis is a stand-alone course that can also be combined with other essential Real First Aid qualifications. Graduates of the anaphylaxis first aid courses are certified for twelve months.
Apart from developing an understanding of anaphylaxis symptoms and indicators, students also learn how to administer a measured dose of adrenaline (known in some countries as epinephrine) with an Epipen. This device is a first aid must-have for treatment of severe allergic reactions. Real First Aid courses instructors are experienced emergency services personnel who are eminently qualified to oversee practice scenarios that promote leadership during emergencies. Students also learn how to minimise the risks associated with anaphylaxis, along with ongoing treatment of patients during the recovery phase.
Real First Aid solutions
In reaching out tothe broader public and private industry, Real First Aid courses can be held on location for industry-specific training. Our course facilitators create unique emergency scenarios by creating simulations that are tailored to individual needs. In the few years since its foundation in 2014, Real First Aid has taken the industry standard first aid courses and CPR learning to new levels of immersive understanding, producing capable people who are willing and able to step up when emergencies arise.
Knowledge is tested when individuals or organisations are confronted with the reality of an emergency. Time is of the essence, and appropriate responses are reliant on a calm approach under pressure. Although first aid theory is essential, it won't save lives unless applied properly. Real First Aid emergency simulations provide a genuine working knowledge of first aid approaches, and are a major reason for successful emergency response outcomes. Real First Aid was established in response to a glaring lack of first aid and CPR knowledge retention by students, and the simulations present a first-hand opportunity to test
knowledge
and
skills
in real-time emergency situations.