Asthma affects 10% of all Australian children, with most carrying the condition into adult life. It's important that workers in care-giving occupations have a thorough understanding of asthma, its triggers and symptoms, along with strategies in place to minimise the impact of an asthmatic attack. People working in childcare and services involving the elderly or other vulnerable Australians require appropriate asthma response. Asthma course graduates appreciate greater confidence, ability to assist those around them, and higher levels of job satisfaction. 
What You Will Learn?
The signs of asthma can be easy to detect, and with a treatment plan in place, those under competent supervision are in good hands. The Asthma Course (22282VIC) contains important skill sets for asthma response. Assistance can be hours or days away when managing injuries far from home, so the course also covers prolonged care, infection control and hygiene, environmental dangers, managing dehydration and more.
Signs and symptoms of asthma: mild, moderate,
severe and life-threatening
Risk management strategies for the workplace
Hazard identification and reduction
Common allergic and non-allergic asthma triggers
Asthma action plans, medication and equipment
Workplace policies, standards and procedures
Who are the real first aid trainers?
Our qualified instructors are world-class legends. They're paramedics, firemen, critical care nurses and former military. These are people who know how to think on their feet and will teach you to do the same. Our trainers want you to be involved, ask questions and have a go. Great effort and planning is taken to ensure an inclusive, safe and non-intimidating learning environment. We don't want you to memorise a stack of information on 'how to apply first aid', we want you to experience it for yourself.
How to choose a course?
Think of first aid training as a toolbox for life. The more training you complete, the more tools you will have in your toolbox. The more tools in your toolbox, the more you have to draw upon should you ever be faced with a real-life emergency. A great way to get your toolbox started is to think about why you want to complete first aid training. This will help determine what skills you may like to acquire first. There are many reasons why people complete first aid training. It could be to create a safer workplace at home or school or just to have the ability to help others. Your reasons can, and most likely will, change over time – and that's OK! You can always add to your toolbox.
Want to know more about Real First Aid training sessions?
Real First Aid training is conducted in groups. This can be at one of our venues, or we can come to you. If you're looking at first aid training for staff for example, this is an easy option – no travel required.
Over the duration of the course you will take part in a series of 'simulated' emergency situations where you will be guided to respond effectively. Our priority is to ensure everyone in the group leaves feeling confident that they could apply first aid should they ever need to. We encourage team learning, problem solving and participation.
One other thing, while we don't think emergencies are a laughing matter, we definitely don't shy away from making training sessions as engaging and enjoyable as possible.
Why choose Real First Aid?
There's a reason why Real First Aid receives on-going endorsements, industry and peer acknowledgement and positive reviews from graduates. Our dedication to delivering world- class first aid training is paramount. We truly want every student to engage, enjoy and learn from their experience with us.
We understand that choosing a first aid trainer provider requires trust, and we want you to always feel like you're in safe hands.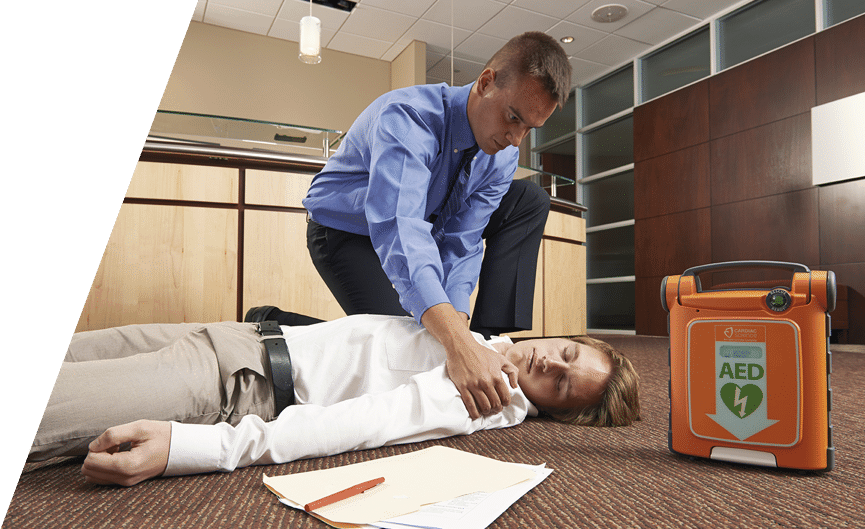 Asthma Course
It's heartening that care occupations are finally being recognised for the far-reaching benefits they provide. Asthma is an extremely problematic ailment that isn't going away any time soon, making first aid precaution and countermeasures extremely useful. Health, wellness and care industries are an essential part of modern society, assisting Australians of all ages to remain safe and happy, and when staff are first aid trained to combat asthma and other allergies, help is always on hand. For a tailored learning experience, Real First Aid offers Management of Asthma Risks and Emergencies in the Workplace (22282VIC).
Why is the Asthma Course Important?
The course is complete in only 4 hours of dedicated participation. In that time, you will gain the knowledge and skills for timely emergency first aid response. Of course, not every accident is life-threatening, but it's good to possess occupation-specific first aid skills that are ready for use. Asthma can be debilitating and even deadly, with young children most prone to the ill effects.
It's also worth noting that asthma triggers are incredibly varied, with airborne particles among the suspects that cause bronchial problems and other ailments in people of all ages. With the number of people entrusted to caregiver attention increasing, the responsibility for occupational health and safety needs to be shared, and first aid skills training is an obvious solution.
Who is Asthma Response Training Suitable For?
Associated health industries such as childcare and aged care have facilitated an entirely new society. For example, approximately 50% of all Australian children aged 0-12 attend formal and informal child care. In other words, half of all Australian children require additional supervision when their parents are busy with other responsibilities. Real First Aid works hard to ease the burden on childcare and school staff by providing dramatically improved first aid and emergency response capabilities for staff and managers of caregiving institutions.
What are the Course Qualifications?
Asthma Course (22282VIC) qualifications are in demand throughout health and care industries. The certification lasts for 3 years, making Management of Asthma Risks and Emergencies in the Workplace great value for money. Real First Aid qualifications are versatile, and any place people gather will be benefited by on site first aiders. At Real First Aid, practice really does make perfect for whenever low-frequency, high-risk situations arise.
Can I Progressively Learn with First Aid Training Courses?
First aid and CPR training modules are compared to building blocks. Attainments can be built upon to form a comprehensive first aid skill set. Courses are generally divided into beginner, intermediate and advanced levels, and when experienced and dedicated first aid professionals are your instructors, learning is bound to be thorough and insightful.
At Real First Aid we make training fun by getting you up from the desk and into emergency response action. Our courses are character building, a great opportunity for workplace team bonding, and the chance to develop your own personal skill set. When the Asthma Course (22282VIC) is included in training, any workplace will benefit from improved health and safety standards.