How are your first aid skills? It's a simple question, but one that most Australians are unqualified to answer. First aid skills, although accessible to everyone, are ignored by most, with the majority of Australians retaining the outdated belief that first aid is always someone else's responsibility. The reality is that everyone can and should learn basic first aid procedures that save lives. First aid courses only run for a day or two, transforming participants from inept bystanders into confident and effective emergency responders, making first aid attainments incredibly valuable.
Why is having knowledge and skills in first aid important?
Accidents and severe illnesses can happen to anyone at any time. In fact, most episodes requiring first aid intervention occur suddenly and unexpectedly. They can happen at work, at home, at school or anywhere else, making the availability of on-site first aid officers a smart strategic move. First aid intervention includes helping sick or injured persons in the first minutes following an event, resulting in better recovery outcomes and even the ability to save lives in life-threatening situations.
Even basic first aid skills can provide significant assistance to those in need. Foundational first aid courses remain the cornerstone for building higher attainments and advances in technology has resulted in far greater capacity to make a difference. The introduction of portable life-saving equipment means newly qualified first aid officers now have access to defibrillators, adrenaline auto-injectors, oxygen equipment and more for superior emergency response capability. First aid skills are empowering and easy for anyone to learn.
What first aid course provides essential skills for beginners?
Real Response courses are structured for progressive learning and we make sure foundational skills are deeply understood and ready for recall whenever required. Course durations of between half a day and two days are the norm, with results that will transform the way you approach and respond to accidents, illnesses and emergencies. Real Response courses that teach basic first aid techniques include:
Provide CPR (HLTAID009): Provide CPR is a short course, taking only 3.5 hours to complete. It introduces first aiders to cardiopulmonary resuscitation (CPR), automated external defibrillator (AED) practice and other essential skills. Qualifications are nationally accredited and last for 12 months prior to a short refresher course.
Provide First Aid (HLTAID011): This course includes Provide CPR attainments plus a whole lot more, including response to respiratory emergencies including anaphylaxis (severe allergic reaction). In this course you will learn how to perform appropriate bandaging techniques, manage head and spinal injuries, respond to shock, strokes, diabetes and seizures, plus other essential first aid interventions. Taking only one day to complete, Provide First Aid certification lasts for 3 years.
Other Real Response courses delivering essential skills include Provide Basic Emergency Life Support (HLTAID010) and Provide an Emergency First Aid Response in an Education & Care Setting (HLTAID012).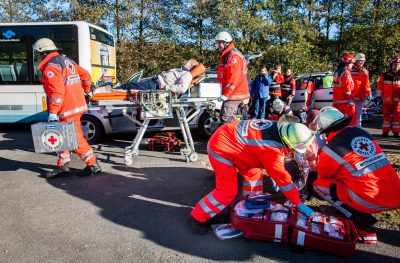 What courses teach advanced first aid skills?
First aid qualifications make up an essential training component for many occupations. Australian Work Health & Safety regulations are strictly enforced along with Workplace Code of Practice standards applicable to all workplaces. Real Response advanced courses build on prior skills for a tailored approach to training. Your occupation will dictate the best advanced first aid course for you, with additional opportunities to expand on your first aid knowledge and skill set. Real Response advanced courses are diverse, with options that include:
Remote First Aid (HLTAID013)
Provide First Aid in an ESI Environment (UETTDRRF10B)
First Aid Management of Anaphylaxis (22099VIC)
Real Response instructors have served in diverse backgrounds including paramedic, military emergency medic, firefighter, medical emergency response and more. We are proud to work with our team of expert instructors who hold vast professional experience and the ability to deliver the highest standard of first aid training for everyone.
How often should first aid skills be refreshed?
First aid training courses equip people with wide-ranging knowledge and skills. However, the techniques and procedures need to be applied properly for optimum results. Not every first aid intervention is a high-risk, low-frequency emergency where lives are at stake, but serious emergencies can and do happen all the time. For this reason, every first aid qualification requires periodical refreshing with a short course to hone your skillset. Qualifications generally last for between one and three years, with first aid refresher courses enabling first aiders to continue regular employment without missing a beat.
It's worth remembering the impressive range of skills learnt in first aid training courses, and becoming the best representative possible for your employer or organisation is reliant on continued ability to perform functions that include:
Perform CPR compressions and ventilations on an adult, child and infant
Accurately follow prompts when using an automated external defibrillator (AED)
Safely manage accident victims, including management of vomiting and regurgitation
Communication with bystanders and emergency services personnel
Reporting accidents and incidents according to industry guidelines
Development of leadership and teamwork skills for superior emergency response