Every Real Response course contains valuable information worth remembering. Emergency procedures and techniques are tailored for specific injuries, ailments, and life-threatening situations, making retention of CPR knowledge extremely important for optimum emergency response. CPR facts are essential first aid understanding, and when course participants fully comprehend the life-saving ability of CPR, they are ready to embark on the next phase of Real Response instruction – simulation training.
There are several factors that make CPR an outstanding qualification for anyone to attain.
CPR can be learnt by anyone
CPR can be performed by anyone
CPR first aiders use the same techniques and equipment as emergency services
CPR first aiders are fully qualified and capable of saving lives
CPR can be learnt within half a day, yet reward someone with the gift of life
Added to this, CPR (HLTAID009) is a nationally accredited qualification lasting 12 months. Other Real Response courses, such as Provide Basic Emergency Life Support (HLTAID010) and Provide First Aid (HLTAID011) include CPR as major course components.
Facts You Will Learn in Our CPR Courses
Real Response imparts up-to-date knowledge encompassing the most effective first aid procedures. Participants are guided by highly experienced instructors, with class sizes deliberately small so no one gets left behind. CPR facts are well established, and easily learnt, especially with simulations that prompt realistic emergency responses.
As an Australian first aid training leader, the value of Real Response simulation training is being noticed throughout the industry, with first aid and CPR facts forming integral backup for effective emergency responses. Simulation training is immersive, allowing course participants to apply the body, mind and senses while reacting to emergencies and administering treatment. The result is greater knowledge retention and the confidence to act decisively during any emergency. Simulation training is incredibly valuable, as it should be, and there are a lot more facts to learn about our CPR courses
Cardiac arrest can happen to anyone at any time
CPR procedures can be used on adults, children, and infants
Immediate commencement of CPR provides the greatest chance of survival
CPR steps include taking a few moments to gain composure if necessary
The combination of chest compressions and rescue breaths is extremely effective
Chest compressions mimic the oxygenated blood flow of a healthy person
Cardiac arrest and heart attack are different, although often interrelated
CPR maintains the flow of both blood and oxygen until emergency assistance arrives
CPR procedures and steps are remarkably easy to apply, and Real Response graduates retain knowledge for use in low-frequency, high-risk situations. In addition, first aid and CPR attainments are increasingly in demand with employers who require a capable skill-set and commitment to safety.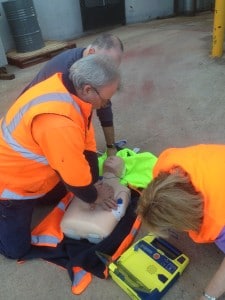 Real Response for Real CPR Knowledge
When emergencies occur, especially if someone unexpectedly collapses, most bystanders have little idea what to do and are often paralysed by shock or fear. Trained first aiders, on the other hand, have been instructed how to respond to the needs of victims. Unfortunately, it's human nature to forget things, and when knowledge isn't applied it can be lost. CPR knowledge retention had been a troubling issue prior to the advent of simulation training as used by governments, the police and paramedics. Real Response simulation training can be the difference that saves someone's life.
Once CPR facts and skills are firmly established by immersive learning techniques and Real Response training is complete, participants will already be experienced in both emergency procedures and emergency response. Training simulations include realistic scenarios representing work, school or community settings, and immersion is further enhanced using actors, props, real emergency equipment and teamwork, all while racing against the clock. Although first aid and CPR are serious subjects, learning is enjoyable, enlightening, and an opportunity to get away from the desk and into life-saving action mode.
Ultimately, CPR facts and CPR delivery run parallel. The facts and knowledge become a skill-set foundation that can be taken everywhere, with information retrieved whenever required. CPR and first aid skills are life-saving and life-changing, providing attainments that promote courage, confidence and a desire to assist those in need.