What You Will Learn?
First Aid codes of practice and workplace procedures
Legal, workplace and community considerations
Airway management
Provide artificial respiration
Provide cardiopulmonary resuscitation (CPR) to an adult, child and infant
Use of a defibrillator
Provide first care to children
Who are the real first aid trainers?
Our qualified instructors are world-class legends. They're paramedics, firemen, critical care nurses and former military. These are people who know how to think on their feet and will teach you to do the same. Our trainers want you to be involved, ask questions and have a go. Great effort and planning is taken to ensure an inclusive, safe and non-intimidating learning environment. We don't want you to memorise a stack of information on 'how to apply first aid', we want you to experience it for yourself.
Meet The Team
How to choose a course?
Think of first aid training as a toolbox for life. The more training you complete, the more tools you will have in your toolbox. The more tools in your toolbox, the more you have to draw upon should you ever be faced with a real-life emergency. A great way to get your toolbox started is to think about why you want to complete first aid training. This will help determine what skills you may like to acquire first. There are many reasons why people complete first aid training. It could be to create a safer workplace at home or school or just to have the ability to help others. Your reasons can, and most likely will, change over time – and that's OK! You can always add to your toolbox.
Choose a course
Want to know more about Real Response training sessions?
Real Response training is conducted in groups. This can be at one of our venues, or we can come to you. If you're looking at first aid training for staff for example, this is an easy option – no travel required. Over the duration of the course you will take part in a series of 'simulated' emergency situations where you will be guided to respond effectively. Our priority is to ensure everyone in the group leaves feeling confident that they could apply first aid should they ever need to. We encourage team learning, problem solving and participation. One other thing, while we don't think emergencies are a laughing matter, we definitely don't shy away from making training sessions as engaging and enjoyable as possible.
Why choose Real Response?
There's a reason why Real Response receives on-going endorsements, industry and peer acknowledgement and positive reviews from graduates. Our dedication to delivering world- class first aid training is paramount. We truly want every student to engage, enjoy and learn from their experience with us. We understand that choosing a first aid trainer provider requires trust, and we want you to always feel like you're in safe hands.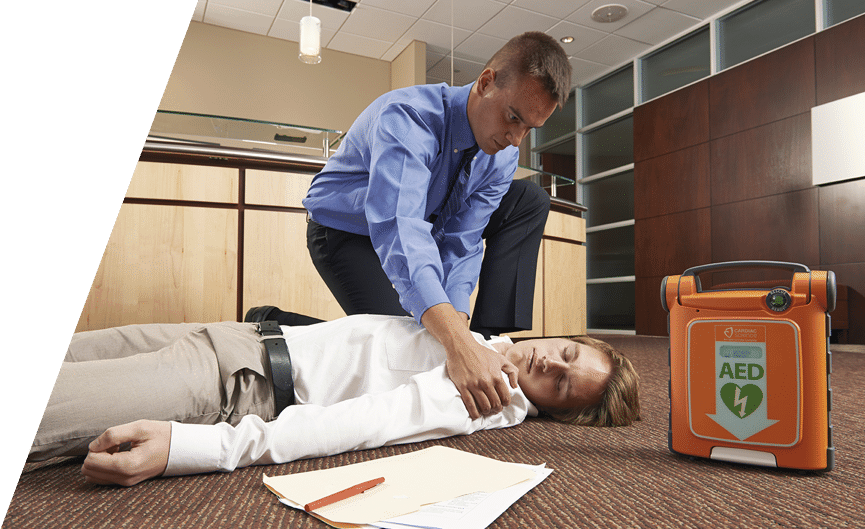 Provide an Emergency First Aid Response in an Education and Care Setting
Australian household dynamics have been transforming for decades, and meeting the health and safety needs of men, women and children is a constant challenge. Education and care industries are now big business, with governments, employers and individuals all playing a role in creation of high-quality, first-aid-friendly facilities equipped to provide an emergency response in education and care settings. Maintaining work/school/home balance is difficult when schedules overlap, and care centres have been a boon for busy moms and dads, particularly when trained first aiders are on site.
Real Response education and care setting training provides a life-saving skill-set tailored for educators and support staff. The attainments gained in Provide an Emergency First Aid Response in an Education and Care Setting (HLTAID004) are transferable across all school and care environments, with first aid and CPR training adapted for infants, children and adults. More young and vulnerable Australians than ever are commencing their education early, socialising with other children at care centres and trying new experiences. Childcare support staff are aware of the potential for accident, incident or emergency, while the Real Response training attainments are a compulsory component of recognised Australian education and care qualifications.
Who Would Benefit Attending an Emergency Response Course?
Provide an Emergency First Aid Response in an Education and Care Setting (HLTAID004) is recognised as an industry-standard attainment for teachers, support staff, carers and parents. The competencies gained in HLTAID004 provide broad scope for emergency response, empowering graduates with the confidence to oversee and manage school and care groups of all sizes. Lasting 1 or 2 days, HLTAID004 encompasses first aid, CPR, asthma and anaphylaxis training specifically tailored for carers and educators.
Commencing employment in an education and care setting can be intimidating for newcomers to the industry. Fortunately, regulations dictate that workplaces include provision of trained first aid staff, first aid facilities and
guidelines
to minimise workplace risks and hazards. In other words, training with Real Response provides a career-leap with confidence, delivering the ability to spot an emergency and respond decisively by applying the appropriate first aid procedure. When the care of vulnerable children is paramount, it's good to know Real Response is making a real difference.
Why is Education and Care Setting First Aid Different?
Every Real Response course is uniquely tailored for industry-specific purposes, while group learning is encouraged by enhanced Simulation Training – a Real Response success story. Education and care environments are large establishments staffed by qualified personnel and catering to the needs of diverse individuals, necessitating a tailored first aid learning approach. HLTAID004 course content and attainments specifically designed for the industry include:
Provision of CPR and first aid to adults, children and infants
First aid practices that satisfy education and care services national law
Precautions and procedures for ensuring a safe care environment
Appropriate airway management procedures for young children
Understanding the psychological and emotional impact of emergencies on children
Reporting accidents, incidents and emergencies according to employer guidelines
What Other First Aid Attainments are Included in HLTAID004?
At Real Response, knowledge and skills are equally important attributes for saving lives. Provide an Emergency First Aid Response in an Education and Care Setting is an incredibly comprehensive training course encompassing the attainments of Provide Cardiopulmonary resuscitation (HLTAID001), Provide Basic Emergency Life Support (HLTAID002), and Provide First Aid (HLTAID003). In addition, the course is further tailored for specific education and care environments including schools, childcare centres, rest homes and community spaces. HLTAID004 attainments include:
Provide first aid care to children
Adrenaline use for treating anaphylactic shock (extreme allergic reaction)
Correct artificial respiration and airways management procedures
Experience using a defibrillator
Bandaging and dressing wounds, sprains and broken bones
Communication with young casualties, onlookers, helpers and emergency services
Children are active, adventurous, and prone to have accidents now and then. However, when real emergencies occur it's essential to have trained first aid staff on hand to respond in a timely and effective manner. Real Response Simulation Training offers enhanced learning, greater knowledge retention, and the skill-set to act decisively whenever emergencies occur.
What is Real Response Simulation Training?
Real Response Simulation Training is becoming well known with progressive employers, including those in education and care settings. Simulations create realistic work, school and community scenarios for increased absorption in the learning initiative, enabling course participants to graduate with much more than just theoretical knowledge. Simulations include actors, props, emergency calls, sirens, teamwork and more, all taking place within life-saving timeframes.
Real Response was established for greater first aid and CPR training uptake by Australians. The message is being heard, with governments, employers and individuals actively encouraging first aid trained staff across a broad range of occupations. State-of-the-art first aid equipment and devices provide access to life saving capability in almost every environment, including the lives of a new generation of Australian children.