What You Will Learn?
Responding to an unconscious person
Airway management
Provide artificial respiration
Provide cardiopulmonary resuscitation (CPR) to an adult, child and infant.
Two Person operated CPR
Understand the basic principles of Automatic External Defibrillation (AED)
Communicating in an emergency
Anatomy and physiology of respiratory of cardiovascular systems
Respiratory emergencies
Cardiac emergencies
Shock and anaphylaxis
Management of bleeding
Applying bandages
Who are the real first aid trainers?
Our qualified instructors are world-class legends. They're paramedics, firemen, critical care nurses and former military. These are people who know how to think on their feet and will teach you to do the same. Our trainers want you to be involved, ask questions and have a go. Great effort and planning is taken to ensure an inclusive, safe and non-intimidating learning environment. We don't want you to memorise a stack of information on 'how to apply first aid', we want you to experience it for yourself.
Meet The Team
How to choose a course?
Think of first aid training as a toolbox for life. The more training you complete, the more tools you will have in your toolbox. The more tools in your toolbox, the more you have to draw upon should you ever be faced with a real-life emergency. A great way to get your toolbox started is to think about why you want to complete first aid training. This will help determine what skills you may like to acquire first. There are many reasons why people complete first aid training. It could be to create a safer workplace at home or school or just to have the ability to help others. Your reasons can, and most likely will, change over time – and that's OK! You can always add to your toolbox.
Choose a course
Want to know more about Real First Aid training sessions?
Real First Aid training is conducted in groups. This can be at one of our venues, or we can come to you. If you're looking at first aid training for staff for example, this is an easy option – no travel required. Over the duration of the course you will take part in a series of 'simulated' emergency situations where you will be guided to respond effectively. Our priority is to ensure everyone in the group leaves feeling confident that they could apply first aid should they ever need to. We encourage team learning, problem solving and participation. One other thing, while we don't think emergencies are a laughing matter, we definitely don't shy away from making training sessions as engaging and enjoyable as possible.
Why choose Real First Aid?
There's a reason why Real First Aid receives on-going endorsements, industry and peer acknowledgement and positive reviews from graduates. Our dedication to delivering world- class first aid training is paramount. We truly want every student to engage, enjoy and learn from their experience with us. We understand that choosing a first aid trainer provider requires trust, and we want you to always feel like you're in safe hands.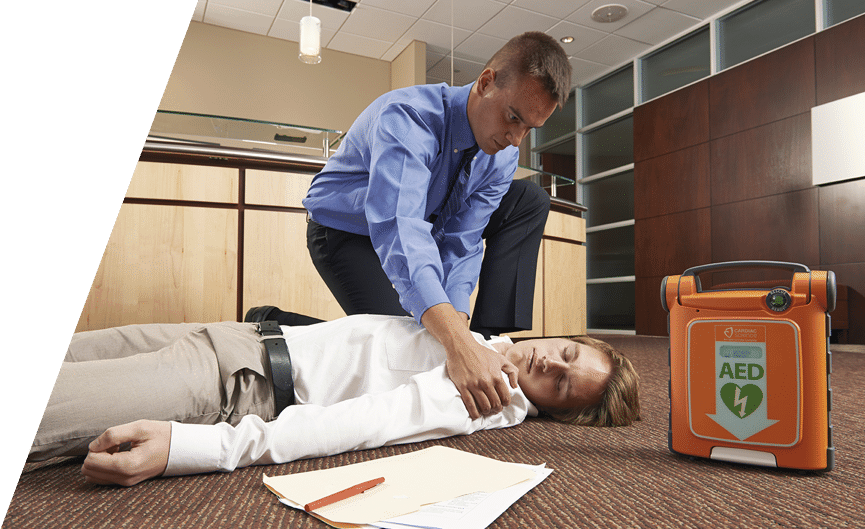 Provide Basic Emergency Life Support [Level 1 First Aid Course]
Real First Aid was established in response to a glaring lack of basic first aid skills among the general Australian populace. The importance of saving lives and dealing with acute medical conditions wasn't underestimated, but complacency somehow led people to believe that CPR and basic first aid skills were someone else's area of responsibility. Real First Aid have worked hard to change this mindset, and are proud to provide first aid courses and innovative learning methods that result in knowledge and skills retention for application in the real world. Providing basic first aid and emergency life support is something we should all know how to do.
Real First Aid uses the most successful training methods for delivering course information. Our philosophy of 'learning by doing' is paramount for achieving best outcomes, with students retaining far more information than in a regular classroom 'audience' situation. The
skill-set
required for delivering CPR and first aid in emergency situations is primarily hands-on, so Real First Aid engages students in a range of real-life scenarios to help assimilate course material. This nationally
accredited course
takes only 6 hours to complete, with graduates attaining certification that lasts for 3 years. The investment of time is minimal and when first aid courses attainment help save lives, the skills learnt become priceless.
Level 1 First Aid Course Attainments
Provide Basic Emergency Life Support is a natural adjunct to the Provide CPR [Level 1 first aid course] which is also offered at Real First Aid. Every aspect of CPR is thoroughly learnt, including responding to an unconscious person, airway management, providing artificial respiration and two-rescuer CPR. The procedural steps for administering CPR to adults, children and infants are taught using simulations that resemble real-life situations, and the principles of Automatic External Defibrillation (AED) are comprehensively covered. In addition, students learn the standard procedures for communicating in an emergency situation.
Students learn appropriate emergency techniques for responding to critical incidents while also developing teamwork and leadership skills that are highly valued in all work and social environments. The first aid level 1 course by Real First Aid are career-building and character building.
Realistic Emergency Training For 2018
This course really packs a lot in over six hours, including adrenaline injection instruction for managing severe allergic reactions (anaphylaxis), plus strategies for the management of bleeding and bandage application to support limbs and restrict the movement of broken bones. Real First Aid courses instructors are experienced emergency services personnel with a dedicated commitment to share their knowledge in realistic settings. Students learn the subject while bonding with other participants in teamwork exercises designed to prepare graduates for any emergency they encounter.
Many high-risk industries use simulation training for improved student outcomes. Realistic scenarios elicit natural responses from students and provide tutors with genuine performance analysis for giving accurate feedback. By the end of the course, students at Real First Aid will have theoretical and practical experience that can be replicated to save lives whenever an emergency arises.