The increased uptake of first aid training by Australians is an encouraging trend. First aid education has expanded to encompass industry-specific learning units, and the attainments are in high demand with reputable employers. First aid and CPR study choices abound, making progressive learning and increased career options possible. Emergency courses at Real Response are a first aid revolution, bridging the gap between information and application using realistic simulations. Real Response promotes first aid and CPR skills as life-skills that everyone can attain to make our communities, homes and workplaces safer.
Although emergency content covers a lot of life-saving procedures, most first-aid and CPR is very easy to apply. With a little first-hand guidance and the assistance of simulated reality, the emergency procedural steps soon become second nature, and the potential to assist during real emergencies is established. Newcomers to Real Response training can attend a range of courses directly related to emergency response and procedures, including Provide CPR (HLTAID009), Provide Basic Emergency Life Support (HLTAID010), and Provide First Aid (HLTAID011). Real Response courses match student needs, while also resulting in flexible, valuable, and nationally accredited qualifications.
What Skill Set Do You Learn in an Emergency First Aid course?
Every first aid course results in specific attainments and qualifications. However, from the outset, first aid courses empower course participants with valuable emergency response skills and first aid procedures. In fact, in only a few hours of dedicated learning any student can learn CPR and first aid skills that are proven to save lives. When coupled with Real Response learning initiatives, life-saving potential is even greater. Course components vary, although every dedicated first aider will ultimately develop a well-rounded skill-set. Attainments include:
Provide CPR to adults, children and infants
Provide artificial respiration and airway management
Addressing debilitating head and spinal injuries
Understanding the symptoms of heart attack, cardiac arrest, stroke and seizure
Management of anaphylaxis, including EpiPen and AnaPen use
There are dozens more life-saving skills learnt during Real Response training. In addition, students gain first-hand simulation training as used by the military, police and emergency services to develop real-time emergency response skills. This 'learning by doing' environment is known to greatly improve information and skills retention, meaning Real Response graduates are not only qualified – they are empowered.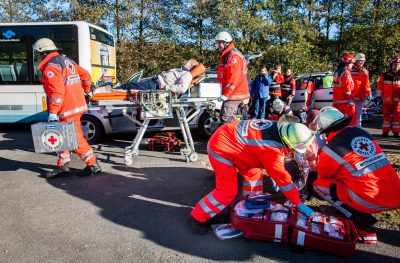 Tailored Emergency First Aid Training
A key to Real Response success is getting students away from the desk and into first aid emergency action. This is made possible by highly qualified and experienced course instructors who have a vested interest in every student's successful course completion. In addition, the instructors are supported by simulated reality that can be configured to mimic most work, school or community settings. The simulated emergency is further supported by actors, props, sirens, real emergency equipment, and realistic life-saving time frames. Real Response reality results in improved competencies in the real world.
Industry-specific emergency first aid training is accessible at Real Response. As safety, security and health become increasingly in focus, the needs of the business sector have evolved, and the Real Response Simulation Training response has spearheaded a new generation of first aid and CPR instruction. Simulations tailored to industry or specific needs get results in the classroom, and in the field, where the ability to save someone's life can become a reality.
People with previous first aid training can also benefit from Real Response courses, as the evolution of life-saving techniques, coupled with technological innovations, means on-the-spot emergency responses are more successful than ever. Real Response purposefully limits class sizes to ensure every course participant achieves their full first aid and CPR potential, along with additional leadership and team-work abilities. Emergency first aid can be learnt within a day or two for minimal outlay. The attainments, on the other hand, last a lifetime and can provide someone with the most precious gift of all – life.