Completing a first aid course won't make anyone a qualified medical practitioner, but the attainments do save lives around Australia every day. First aid training prepares course participants with the knowledge and skill-set to respond effectively in emergencies where assistance really can make the difference between life and death. Real Response courses empower students to act decisively in low-frequency, high-risk situations, and training can be tailored to suit industry-specific requirements in workplace, school or community settings.
First aid and CPR attainments are increasingly in demand, and training units are compulsory in many occupations. First aid qualifications are also in vogue for individuals, thanks to Real Response Simulation Training that provides first-hand emergency response experience for everyone in the class. Study and training are acknowledged as the best ways to make career progress, and emergency first aid training is adaptable to any surroundings, consistently reliable, and reassuring to colleagues and friends who know help is on hand whenever the need arises.
How Do I Know What Emergency Guideline to Follow?
It's understandable for people to feel apprehensive around unfamiliar emergency equipment. Fortunately, all first aid equipment, although cutting-edge, is simple to operate, while some life-saving procedures are hands-only. When emergency guidelines are imparted by experienced and professional Real Response course instructors, a confident, knowledgeable, and decisive emergency response approach is the result. Every occupation is different, as is every emergency and casualty patient, so while appropriate emergency responses vary, typical emergency response guidelines include:
Recognising an emergency and accessing the site for dangers and hazards
Assessing the first aid needs of the casualty or patient
Contacting emergency services regarding the patient status and emergency location
Applying appropriate first aid procedures until emergency services arrive
Valuable first aid attainments focus on the entire individual, although special emphasis is placed on cardiopulmonary resuscitation (CPR), airways management, anaphylaxis (extreme allergic reaction) treatments, and other attainments that have the greatest life-saving capacity.
What Practical and Theory Does The Emergency First Aid Course Cover?
Real Response course attainments are progressive, establishing an overall capability and confidence for emergency response. From the outset, courses such as Provide Basic Emergency Life Support [Level 1] empower students with remarkable life-changing and life-saving capabilities that can be carried throughout life. Course participants experience revolutionary Real Response immersive learning techniques that result in greater knowledge and skills retention, plus the confidence to step in when help is needed most. Practical and theory attainments in emergency first aid include:
Provide artificial respiration and CPR to adults, children and infants
First-hand experience with Automatic External Defibrillation (AED) devices
Understanding respiratory emergencies, including choking first aid procedures
EpiPen training for administering measured doses of adrenaline by auto-injector
Applying bandages and support for wounds, breaks, sprains and strains
Every emergency can be met with specialised procedures and techniques that provide the best chance of successful outcomes. Real Response assures maximum knowledge and skills retention by using simulations that mimic real emergency situations, encouraging students to respond realistically, in real-time, and with real first aid.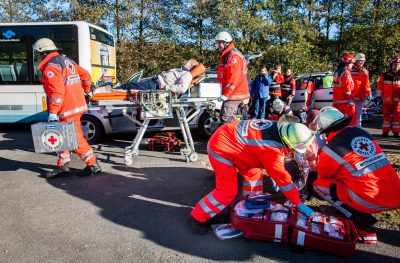 Emergency Guidelines Learnt With Simulation Training
When critical situations occur, there is little time for uncertainty or reluctance to act. Real Response course facilitators overcome this possibility by introducing a deep learning initiative called simulation training, using props, actors, real emergency equipment and realistic scenarios resembling work, school or community settings. This immersive environment encourages teamwork and leadership skills, while also providing concrete emergency response experience that can be called upon when needed.
Simulation training is a Real Response initiative in response to noticeably inadequate knowledge retention gained in traditional classroom settings. First Aid and CPR course participants come from every walk of life, and while some are academically inclined, others don't perform as well while deskbound. Real Response Simulation Training bridges the gap between theory and practice, in a 'learning by doing' environment designed for an entertaining and informative experience. Simulation training is used by governments, police, medical personnel and paramedics to aid essential learning, and the increased capacity for saving lives is the real reward for learning Real Response emergency guidelines.