This course covers the provision of first aid in an Electrical Supply Industry (ESI) environment for anyone who works in the electrical industry. This ESI course incorporates key first aid skills with the recognition of a potentially hazardous environment and the subsequent measures to be taken to avoid injury/further injury. Simulations are focused on the most common first aid situations that ESI employees face.
What You Will Learn?
Identifying hazards and minimising risks
Assessing and stabilising the condition of a victim
Responding to an unconscious person
Airway management
Provide artificial respiration
Requesting Ambulance Support
Incident reporting
Who are the real first aid trainers?
Our qualified instructors are world-class legends. They're paramedics, firemen, critical care nurses and former military. These are people who know how to think on their feet and will teach you to do the same. Our trainers want you to be involved, ask questions and have a go. Great effort and planning is taken to ensure an inclusive, safe and non-intimidating learning environment. We don't want you to memorise a stack of information on 'how to apply first aid', we want you to experience it for yourself.
Meet The Team
How to choose a course?
Think of first aid training as a toolbox for life. The more training you complete, the more tools you will have in your toolbox. The more tools in your toolbox, the more you have to draw upon should you ever be faced with a real-life emergency. A great way to get your toolbox started is to think about why you want to complete first aid training. This will help determine what skills you may like to acquire first. There are many reasons why people complete first aid training. It could be to create a safer workplace at home or school or just to have the ability to help others. Your reasons can, and most likely will, change over time – and that's OK! You can always add to your toolbox.
Choose a course
Want to know more about Real First Aid training sessions?
Real First Aid training is conducted in groups. This can be at one of our venues, or we can come to you. If you're looking at first aid training for staff for example, this is an easy option – no travel required. Over the duration of the course you will take part in a series of 'simulated' emergency situations where you will be guided to respond effectively. Our priority is to ensure everyone in the group leaves feeling confident that they could apply first aid should they ever need to. We encourage team learning, problem solving and participation. One other thing, while we don't think emergencies are a laughing matter, we definitely don't shy away from making training sessions as engaging and enjoyable as possible.
Why choose Real First Aid?
There's a reason why Real First Aid receives on-going endorsements, industry and peer acknowledgement and positive reviews from graduates. Our dedication to delivering world- class first aid training is paramount. We truly want every student to engage, enjoy and learn from their experience with us. We understand that choosing a first aid trainer provider requires trust, and we want you to always feel like you're in safe hands.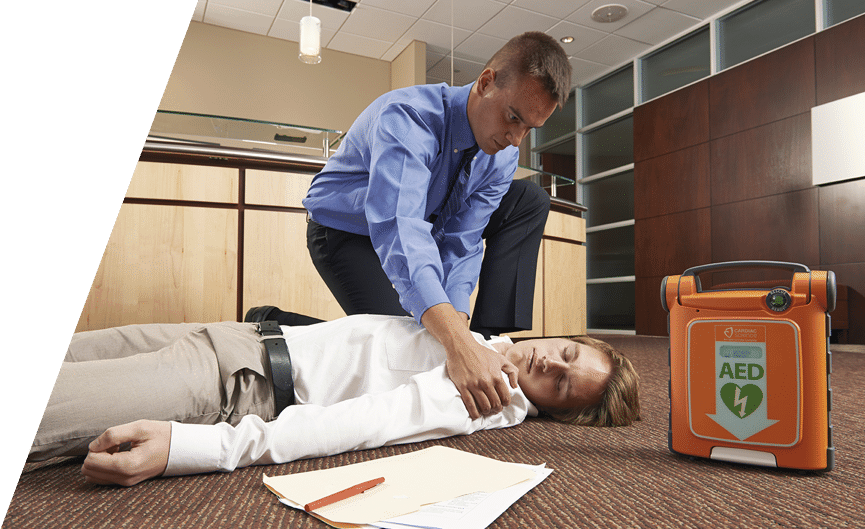 Provide First Aid in an ESI Environment
First aid and CPR competencies are valued by people from all walks of life. When low-frequency, high-risk emergencies occur, immediate first aid response is the difference that saves lives. First aid skills are now essential attainments in occupations where work involves physical danger, and the Electrical Service Industry (ESI) is typical of major Australian industries taking occupational health and safety seriously. Provide First Aid in an ESI Environment (UETTDRRF10B) is tailored for electrical service industry employees requiring industry-specific first aid and safety training.
Working with electricity isn't for everyone, but those who do perform high-voltage dangerous work deserve the reassurance of purpose-designed equipment and safe operational procedures. Every safety measure is commendable, although accidents and incidents are more common in certain occupations, necessitating trained on-site first aiders to instil employee confidence and employer compliance. Provide First Aid in an ESI environment, as taught with Real First Aid Simulation Training, creates a capable first-responder link in the life-saving chain prior to the arrival of emergency services personnel.
Who Will Benefit from a First Aid in an ESI Environment Course?
As an industry-specific course, Provide First Aid in an ESI Environment empowers electricity industry employees with a life-saving skill-set for responding to emergencies that can arise on the job. Not every accident or injury is a life-or-death emergency, but when unexpected situations arise and fast action is required, Real First Aid ESI course graduates step up and take control with confidence. The introduction of portable defibrillators, EpiPens and other cutting-edge emergency equipment has revolutionised the industry, promoting Real First Aid learning initiatives to the forefront of workplace safety initiatives. ESI course content and attainments include:
Identifying hazards, risks, or other threats to health and safety
Assessing emergency situations and taking decisive action
Communication with emergency services, bystanders, and other helpers
Providing first aid according to recognised first aid procedures
Using first aid equipment appropriately in a variety of situations
Processing accurate accident and incident reports
Of all available short courses, first aid and CPR attainments are incredibly valuable, providing life-saving skills and a life-changing attitude.
How does Real First Aid Simulation Training Assist?
Real First Aid was established to broadcast first aid awareness along with creation of an immersive learning environment designed for greater knowledge retention. In an industry first, Real First Aid Simulation Training, as adapted by the military and emergency services, uses realistic scenarios to stimulate natural learning responses. ESI course participants are more engaged when realism is enhanced, with first aid and CPR knowledge retained for use whenever required.
Simulations are tailored for workplace group training purposes, ensuring first aid procedures are aligned with electricity industry expectations. Simulations used in Provide First Aid in an ESI Environment include actors, props, emergency equipment, devices, teamwork and life-saving time-frames, offering a realistic and safe introduction to workplace compliance in the electricity industry. The course empowers participants to perform tasks with certainty, remain composed in emergency situations, and provide surety to colleagues. Real First Aid simulations can emulate elevated spaces, confined spaces, workshop environments, high-voltage environments and more to ensure maximum retention of first aid knowledge and
skills
.
What are ESI Environment UETTDRRF10B Attainments?
Every Real First Aid course is a stand-alone attainment, although the qualifications are progressive and complementary. Provide First Aid in an ESI Environment targets the most common electricity services industry emergency response situations, and the skill-set is equally valuable whenever and wherever people require immediate first aid or CPR assistance. UETTDRRF10B is a nationally accredited course with certification renewed after one year. The attainments include CPR proficiency, artificial respiration and airway management – a powerful life-saving trio.
The course is completed in 3 hours without CPR or 8 hours with CPR, making first aid attainments incredibly value-packed for progressive employers dedicated to occupational health and safety. Although the course is of short duration, Real First Aid facilitators remain determined to impart knowledge deeply using realism. Learning tools include simulated emergency calls, simulated fire and defibrillator practise, all structured within emergency response time-frames. Ultimately, immersive learning methods save more lives and Real First Aid is proud to represent the new wave of progressive first aid training providers.
How Do ESI Environment First Aid Skills Apply in Other Areas?
First aid and CPR procedures and equipment have progressively improved during recent decades. Modern first aiders now have access to portable life-saving devices including defibrillators and EpiPens, while communication with emergency services is instant. The cardiovascular system of an unconscious person can be maintained for up to ten minutes by CPR prior to essential defibrillation or airway management, making Real First Aid graduates real links in the life-saving chain, with or without emergency devices on hand.
Procedures and techniques have evolved along with their application, with most first aid and CPR procedures universally applicable across all occupations. Although industry-specific attainments are valuable and versatile, Real First Aid encourages all Australians to share the responsibility of making our country a safer place.