What skills will this course teach me to help me provide first aid?
Having the skills to provide first aid in an Electrical Supply Industry (ESI) environment can save lives. First aid skills are now essential in occupations where work can involve danger, and our Provide First Aid in an ESI Environment course is tailored for electrical service industry employees who require industry specific first aid and training. Our accredited course includes identifying risks and hazards in the immediate emergency vicinity, following procedures to ensure the safety of onlookers, seeking assistance if required, and assessing the victim's condition and providing appropriate first aid procedures. It also focuses on using life-saving techniques, using first aid equipment if available, notifying emergency services, conveying information clearly and accurately, and noting and reporting accidents and incidents according to procedures.
Does this course result in me attaining UETTDRRF10B?
UETTDRRF10B is the Competency Standard Unit you will attain when you take our Provide First Aid in an ESI Environment course. We come out to you to deliver it on site, and it takes either three hours to complete without CPR training, or eight hours with CPR.
The certification length is one year, which helps graduates stay on top of the latest cutting edge equipment, such as portable defibrillators, allowing them to step up and take control with confidence. The course targets the most common emergency response situations in the industry, and the skills attained can transfer across any industry, workplace or wherever people may need CPR help. At Real Response, we want every student to be given personal guidance when required, which can ensure our graduates are response-ready the second they finish the course.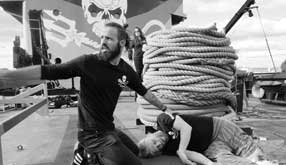 Are first aid principles covered?
Essential first aid principals are a big part of our Provide First Aid in an ESI Environment course. Any life-saving skill is essential, especially when it comes to the workplace, and especially the electrical industry. Emergency first aid procedures are valuable, and we use immersive learning techniques to make sure they stick. The first aid section of our course covers the basic skills of first aid, which we believe every Australian should have. When you have completed our Provide First Aid in an ESI Environment course you will be able to provide CPR on an unconscious person, provide artificial respiration, manage airways, know how to stabilise the victim's condition, and properly communicate with onlookers and emergency services. You will be taught the anatomy and physiology of respiratory and cardiovascular systems, how to recognise and deal with respiratory and cardiac emergencies, how to manage choke and anaphylaxis CPR, manage bleeding and properly apply bandages.
Can having access to a stand-in casualty help my learning?
At Real Response, we bring first aid courses alive, through the use of high quality, high fidelity simulations. We are the only company in Australia that does this, outside of the professional medical and military fields. And we think simulations for our Provide First Aid in an ESI Environment course are vital. Participants take part in simulated emergencies that mimic real work environments. Having a casualty in front of you on site, instead of a dummy in a conference room somewhere, can focus the mind on knowledge retention. Not only can it help participants develop deeper first aid skills, but it can also help them develop leadership, teamwork and communication skills at the same time. Our first aid training courses revolve around simulations of medical emergencies using a wide range of props and tools. These can include fake blood, fake wounds, smoke, sound effects, fake smells, role playing, dress-ups, simulated calls to 000, and a lot, lot more. And all of our training is overseen by experts who have backgrounds in emergency services and even combat situations.