Workers in the electricity supply industry (ESI) are constantly exposed to workplace risks and hazards. Health and safety standards dictate ESI work procedures, although accidents can and do happen that require first aid intervention. First aid and CPR training has grown to encompass industry-specific modules for tailored learning, with Real Response Simulation Training leading the way. ESI activities include installation of electricity network infrastructure, maintaining conductors and cables, operating machinery near electrical apparatus and other hazardous work functions.
Provide First Aid in an ESI Environment (UETTDRRF10B), taking only 3 hours without CPR or 8 hours with CPR, is an essential electricity supply industry attainment. It takes a degree of bravery to work near electricity, a trait that translates well into life-saving emergency response when required. Many ESI colleagues work in tandem for safety's sake, and knowing your partner is equipped to step in if things go wrong is tremendously reassuring. The Real Response knowledge and skill-set become lifelong acquisitions that can be used at work, at home, or anywhere else.
What facts do you need to know about a first aid course in an ESI environment?
The electricity supply industry powers our entire nation and is a major Australian employer. Thousands of large and small business enterprises harness the power of electricity for a myriad of purposes, ranging from electricity in the home to generation of electricity in enormous power stations. With so many ESI work tasks across the full spectrum of Australian industries and businesses, safety is reliant on shared resources and appropriate behaviours. Real Response was established to fill the need for a consistent first aid and CPR approach for every person connected with ESI occupations, with UETTDRRF10B a standout success.
Real Response ESI training focuses on the most commonly experienced emergencies and appropriate first aid responses. Applying first aid and CPR procedures correctly is easy when procedural steps are followed in the correct order, backed by Real Response facts and knowledge. Leadership and teamwork skills are also gained in Provide First Aid in an ESI environment, empowering course participants with well-rounded capabilities to ensure safe procedures for everyone on site. A typical ESI emergency response may include:
Identify risks and hazards in the immediate emergency vicinity
Follow procedures to ensure safety of onlookers and seek assistance if required
Access the victim's condition and provide appropriate first aid procedures
Use life-saving techniques, using first aid equipment if available
Notify emergency services, conveying information clearly and accurately
Note and report accidents and incidents according to established procedures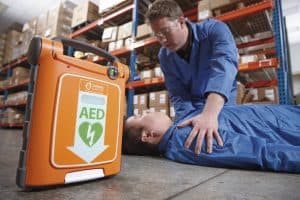 What essential first aid skills are learnt in UETTDRRF10B?
Any life-saving first aid skill is essential, at least according to those whose lives have been saved by first aid intervention. Development of technologically advanced devices has also led to greater opportunities for on-the-spot mobile first aid intervention, as noticed in rapid paramedic responses. Real Response aims to educate all Australians regarding the value of emergency first aid procedures, using immersive learning techniques that result in greater knowledge retention, ultimately becoming life-skills at-the-ready in case of emergency. Provide First aid in and ESI environment course attainments include:
Provide CPR on an unconscious person
Provide artificial respiration
Airway management
Stabilising the victim's condition
Communication with onlookers and emergency services
Course attainments are valid for 1 year and are easily renewed by completing a short refresher course. UETTDRRF10B is a nationally recognised qualification providing the required competency to approach emergencies carefully and with confidence.
How does Real Response Simulation Training improve ESI safety?
Real Response Simulation Training is transforming the way first aid and CPR is taught. Taking the lead from simulation training leaders including the military, police and emergency medical staff, Real Response has elevated immersive first aid learning to new heights. Course participants are guided in simulated emergency response reality mimicking real work environments, resulting in far greater knowledge retention and the ability to put training into practice any-time and anywhere.
Simulation training at Real Response, overseen by experienced and professional emergency services personnel, includes actors, props, 000 calls, sirens and real life-saving emergency equipment and devices. Course participants develop leadership, teamwork and communication abilities alongside the emergency response capabilities, all within life-saving time frames for a realistic learning experience. At Real Response every student is given personal guidance when required, ensuring our graduates are response-ready the moment they complete the course.