Comprehensive accident and emergency response skills are attained in Provide First Aid (formerly Level 2 First Aid). Medical emergencies can occur anywhere, so students are familiarised with equipment and procedures used for helping casualties in all emergency situations. Provide First Aid qualifications include Provide First Aid (HLTAID011), Provide Cardiopulmonary Resuscitation (HLTAID009) and Provide Basic Emergency Life Support (HLTAID010). The attainments are essential in many occupations, while the skill-set learnt is empowering for every course participant. Real Response assists learning by providing simulation training for greater knowledge retention, resulting in confident application of skills and procedures that can benefit all Australians.
Provide First Aid is a nationally accredited course accepted by all employers. A highly-valued attainment, Provide First Aid guides course participants toward a comprehensive understanding of first aid procedures. Students use real emergency equipment in team-building exercises that promote leadership qualities and ultimately save lives. The hands-on learning experience results in great Real Response student outcomes. A wide range of first aid and CPR skills are learnt in Provide First Aid, including:
Defibrillator training
CPR training
Simulated fire training
EpiPen training
Bandaging
Real Response – Provide First Aid (HLTAID011)
The ability to respond appropriately in emergency situations is a skill everyone should have. Training provided by industry experts is highly regarded, with Provide First Aid (Level 2 First Aid) qualifications lasting for 3 years and knowledge retention vital for proper application of life saving procedures. Real Response courses are held over 1 or 2 days, with comprehensive instruction and an engaging learning experience leading to great outcomes. Provide First Aid (HLTAID011) knowledge supersedes older HLTFA311A and HLTFA301C attainments, and includes the full spectrum of emergency response and treatment strategies familiar in Level 2 first aid including:
Responding to an unconscious person – ensure site safety and assess the casualty to identify injuries, conditions or illnesses
Airway management – clear blocked airways and keep them open using specialised equipment
Provide artificial respiration – restore breathing using manual, mechanical and mouth-to-mouth procedures
Provide CPR to an adult, child or infant – apply CPR (cardiopulmonary resuscitation) using chest compressions for restoring blood circulation and breathing to people of all sizes
Two-Person operated CPR – develop teamwork and communication skills to effectively perform CPR
Understand Automated External Defibrillation (AED) – diagnose life-threatening cardiac symptoms and treat them by defibrillation using electrical therapy
Communicate in an emergency – provide clear instructions to ensure correct procedures are followed and emergency services personnel are notified and informed
Respiratory emergencies – understand the signs and symptoms in a range of respiratory emergency situations, along with the procedures used to assist breathing
Cardiac emergencies – respond quickly to life-threatening cardiovascular emergencies by understanding a variety of symptoms, including chest pain and hypertension
Shock and anaphylaxis – use specialised equipment to restore and revive patients suffering shock or anaphylaxis (severe allergic reaction)
Management of bleeding – use effective methods to control bleeding and dress wounds in emergency situations
Bandages – learn how first aid equipment and methods are used to bandage wounds, sprains, strains and other injuries.
Chest, abdominal and pelvic injuries – understand the signs and symptoms of injury such as localised pain, bruising and difficulty breathing
Head and spinal injuries – assist in situations where suspected head or spinal injury has resulted in numbness, headache, stiffness, inability to move and other symptoms
Eye, ear and nose injuries – use first aid applications and medicines to dress sensitive eye injuries and ear inuries and treat nosebleeds
Strokes, diabetes and seizures – diagnose and respond to a wide range of critical, life-threatening situations
Environmental injuries – understand occupational hazards, health and safety issues and emergency treatments for people suffering the effects of environmental exposure or injury.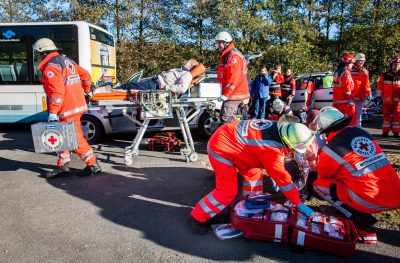 Provide First Aid (HLTAID011) content includes essential first aid knowledge that can be applied in any emergency. At Real Response, the academic attainments are strengthened by simulations that engage students in life-like emergency situations. Real Response instructors encourage group participation for deeper learning that is easily retained and recalled whenever a real emergency arises.
Real Response is the flexible approach to learning first aid and CPR. The course can be adapted for industry-specific learning using props and simulations to replicate any setting, helping course participants to assimilate knowledge, develop confidence and take leadership in an emergency. Provide First Aid is thorough and the attainments are long-lasting, resulting in pro-active solutions using life-saving techniques.