As an industry-standard first aid qualification, Provide First Aid (formerly known as Level 2 First Aid) encompasses a range of valuable competencies for assisting in emergency situations. When structured for maximum uptake of information, Provide First Aid training is an informative and enjoyable learning experience resulting in significant first aid attainments. This applied First Aid course makes learning easy, with course information retained by using simulated real-life scenarios to encourage a pro-active emergency response. Along with the academic attainments, Provide First Aid trains course participants to develop practical leadership skills and greater confidence during emergency situations.
Provide First Aid (HLTAID011) attainments replace Level 2 First Aid as the natural progression from Provide Cardiopulmonary Resuscitation (HLTAID009) and Provide Basic Emergency Life Support (HLTAID010), with the first aid knowledge applicable to every work and social environment. First aid essentials should be learnt by everyone, and Real Response was established to help more Australians become proficient in first aid and CPR techniques. Course attainments include the knowledge and skills required to respond quickly during an emergency for managing casualties, directing other first aiders and communicating with emergency services. Real Response instructors help students develop the confidence and ability required to multi-task while saving lives.
Provide First Aid Skills And Knowledge
The skills and knowledge attained in this applied first aid course are applicable in all situations. Real Response provides Industry-specific training to address workplace risks and hazards that are familiar to course participants. 'Learning by doing' is encouraged to help familiarise students with realistic scenarios where the administering of first aid is essential. Applied first aid course attainments include:
Identifying and minimising hazards during emergency response
Assessing the casualty to identify injuries, illnesses or conditions
Communication with the casualty, other first aiders, and emergency services
Positioning the casualty for administering first aid or CPR
Provide first aid using established first aid procedures and principles
As with the former Level 2 First Aid course, Provide First Aid (HLTAID011) is a nationally accredited course that can be completed over 1 or 2 days, with certification lasting for 3 years. The accreditation supersedes HLTFA311A and HLTFA301C Apply First Aid courses. The first aid knowledge attained includes all procedural steps to assist casualties during real emergencies. The skills and procedures learnt during this applied First Aid course are useful in all emergency situations, and Real Response students also get hands-on experience with emergency response equipment designed for specific approaches.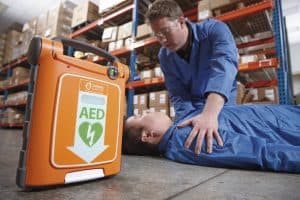 Provide First Aid Course Attainments
The benefit of Real Response simulations becomes apparent when studying the broad range of emergency procedures. Provide First Aid has replaced Level 2 First Aid as the industry standard, although major course components remain unchanged. Real Response attainments facilitate the application of first aid knowledge across the full spectrum of situations involving an unconscious or injured casualty. Applied first aid course participants develop numerous abilities for responding and communicating during emergencies, plus a thorough understanding of artificial respiration and CPR for adults, children and infants. The principles of Automatic External Defibrillation (AED) are also examined.
Provide First Aid is a qualification that is greatly respected across all industries, and it is a pre-requisite in many occupations such as nursing and security. The training can be tailored for industry-specific use, and class sizes are limited to facilitate student participation and the opportunity to have every question answered satisfactorily. Emergency procedures are relatively simple, with life saving techniques involving only a few steps, so Real Response instructors make sure all the basics are understood and ready to be applied at a future date. The attainments gained in Provide First Aid (HLTAID011) enable graduates to treat shock and anaphylaxis, respond to cardiac emergencies, administer treatment for fractures, manage bleeding caused by injury and more.
Real Response Solutions
With greater emphasis placed on optimum learning outcomes, Real Response has developed training solutions that maximise student potential. Real Response incorporates simulation training as used by the military, police and emergency services to develop practical skills for use in real situations. Real Response is dedicated to the spread of CPR and first aid attainments across all sectors of society by introducing the procedures as valuable life-skills with life-saving potential.
The provision of first aid is a serious business, and Real Response instructors are all experienced emergency services and medical personnel. Stringent government guidelines ensure that first aid qualifications are valued in all occupations, and Real Response reciprocates by promoting first aid and CPR attainments as an essential skill-set that everyone can attain. Provide First Aid course participants receive knowledge that is retained and the skill-set to act fast whenever an emergency arises.