What Does Level 2 First Aid Enable You To Do?
In only a day or two of dedicated first aid training, you will develop skills and knowledge for responding to the most commonly experienced accidents and emergencies. At Real Response, we assist every student to optimise their natural abilities and develop an awareness for health and safety that only first aid qualifications can provide.
The expansion of first aid training and skills development has transformed the industry. As more employers emphasise the importance of first aid and CPR, including essential training packages and components, the role of Real Response continues to expand. First aid training in Melbourne has changed for lots of reasons, including:
The availability of portable life-saving equipment such as defibrillators and adrenaline auto-injectors.
A solutions-based approach, where simulation-based training mimics reality for impressive uptake and recall of first aid skills.
The increased emphasis on first aid for industries such as childcare and the electricity supply industry.
Level 2 First Aid in Melbourne is an essential safety measure, particularly in places where large groups of people gather. Real Response training courses more relevant than ever, and a great way to ensure your family, friends and colleagues are all safe.
Business owners, employers and building managers appreciate the benefits of on-site Level 2 First Aid training. Staff can train for their first aid certificate in a familiar environment with minimal disruption to regular work functions, and we can also undertake a risk and hazard assessment and help you establish a dedicated first aid room.
Real Response goes the extra mile to ensure first aid qualifications are backed by real capability. Our instructors are dedicated to providing skills for the real world, and when lives are on the line your first aid skills will make a real response difference. The thanks from the person whose life you save is a bonus.
What is Level 2 First Aid?
Level 2 First Aid is one of the most important qualifications a person can possess. Level 2 First Aid, now known as Provide First Aid (HLTAID011), is the ideal introduction for anyone who wants to develop skills that promote safety and save lives. Level 2 First Aid is a nationally accredited qualification that delivers procedures and techniques for responding to a wide variety of emergency situations. Level 2 first aiders are on hand to improve health and safety in the workplace or other premises, and are ready to act confidently and competently if an emergency arises.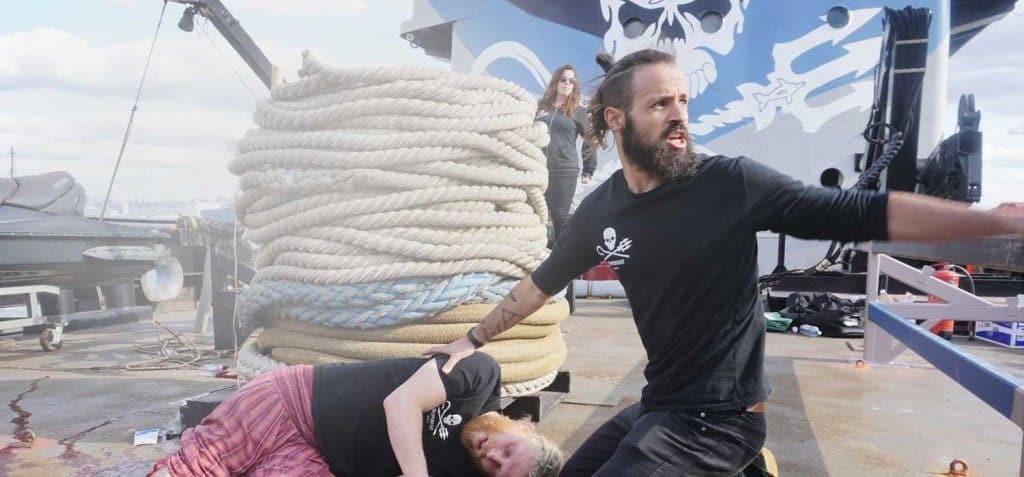 What is involved in Level 2 First Aid courses in Melbourne?
Real Response takes first aid training to another level. We get students away from the desk and into simulated emergency response action. Our courses adapt to the needs of your organisation, utilise the latest life saving devices, and tailor training to meet employer and industry expectations in the modern world. Simulation-based first aid training includes actors, props, mock emergency scenarios, real life saving equipment, emergency signals, communication, teamwork and more, transforming first aid training into an engaging and enlightening experience.
At Real Response, we take our responsibilities seriously, but make first aid training fun. Provide First Aid, also previously called Senior First Aid or Apply First Aid, has moved with the times, and simulation-based first aid training at Real Response results in deeper learning and superior knowledge retention for times when first aid emergency response really counts. Whether you are interested in beginners CPR courses or advanced and specialised courses, Real Response is ready to deliver optimal training outcomes.
How to get a Level 2 First Aid certificate?
Real Response training courses in the Melbourne CBD and suburbs are extremely popular, and Level 2 First Aid is the perfect foundational first aid course. We deliver onsite training at your workplace or other premises, or if you prefer, you and your team can learn Level 2 First Aid at our St Kilda Headquarters. We even host public courses that suit individuals and friends who want to join in. You don't need any first aid experience prior to attending, and the units of competency you attain are valid for 3 years, making the course a great stepping stone toward other first aid emergency response attainments and employment pathways.
How long is Level 2 First Aid?
You can attain a nationally accredited Level 2 First Aid (Provide First Aid) certificate, valid for 3 years, in only 7.5 hours of committed training spread over a day or two. This shows just how easy the skills are to learn when training is carried out by some of Australia's leading paramedics and educators at Real Response. Simulation-based training includes timed medical response to common emergencies such as cardiac arrest and anaphylaxis, along with management of asthma and other important first aid procedures.
How much does a first aid course cost in Melbourne?
Real Response was established to provide accessible, affordable first aid training with a focus on superior outcomes. Group bookings are encouraged, and savings guaranteed. For example, 1-7 people can undertake onsite workplace Level 2 First Aid (HLTAID011 Provide First Aid) training for $1270 – that's less than $200 per person for a full group. Although life-threatening emergencies aren't an everyday occurrence for most people, a small investment in first aid training will make a big difference to people whose lives are saved. Contact the experts at Real Response for more information and get your first aid journey started.