What is a Level 2 first aid certificate?
A Level 2 First Aid certificate is a nationally accredited statement of attainment recognised by the Australian Resuscitation Council. The qualification is in demand with industry experts and employers who value the health and safety of staff and visitors to their premises. The knowledge and skill set attained in Level 2 First Aid is transformative, empowering innocent bystanders to become confident emergency responders.
The divide between first aid training and genuine capability during a real emergency has narrowed thanks to innovative Real Response training methods. Simulation-based first aid training, formerly only used by the military, police and medical emergency staff, makes the difference, allowing students to gain real experience even while training. Realistic simulation training is immersive, providing deeper learning and greater knowledge retention for when it matters most.
How long does a Level 2 First Aid certificate last?
Level 2 First Aid certification is valid for 3 years prior to the need for a short refresher course. The first aid training industry continues to evolve, including the adaptation of life-saving devices such as Automated External Defibrillators (AEDs) for responding to cardiac arrest, and adrenaline auto injectors for anaphylaxis response. At Real Response, course participants train using real emergency equipment and devices, with training delivered by some of Australia's leading paramedics, military emergency response, firefighters and more.
Level 2 First Aid (Provide First Aid HLTAID003) delivers a skill set to be carried throughout life. In a world where health and safety is prioritised, Level 2 First Aid qualifications are in demand for a huge number of industries that include:
Transport and logistics
Sports, fitness and recreation
Tourism, travel and hospitality
Resources and infrastructure
Forest and wood products
Agriculture, horticulture and conservation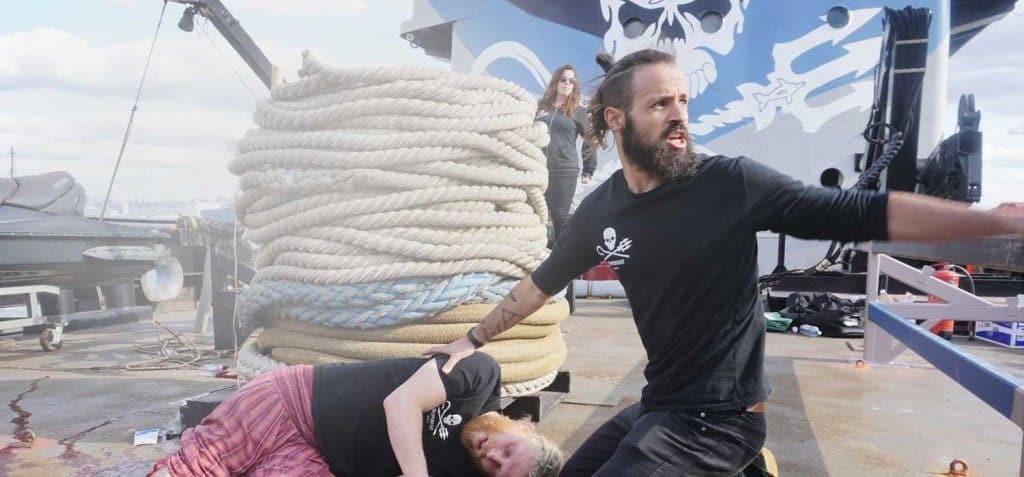 How do you get a Level 2 First Aid certificate?
Real Response is dedicated to providing accessible Level 2 First Aid courses all around Melbourne. Our team of simulations experts can transform an area of your workspace or other premises into a mock emergency situation for industry-specific first aid training. We also host public and private training courses at our Melbourne head office conveniently accessible in St Kilda.
First aid training is suitable for people of all ages. Life-threatening accidents and emergencies can happen any time to anyone, and having trained first aiders on site is the best way to ensure a timely and appropriate response. Simulation-based first aid training has lots of advantages, including:
1. Simulation training is an active and fun way to learn
2. Simulation training provides experience that saves more lives
3. Simulation training creates a safer workplace, school or other premises
4. Simulation training tests emergency response time-frames and procedures
5. Simulation training develops teamwork and leadership skills
6. Simulation training is ideal for team-building and bonding
7. Simulation training is suitable for people of all ages
What does Level 2 First Aid cover?
Level 2 First Aid is a foundational first aid training course that delivers advanced skills and knowledge. In addition, Real Response graduates are empowered with confidence to act decisively when no one else can with attainments that include:
Provide cardiopulmonary resuscitation (CPR) to an adult, child and infant
Understand the principles of Automatic External Defibrillation (AED)
Responding to respiratory and cardiac emergencies
Shock, seizure and anaphylaxis response procedures
Addressing head and spinal injuries using immobilisation techniques
Management of bleeding including appropriate bandaging
Immobilising and assisting with sprains, strains, fractures and dislocations
That's an amazing array of first aid skills for treating serious medical conditions, learnt in only a day or two of training. In addition, the skillset can be built upon for greater capacity for responding to emergencies. Real Response first aid courses are like building blocks, allowing you to grow as a first aider, improve employment options, or make an entirely new career change.
What does Level 2 first aid enable you to do?
In only a day or two of dedicated first aid training, you will develop skills and knowledge for responding to the most commonly experienced accidents and emergencies. At Real Response, we assist every student to optimise their natural abilities and develop an awareness for health and safety that only first aid qualifications can provide.
The expansion of first aid training and skills development has transformed the industry. As more employers emphasise the importance of first aid and CPR, including essential training packages and components, the role of Real Response continues to expand. First aid training in Australia has changed for lots of reasons, including:
The availability of portable life-saving equipment such as defibrillators and adrenaline auto-injectors.
A solutions-based approach, where simulation-based training mimics reality for impressive uptake and recall of first aid skills.
The increased emphasis on first aid for industries such as childcare and the electricity supply industry.
Level 2 First Aid in Melbourne is an essential safety measure, particularly in places where large groups of people gather. Real Response training courses more relevant than ever, and a great way to ensure your family, friends and colleagues are all safe.
Business owners, employers and building managers appreciate the benefits of on-site Level 2 First Aid training. Staff can train for their first aid certificate in a familiar environment with minimal disruption to regular work functions, and we can also undertake a risk and hazard assessment and help you establish a dedicated first aid room.
Real Response goes the extra mile to ensure first aid qualifications are backed by real capability. Our instructors are dedicated to providing skills for the real world, and when lives are on the line your first aid skills will make a real response difference. The thanks from the person whose life you save is a bonus.