Simulation training enhances information uptake, encourages team-work and develops leadership skills. Provide First Aid (formerly Level 2 First Aid) attainments are realistically taught using simulation training, ultimately improving the quality of first aid and healthcare delivery within Australian society. Interest in simulation training is shared by community and industry groups and is used by the military and emergency services to ensure their personnel have a practical working knowledge of equipment and techniques. Provide First Aid simulations are expertly tailored for individual class groups requiring training that is relevant to their workplace or other setting.
Real Response simulation training is an Australian-first for attaining the full spectrum of first aid and CPR qualifications. Provide First Aid (HLTAID011) is a broad-focussed attainment that includes cardiopulmonary resuscitation (CPR) and emergency life support units. Provide First Aid simulations are used to replicate real situations that encourage students to think pro-actively, work together, find solutions and deliver emergency first aid efficiently and effectively. Simulation technologies encourage inclusive student participation, resulting in a high standard of first aid learning outcomes. Real Response simulation training is the progressive benchmark for first aid knowledge and training in Australia today.
Real Response Simulations
Simulation first aid training saves more lives than outdated learning methods in traditional classroom settings. Government agencies and private organisations are taking notice, with high-profile research initiatives aimed at a broad range of simulation training applications. Simulation training promotes greater information retention and a deeper understanding of procedures used during critical incidents, with course graduates able to think clearly and make the right decisions during a real emergency. Real Response attainments are highly regarded thanks to simulation training facilitated by experienced emergency services and medical personnel. Real Response simulations include:
Role playing – emergency response in real-time
Props – setting the scene for occupation-specific emergencies
Fake wounds – realistic injuries for immersion in simulated emergency response
Flashing lights – Improving first aid focus using sensory distractions and diversions
Sirens – effective first aid and communication alongside emergency services
Smoke – appropriate life-saving solutions and treatments for specific injuries
Pyrotechnics – safe methods for learning about dangerous situations
Actors – communication and response skill-set taught and enhanced by the experts
Odours – remaining alert to unexpected and unseen dangers
Simulated 000 calls – timely and accurate communication during an emergency
'Learning by doing' is an ancient maxim that holds countless applications in modern settings. It is the favoured learning technique for many occupations where qualifications are supported by specialised skills and equipment. The uptake of simulation training by governments and learning institutions is growing, with Real Response taking a lead role in the positive change.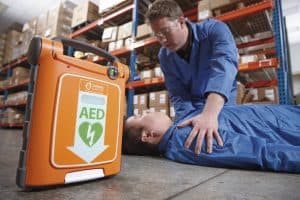 Comprehensive Learning With Provide First Aid Simulations
Critical incidents can happen anytime, and teamwork is often required to treat casualties effectively. Simulation training develops powerful leadership skills that can be called upon in an emergency, greatly improving patient outcomes. Simulation training provides the confidence required to face a life or death situation with a cool head and steady hands. Small Real Response class sizes help ascertain individual uptake of course material in a realistic setting, allowing instructors to guide and correct every student according to their needs.
By using actors, props, role-playing and sensory devices, Real Response course instructors and participants can easily identify workplace hazards that would otherwise be overlooked. Provide First Aid (HLTAID011) qualifications are comparable to previous Level 2 First Aid attainments, and Real Response is setting the standard with simulations resulting in long-term retention of first aid skills, including natural pro-active responses during genuine emergencies. Simulation training is the interactive and safe way to develop a solid understanding of first aid practices and principles, resulting in high attainments and the opportunity to be a real leader when the need arises.
Real Response training tests knowledge, skill and ability. The attainments gained using Provide First Aid simulations are easier to recall in high-risk low-frequency emergencies, resulting in a faster response and greater likelihood of saving lives. A successfully performed life-saving procedure is something to be proud of, and Real Response is honoured to offer the best first aid simulation training in Australia.