What You Will Learn?
Responding to an unconscious
Airway management
Provide artificial respiration
Provide cardiopulmonary resuscitation to an adult & child infant
Use of a defibrillator
Accessing rescue equipment and rescue situations
Isolation procedures
Safe Approach Distances appropriate for LV panel
Requesting support
Who are the real first aid trainers?
Our qualified instructors are world-class legends. They're paramedics, firemen, critical care nurses and former military. These are people who know how to think on their feet and will teach you to do the same. Our trainers want you to be involved, ask questions and have a go. Great effort and planning is taken to ensure an inclusive, safe and non-intimidating learning environment. We don't want you to memorise a stack of information on 'how to apply first aid', we want you to experience it for yourself.
Meet The Team
How to choose a course?
Think of first aid training as a toolbox for life. The more training you complete, the more tools you will have in your toolbox. The more tools in your toolbox, the more you have to draw upon should you ever be faced with a real-life emergency. A great way to get your toolbox started is to think about why you want to complete first aid training. This will help determine what skills you may like to acquire first. There are many reasons why people complete first aid training. It could be to create a safer workplace at home or school or just to have the ability to help others. Your reasons can, and most likely will, change over time – and that's OK! You can always add to your toolbox.
Choose a course
Want to know more about Real First Aid training sessions?
Real First Aid training is conducted in groups. This can be at one of our venues, or we can come to you. If you're looking at first aid training for staff for example, this is an easy option – no travel required. Over the duration of the course you will take part in a series of 'simulated' emergency situations where you will be guided to respond effectively. Our priority is to ensure everyone in the group leaves feeling confident that they could apply first aid should they ever need to. We encourage team learning, problem solving and participation. One other thing, while we don't think emergencies are a laughing matter, we definitely don't shy away from making training sessions as engaging and enjoyable as possible.
Why choose Real First Aid?
There's a reason why Real First Aid receives on-going endorsements, industry and peer acknowledgement and positive reviews from graduates. Our dedication to delivering world- class first aid training is paramount. We truly want every student to engage, enjoy and learn from their experience with us. We understand that choosing a first aid trainer provider requires trust, and we want you to always feel like you're in safe hands.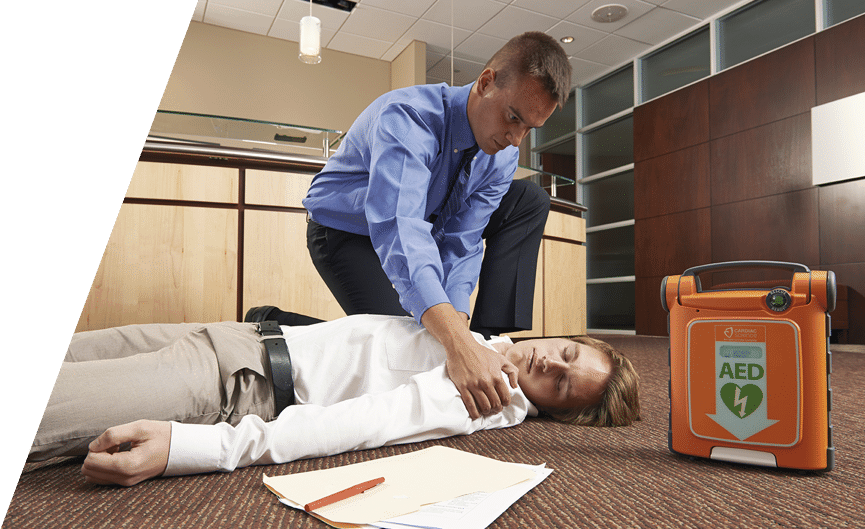 Perform Rescue from a Live LV Panel
The introduction of electricity supply during the 20th century allowed major Australian cities and regional centres to flourish. Our wealth of natural resources enabled powerful energy production and distribution networks across the land to be utilised for personal or business use. Prior to use, electricity supply needs to be controlled, de-energised, isolated and protected using both high-voltage and low-voltage switchgear, often noticed in commercial buildings as Low Voltage (LV) Panels containing a bewildering array of cables. Perform Rescue from a Live LV Panel (UETTDRRF06B) is the Real First Aid response, empowering a new generation of safety-conscious first aiders.
Smooth operation of large commercial and industrial buildings is reliant on consistent and reliable electricity supply. Although voltage and cables are monitored, weaknesses can occur that result in power interruptions, overloads, short circuits and other situations requiring the intervention of qualified electricity industry personnel. It's essential to understand at the outset that 'low voltage' doesn't mean safe-to-touch, with the International Electrotechnical Commission defining low voltage in the range of <1000 V AC or <1500 V DC. In other words, a 'live' low voltage panel can deliver a fatal electric shock.
Who will Benefit from a Low Voltage First Aid Course?
Perform Rescue from a Live LV Panel (UETTDRRF06B) is an essential training component for LV panel maintenance personnel across a range of occupations. In addition, progressive employers consider qualified on-site first aiders a feature of safe building management plans. Wherever people gather, accidents and emergencies can occur, with some casualties requiring immediate first aid for successful life-saving outcomes. As Australian workplaces, schools and community spaces align with standardised health and safety procedures, trainers such as Real First Aid are in demand and ready to deliver life-saving knowledge and state of the art skill-set attainments.
First aid skills and knowledge are used both pro-actively and reactively. Real First Aid course participants develop workplace practices that minimise risk and enhance safety, while life-saving techniques remain at-ready for rapid emergency response whenever required. Every enterprise involving distribution and supply of electricity will benefit by the addition of on-site first aiders, particularly those with industry-specific UETTDRRF06B training. Low voltage control panels are incredibly complex: transforming, protecting, monitoring and controlling electricity using switches, circuit breakers, fuses and power conducting components.
What low voltage rescue skills are attained in UETTDRRF06B?
Every first aid and CPR course contains versatile techniques and guidelines that can be tailored for specific purposes. Real First Aid instructors take learning to the next level, creating simulated reality for enhanced, real-time learning and greater knowledge retention. The Real First Aid skill-set are real life-skills worth attaining for the safety of family, friends and colleagues. As industry-specific first aid skills, Perform Rescue from a Live LV Panel provides valuable knowledge and facts, along with the confidence and ability to safely manage a rescue operation. Course content and attainments include:
Hazard and risk control measures
Isolation of electrical faults
Safe function of emergency equipment and devices
Understanding workplace emergency procedures
Isolating live LV panel apparatus and safely removing the victim
Applying CPR and other life-saving procedures
Contacting emergency services personnel
Co-ordination of helpers and onlookers
Maintaining a safe and secure LV panel worksite
Reporting accidents, incidents and related safety issues
The above are just a sample of Perform Rescue from a Live LV Panel attainments. Every Real First Aid course is a stand-alone qualification, with options for progressive first aid training to develop a complete life-saving skill-set. The course is short, taking only three hours to complete, making it a tremendous life-saving investment, while coupling the attainment with other short courses such as Provide Cardiopulmonary Resuscitation (HLTAID001) provides even greater emergency response scope.
What is Real First Aid Simulation Training?
Immersive Simulation Training is a Real First Aid initiative using realistic scenarios to emulate work, school and community environments. Simulation training is tailored for group learning, with electricity industry employees benefitting from both Perform Rescue from a Live LV Panel (UETTDRRF06B) and Provide First Aid in an ESI Environment (UETTDRRF10B). Real First Aid course facilitators and instructors are experienced emergency services and medical professionals capable of delivering deep first aid and CPR learning, especially when simulations are involved.
Simulation Training utilises actors, props, emergency sirens, emergency equipment, teamwork and more, all designed to give course participants a life-like experience of saving lives. Simulation training is used by the military and emergency services to develop
skills
and create an at-ready force from the moment training is complete. First aid and CPR courses designed for the electricity services industry are equally important, transforming the way we live and work, making dangerous environments safer for everyone, and helping qualified first aiders look out for each other along the way.