What is UETTDRRF06B?
UETTDRRF06B is the Competency Standard Unit you will attain when you complete our Perform Rescue from a Live Low Voltage Panel course. It is an essential training component for LV panel maintenance personnel across all industries. The course includes learning rescue procedures from live low voltage apparatus, as well as the skills required to provide CPR to a casualty. These can be separate skills if you work around electrical assets. The course includes recognising hazard and risk control measures, the isolation of electrical faults, and the safe function of emergency equipment and devices. By completing the course you will also attain an understanding of workplace emergency procedures, how to isolate live LV panel apparatus, how to safely remove the victim, and how to apply CPR and other life-saving procedures. First aid skills also include how to respond to an unconscious person, how to manage a blocked airway, how to provide artificial respiration and how to use a defibrillator. We can train on-site, and it takes three hours to complete without CPR, and six hours with CPR training. Like all our courses, our Perform Rescue from a Live Low Voltage Panel course also includes simulation training to help immerse you in the situation and improve learning.
Is cardiopulmonary resuscitation part of the course?
Cardiopulmonary resuscitation, or CPR, training can be taken with our Perform Rescue from a Live Low Voltage Panel course, but is not a compulsory part of it. If you do choose it as part of the course, you will learn how to administer it to adults, children and infants. Choosing the CPR component (HLTAID009) can help you provide greater emergency scope. Our First Aid and CPR courses, in this instance, are designed for the electricity services industry, and together, can play a big role in help making our workplaces safer.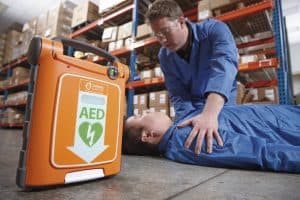 Why is it important to learn a live low voltage rescue?
Low voltage is a term that is used to describe the mains voltage used by most houses and small commercial businesses. It is still dangerous, and can present an electric shock risk, but there is unlikely to be any electric arcs through the air with low voltage, as there can be with high voltage supply. Our Perform Rescue from a Live Low Voltage Panel course can provide you with the skills to help manage casualty situations where a person may have been shocked, or come into contact with live low voltage. Managing electrical danger can be different to other types of First Aid training, and some State and Territory regulations can require electricians to have attained their UETTDRRF06B Competency Standard Unit as part of their First Aid Code of Practice.
Low voltage control panels can be remarkably complex, with a range of components, switches, circuit breakers and fuses. That's why it's important to understand and recognise the danger you may be encountering when you begin a low voltage panel rescue.
How do I learn to use rescue equipment?
At Real Response we know how important being prepared for most emergency situations can be, and that is why we are the only company in Australia outside of the professional medical and military fields to undertake high-quality simulations as part of First Aid training. When it comes to the electrical industry, on-site training and simulation can make a big difference to understanding what to do and when. Not only can it help the retention of information, but it can provide you with valuable insights you may not get from sitting in a conference room or watching a video. Our simulation training can include actors, fake blood and wounds, smoke and props and tools, including rescue equipment. Having played out as many variables as possible in training can be an immense help to your work colleagues, or your clients, when it matters most.