Does UETTDRRF06B include training on how to perform rescues?
Our Perform Rescue from a Live Low Voltage Panel course (UETTDRRF06B) can provide valuable knowledge, along with confidence and the ability to safely manage a rescue operation for low voltage panel maintenance personnel across a number of industries. The nationally accredited course includes learning rescue procedures from live low voltage apparatus, as well as the skills required to provide CPR. On completion, you will be able to identify hazard and risk control measures, be able to isolate electrical faults and safely operate emergency equipment and devices. You will again gain an understanding of workplace emergency procedures, be able to isolate a live low voltage panel apparatus and safety remove the victim, and maintain a safe and secure low voltage panel worksite. On top of that, you will learn how to apply CPR and other life-saving procedures, as well as manage the scene safely.
Is it important to learn LV panel procedures?
Low voltage control panels are incredibly complex. In essence, they transform, protect, monitor and control electricity using switches, circuit breakers, fuses and power conducting components. Low voltage panels are used by most residential and small commercial properties and can present an electric shock risk, however they are unlikely to present an arcing risk.
Despite their reliability, from time to time they may need repairing, and understanding how they work and the procedures around working with them is a vital part of preparing for the rare chance you may need to be part of a low voltage panel rescue. Managing a low voltage panel rescue, therefore, can present different dangers than those covered in other First Aid courses. This course can provide you with the skills to help manage specific, as well as general, casualty situations. Real Response course participants also develop workplace practices that minimise risk and enhance safety, as well as being trained up with techniques to rapidly respond and manage emergency situations. Every organisation or business, including schools, that have some level of distribution and supply of electricity, can benefit from having first aiders on site that are trained with low voltage panel rescue procedures.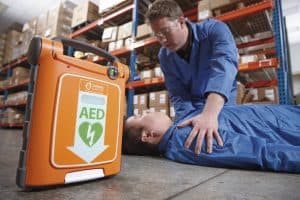 Does this course comply as a national Competency Standard Unit?
UETTDRRF06B is a Competency Standard Unit that encompasses responsibilities for health, safety and risk management processes at all operative levels, and adherence to safety practices as part of the normal way of doing work. Electrical Supply Industry (ESI) workers are required to maintain currency in this unit to be authorised or approved to work on ESI networks. Across most States and Territories there is a general requirement of this qualification for those who undertake or help undertake electrical work. You can be required to undertake the course every six or 12 months.
How can simulation help me with live low voltage apparatus training?
As mentioned above, we believe it is important when dealing with live low voltage apparatus to understand how it works, how it can go wrong and how to deal with any rescues or situations that result. Having first-hand practice is important, but that also goes the same way for First Aid. Thousands of Australians attend First Aid courses but don't really know how to respond in an emergency. That is why we do things differently. When you attend our Perform Rescue from a Live Low Voltage Panel course you leave with the confidence and ability to respond. Immersive Simulation Training is a Real Response initiative that emulates work, school and community environments. Simulation training with our Perform Rescue from a Live LV Panel course is done in a group setting, and is tailored for group learning. We use actors, props, emergency sirens, emergency equipment and a lot of teamwork to give course participants an indication of what it is actually like to save lives. Simulation training like ours is used by the military and emergency services, and our programs are delivered by people who have been out in the field and experienced it all first-hand.