When people suffer a severe medical emergency, the response needs to be timely and appropriate. This is certainly the case for casualties suffering from a severe allergic reaction (anaphylaxis) who can quickly fall unconscious or even die if a rapid emergency response isn't delivered. Fortunately, progressive first aid procedures include techniques for addressing an anaphylactic episode and assisting the casualty until professional medical assistance arrives. First Aid Management of Anaphylaxis (22300VIC) provides extremely important attainments that are valued by Melbourne employers for their life saving capability.
Anaphylaxis is a life-threatening allergic reaction that can cause shock, trouble breathing and a sudden drop in blood pressure. The symptoms of anaphylaxis caused by allergic reaction can occur soon after exposure to an allergen, although there can also be a delayed reaction or even an anaphylactic episode that occurs without any apparent trigger. The situation can quickly escalate into a frightening episode for the victim and onlookers, but with the proper first aid attainments, a confident first aider has the skill to stabilise the victim's condition and assist with recovery.
What is anaphylaxis training?
At Real Response, our training is designed to empower course participants with life saving capabilities. Our methods have changed the face of first aid training in Melbourne, and employers, workers, and the victims themselves are reaping the benefits. Severe allergic reaction is on the rise, in some cases inexplicably, and Real Response is ready to meet the challenge by empowering a new generation of competent first aiders. Our simulation based anaphylaxis training encourages students to 'learn by doing' instead of simply attempting to process unfamiliar information while sitting behind a desk.
The disconnect between first aid attainments and genuine emergency response capability led to the foundation of Real Response in 2014. In a country where approximately 25% of all people have first aid training, yet only 4% are confident to perform first aid procedures correctly, something was amiss, and simulation based first aid training as delivered by Real Response is the answer. First Aid Management of Anaphylaxis (22300VIC) training includes:
Simulated emergency scenarios using actors and props for enhanced learning
On-site, workplace specific training that ensures all employees are emergency-ready
Practice using real emergency equipment including adrenaline auto injectors
Timed emergency response for improving first aid ability and patient outcomes
Understanding the causes and symptoms of anaphylaxis
Communication with emergency services personnel
Teamwork and leadership development
Is anaphylaxis training for teachers?
Anaphylaxis training is suitable for anyone to undertake, although teachers are prime candidates for benefitting from the course material. People of any age can suffer from severe allergic reaction, but children are among the most vulnerable and worth special protection. It's impossible to oversee every child at every moment, but when trained first aiders are Real Response graduates, the chance of a rapid response and appropriate treatment pathway is dramatically improved. Anaphylaxis triggers include foods such as peanuts, other nuts, seafood and stings from bees, wasps, hornets and other toxic creatures. The course is extremely valuable for childcare, aged care and nursing staff working anywhere in Victoria. Symptoms of anaphylaxis include:
Itching, hives and other skin reactions including discoloration
Noticeable swelling of the face, lips, throat and eyes
Constricted airways that cause breathing difficulties
Rapid changes in pulse and blood pressure
Nausea, vomiting and diarrhoea
Dizziness, fainting and unconsciousness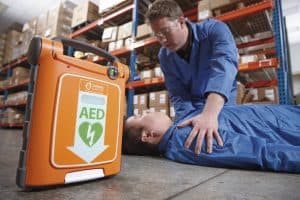 Are the course attainments accepted anywhere in Victoria?
First Aid Management of Anaphylaxis (22300VIC) attainments are in demand all across Melbourne and the rest of Victoria. The knowledge and skills learnt under the professional guidance of Real Response course instructors is second-to-none, and our trained first aiders are people who truly value the best health and safety standards for those under their care. At Real Response, our students develop the ability to recognise and manage anaphylactic episodes with the aid of an adrenaline auto injector, while also developing strategies that minimise risk in the workplace.
Anaphylaxis emergency response is a great skill to have on standby anywhere people gather in large numbers. First Aid Management of Anaphylaxis training only takes 3-4 hours to complete, providing Victorian accreditation and certification lasting 3 years. Our course instructors are all highly-proficient paramedics and emergency medical personnel with years of experience saving lives, and their aim is to empower everyone with the same skill set. If training courses are judged according to the value provided, Real Response training that saves lives every day around Melbourne must be at the top of the list.
Melbourne Course locations
Real Response simulation training developers travel to all corners of Melbourne for delivery of essential first aid and CPR training. We transform a designated area of your childcare facility, school or workplace into a mock emergency response zone for genuine emergency response practice. At Real Response, practice really does make perfect, and by visiting you on-site we can also assist by minimising risks in the workplace, creating a safe first aid environment, and building your team's overall first aid response capabilities.
First Aid Management of Anaphylaxis can also be learnt at our headquarters located at 1/3 Wellington St, St Kilda 3182. With health and safety standards a high priority throughout Melbourne, there has never been a better time to learn first aid, and you won't find better training than that delivered by the industry experts at Real Response.