Although it has taken a long time, childcare workers, nursing staff and aged care workers are finally gaining the recognition they deserve. As health and safety regulations become standard workplace protocol all around Australia, the value attributed to highly-trained care industry workers has risen, along with the qualifications required to perform all care work functions at adequate levels. Provide an Emergency First Aid Response in an Education & Care Setting (HLTAID012) has become an extremely important first aid qualification in demand, with Real Response course graduates among the most proficient in Melbourne and the rest of Australia.
What emergency first aid training is provided?
Real Response courses are adapted to provide appropriate emergency response training for all workplace and community settings. Our course delivery includes simulation based training, or 'learning by doing' allowing course participants to practice their life saving skills even while training. Simulation based training has been used with great success to train paramedics and other emergency response personnel for decades, and the method didn't go unnoticed by Real Response founders.
The response has been amazing, and we are already noticing a dramatic increase in first aid knowledge and skills retention that saves more lives around Melbourne every day. Provide an Emergency First Aid Response in an Education & Care Setting (HLTAID012) is a training course worth considering by anyone who values the health and safety of those in their care. Our training courses delivered by capable and experienced emergency services personnel have revolutionised first aid training in Melbourne, and education and care managers and employees are treated to a dynamic experience at Real Response that includes:
Realistic scenarios that emulate genuine emergency response situations
The addition of actors and props to immerse students in the learning process
Emergency sirens, flashing lights, 000 calls and more
Real emergency equipment for a 'practice makes perfect' approach
Team bonding, communication and leadership development
Timed response practice that emulates real emergency situations
Will I receive workplace approved qualifications?
All Real Response qualifications result in accreditation that is accepted by government and industry experts around Australia. In fact, Real Response was established in 2014 to bridge the divide between attainments and genuine life saving capabilities. First aid knowledge and skills are easily learnt by almost anyone, and with the addition of simulation based first aid training, the life saving skills also become life skills that are deeply embedded and ready to be called upon whenever required.
Provide an Emergency First Aid Response in an Education & Care Setting is learnt in only 7.5 hours, including cardiopulmonary resuscitation (CPR) and automated external Defibrillator (AED) training. Other nationally accredited course attainments include:
Provide first aid care to adults, children and infants
Treatment of anaphylaxis (sever allergic reaction) using an adrenaline auto-injector
Artificial respiration and other airway management procedures and techniques
Bandaging and dressing fractures, wounds, strains and sprains
Proper communication with the casualty, helpers and emergency services
There is a whole lot more to be discovered during an enlivening day under the tutelage of Real Response course instructors who are ready to help you maximise your first aid response capability.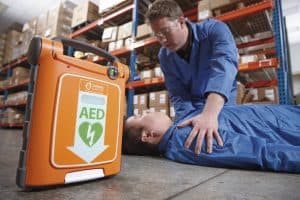 Are real life scenarios necessary to learn first aid?
Rote learning from a book and desk-bound training can help a person understand the purpose and function of first aid procedures, but they are no substitute for experience. Real Response training incorporates experience into learning, allowing course graduates to proceed with confidence in their ability. Benefits of simulation based first aid training include:
Superior student engagement in learning first aid procedures
The capacity to save more lives and respond appropriately to any emergency
Creation of a safe environment for everyone under your care
Team building exercises for creating a unified workplace
Real-time testing of first aid knowledge and skills
An ideal study method for people of all ages
Melbourne Course locations
Real Response has become a Melbourne icon, in part due to our desire to reach out to all people in the city and suburbs. Our simulations experts enjoy the opportunity for on-site training at a location of your choice. Advantages include workplace-specific first aid training, localised risk management, creation of dedicated first aid facilities, proper equipment storage, and team bonding in the workplace.
We also host 'public courses' and training at our Real Response headquarters located at 1/3 Wellington St, St Kilda 3182. Provide an Emergency First Aid Response in an Education & Care Setting (HLTAID012) is a standout course for all healthcare and childcare workers, and our course graduates are among the most outstanding first aiders in Melbourne.