As an introduction to some of the most important first aid procedures, Provide Basic Emergency Life Support (HLTAID010) is hard to beat. Previously known as Level 1 First Aid, Provide Basic Emergency Life Support delivers knowledge and skills for responding to some of the most common life-threatening situations suffered by people all around Australia. Real Response has quickly become one of Australia's premier first aid training organisations, and the people of Melbourne are benefitting every day from the caring approach of our trained first aiders.
For too long, the divide between first aid qualifications and actual ability to respond in an emergency has been lacking, so Real Response was established in late 2014 to get things back on track. Our revolutionary methods have transformed first aid training, empowered thousands of people, and satisfied the demands of employers and industry experts who expect qualifications to be matched by capability. Our simulation based first aid training is one of our secrets, and when course material is delivered by the best instructors in the business, the attainments become life skills that are deeply embedded. Provide Basic Emergency Life Support (HLTAID010) is definitely a course worth considering for anyone in Melbourne.
What is emergency life support training?
Most people are familiar with the concept of cardiopulmonary resuscitation (CPR) and the assisted breathing technique commonly called mouth-to-mouth resuscitation. Unfortunately, vague familiarity is where the knowledge generally stops, even though the techniques are easy to learn in only a few hours of dedicated training. In addition, although approximately 25% of all Australians have undertaken a first aid course, only 4% are confident of performing the procedures correctly in an emergency. Real Response aims to reverse this trend using a number of ground-breaking initiatives.
Provide Basic Emergency Life Support becomes a real stepping stone toward higher attainments at Real Response. As a stand-alone course it is no less valuable, delivering qualifications that last for three years certification. Our courses are designed to promote deeper learning and greater retention of essential life saving information, and we are proud to have formed partnerships with Melbourne businesses and employers who want to develop the safest workplace possible. We reach out to all corners of Melbourne, and are ready to visit your workplace, school or community premises to deliver our famous simulation based first aid training.
Does training include emergency scenarios?
Real Response training methods are what set us apart from the competition. Instead of using desk-bound instruction with a little first aid practice, we turn the concept on its head and use training time to develop every student's practical emergency response experience. Simulation based first aid training, or 'learning by doing' provides deeper immersion in learning, and is the training method used by paramedics, the military, police and hospital emergency staff.
We hold training courses on location at your premises, public courses, and in-house training at our Melbourne Real Response headquarters located in St Kilda. Simulation training has so much to offer, including:
Transformation of your workplace for industry-specific first aid training
The inclusion of actors and props to set the scene for emergency response
A realistic experience that includes sirens, lights, 000 calls and more
Fake wounds, fake blood and other realistic additions
Genuine practice with real first aid equipment including defibrillators
Communication, team work and leadership development
Timed first aid response practice that develops natural capabilities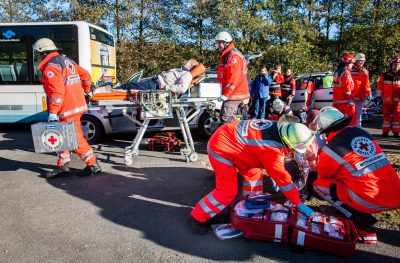 Are the course attainments difficult?
At Real Response, we make difficult things easy. How else could we offer courses that transform newcomers into attuned first aid responders within a day. Provide Basic Emergency Life Support (HLTAID010) includes CPR and Automatic External Defibrillator (AED) training, along with other essential first aid procedures used by the best paramedics and medical staff.
Trained first aiders have more capacity than ever before to become a real link in the life saving chain, and the thanks of those whose lives have been saved is a reward to be proud of. Real Response is making a real difference in first aid training outcomes, providing nationally accredited qualifications, with training taking only 6 hrs to complete for emergency-ready capability.
Melbourne Course locations
As with all Real Response training courses, Provide Basic Emergency Life Support is ideal for in-house learning at your workplace or other premises. Not only will your trained first aiders develop emergency response skills, they will also learn the importance of emergency communication, development of local response strategies, the value of a dedicated first aid room, and the life-saving potential of portable equipment and state-of-the-art devices. The simulation based training experience is also a great team bonding exercise for all employees.
Real Response also hosts training courses at our dedicated facility located at 1/3 Wellington St, St Kilda 3182. Our first aid and CPR training, including Provide Basic Emergency Life Support (HLTAID010) is ideal for individuals and groups who want to work together to create a safer Melbourne for everyone to appreciate.