Provide First Aid (HLTAID011), previously called Senior / Level 2 First Aid, remains one of the most popular first aid training courses in Australia. The skills and knowledge learnt in this course form the backbone of emergency response procedures used in wide-ranging situations, and are suitable for people of all ages to learn. Thanks to progressive first aid developments, qualified first aiders now have capabilities that were formerly only accessible to professional paramedics, emergency medical staff, military personnel and police. Real Response is proud to offer all Australians the best training possible.
Established in Melbourne in 2014, Real Response is dedicated to closing the gap between first aid attainments and genuine ability to respond adequately in an emergency. So far so good, and our reputation for delivery of high-quality attainments has spread quickly, with many large and small Australian enterprises appreciating the level of training provided. Provide First Aid (HLTAID011) introduces course participants to real life saving equipment including Automatic External Defibrillators (AEDs), adrenaline auto-injectors, oxygen equipment and other devices that make a real difference in first aid emergency response. Our training methods are unparalleled, and there is so much more to experience in our Provide First Aid course.
What is simulation based first aid training?
Simulation training has always played a small role in first aid training, but usually relegated to a training add-on using practice dummies for cardiopulmonary resuscitation (CPR). This is inline with the Australian resuscitation council guidelines for training course. Real Response in Melbourne takes simulation based first aid training to another level, allowing course participants to suspend reality while they dive into simulated first aid emergency response practice that emulates genuine emergency procedural steps. Our trained first aiders are ready, willing and able to respond appropriately to emergency situations the moment they complete HLTAID011, and those whose lives are saved couldn't be more appreciative.
Not every first aid scenario is a life or death situation, but it's still important to develop a complete skill set for low-frequency, high-risk situations. In a time of need it's important for trained first aiders to act decisively instead of hanging back and waiting, and our talented course instructors and simulation experts make sure all our students are confident in their first aid ability. Simulation training delivered at Real Response is the enjoyable way to learn serious subject matter, with innovations that include:
Creation of simulated emergency scenarios at your work, school, or other premises
Actors and props to set the scene and assist with immersive learning techniques
Active participation in genuine emergency response practice
Emergency lights, sirens, pyrotechnics and 000 calls for added reality
Fake wounds, fake blood and more to deepen immersive learning
Real emergency equipment including defibrillators and auto adrenaline injectors
Development of teamwork, communication and leadership skills
Timed emergency response for honing individual and collective capability
Are there other course requirements for Provide First Aid training?
A highlight of progressive first aid is its over-reaching scope for responding to all types of accidents and emergencies. The divide between first aid attainments and genuine emergency response ability has narrowed, thanks in no small part to Real Response course facilitators and the team of dedicated instructors. All Real Response staff are hand-picked for their experience, qualifications, personality, and commitment to delivery of the best first aid and CPR training programs available.
With 1 or 2-day course options available that result in qualifications lasting 3 years prior to a short refresher course, Provide First Aid (HLTAID011) remains an extremely popular and versatile training course. The application of emergency response procedures learnt in the course are suitable at work, home, or while out and about. A reasonable level of literacy and numeracy skills, plus a desire to make a real difference when an accident or emergency takes place, are all that's required to develop life saving and life changing skills.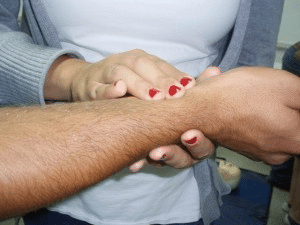 What course attainments do I gain?
Provide First Aid is a perfect mid-level training course for first aiders building up their knowledge and skills. Major emergency response techniques are thoroughly learnt, with attainments that include:
Provide CPR to an adult, child and infant
Understand the principles of Automatic External Defibrillation (AED)
Responding to respiratory and cardiac emergencies
Shock, seizure and anaphylaxis response procedures
Addressing head and spinal injuries using immobilisation techniques
Management of bleeding including appropriate bandaging
Immobilising and assisting with sprains, strains, fractures and dislocations
There are even more skills to learn in HLTAID011, and Real Response training is also a great bonding experience for workmates and colleagues who want to be there to assist whenever needed.
Melbourne Course locations
Real Response are simulation training experts, and we enjoy nothing more than transforming Melbourne premises into simulacrums of real emergency scenarios for enhanced training outcomes. We travel to all corners of Melbourne to train small and large organisations, and the feedback has been outstanding. Onsite training is great for industry-specific learning that can be adapted for greater immersion, deeper learning outcomes, establishment of first aid strategies, and skills that are ready for use at any time.
The same outcomes can be achieved by individuals and groups who undertake training at Real Response Melbourne headquarters at 1/3 Wellington St, St Kilda 3182. The popularity of Provide First Aid has resulted in the establishment of 'Public Courses' held at the above address, for individuals and groups to learn Provide First Aid with like-minded people who desire a safer Melbourne for everyone.