First aid training can be progressive, leading to higher attainments and greater emergency response capability. Provide Advanced First Aid (HLTAID014), formerly known as Level 3 First Aid, is an achievement worth being proud of, and an ideal course for getting an overall perspective on life-saving and life changing first aid and CPR attainments. There is a lot to learn over a total 15 hours training time, but this also tells us that first aid procedures and techniques are easy to master when taught by the experts. When we add Real Response simulation based training methods to the mix, the course attainments are industry-ready the moment your Provide Advanced First Aid training in Melbourne is complete.
Who will benefit from Provide Advanced First Aid training?
The course has been a valuable component of first aid training in Melbourne for many years, and has evolved to include the best modern first aid developments. The introduction of portable life saving devices has made a huge impact on first aid training, and at Real Response we make sure everyone can reach their maximum potential for genuine emergency response. There are lots of industries where Provide Advanced First Aid (HLTAID014) is an essential training component, including:
Health
Aviation
Community Services
Transport and Logistics
Creative Arts and Culture
Forest and Wood Products
Sport, Fitness and Recreation
An advantage of progressive first aid and CPR procedures is their adaptability to almost any circumstance. With knowledge and skills training delivered by Real Response experts, your Provide Advanced First Aid attainments are the real deal for use by regular Australians who want to make a difference.
Why are workplace approved qualifications necessary?
Society has changed dramatically during the past few decades. The emphasis on safety and security permeates all major cities, including Melbourne, so being alert and ready to assist others is a natural response. Many major industries and employers expect relevant first aid qualifications, and the nationally accredited Provide Advanced First Aid attainments look good on any resume, regardless of occupation.
Most importantly of all are the genuine life saving skills learnt for timely response in high-risk, low-frequency emergencies. HLTAID014 attainments cover the full spectrum of accident, incident and emergency response procedures and techniques, and although the subject matter is serious, we make first aid training an enlivening and fulfilling experience. Below are just a few of the comprehensive qualifications gained in Provide Advanced First Aid (HLTAID014):
Real CPR training for an appropriate response to cardiac arrest
Safely approaching an emergency victim and ascertaining their condition
Automated external defibrillator (AED) practice
Choking and anaphylaxis response including adrenaline auto-injector use
Assisting people suffering from seizures, epilepsy and shock
Immobilisation procedures for victims of head, neck and spinal injuries
Addressing multiple casualty incidents using teamwork and communication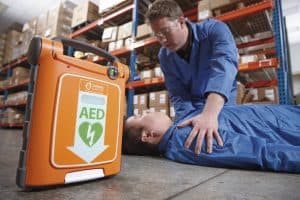 Do you train using real life scenarios?
Realistic first aid training practice is the best way to assimilate knowledge and put it into practice. All first aid training procedures can be thoroughly taught in a safe, simulated environment that is designed to represent your workplace or other establishment. Simulation based first aid training, or 'learning by doing' is ideal for the people of Melbourne who require a tailored approach to their first aid learning experience. Emergencies are not commonly encountered by most people, but Real Response simulation training uses immersive techniques so life-saving knowledge and skills can be immediately recollected whenever they are required.
Simulation based first aid training uses actors, props and other immersive aids to create a realistic learning environment. At Real Response, we also include emergency sirens, lights, pyrotechnics and 000 calls to add to the experience. We use fake wounds, fake blood, and other special effects for deeper, realistic learning, and our highly qualified course instructors ensure that practice really does make perfect when the time comes to face a real emergency. Our Melbourne Provide Advanced First Aid course participants are ready to face almost any danger the moment training is complete.
Melbourne Course locations
Provide Advanced First Aid can be taught at your location anywhere in the Melbourne City and Suburbs. Real Response simulations experts are always eager to transform your workplace, school, or other premises into a mock emergency zone for a day or two while employees, employers and building managers gain nationally accredited qualifications that last for 3 years prior to renewal.
Provide Advanced First Aid (HLTAID014) can also be undertaken at Real Response headquarters located at 1/3 Wellington St, St Kilda. Whether you are a newcomer to first aid training, or an experienced first aider looking to upskill, Provide Advanced First Aid could be just what you are looking for.