The need for proficient cardiopulmonary resuscitation can arise at any time. People of all ages can suffer heart or breathing problems that jeopardise health, and having someone around who knows what to do in an emergency can make the difference between life and death. As workplace and industry standards have evolved, and regular Australians look for opportunities to make a positive change, Real Response has taken the opportunity to shine the spotlight on CPR and first aid training for all Australians.
Real Response courses are the industry-standard, with accreditation accepted nationally by all reputable employers. A growing number of occupations require first aid qualifications, and the attainments can translate into an extremely positive employment step. Students who have benefited from the Real Response simulated learning experience are ready to step up when the need arises, with resuscitation guidelines clearly remembered courtesy of the immersive learning environment.
What are the Resuscitation Guidelines?
Every emergency scenario requires personalised attention, but there are resuscitation guidelines that assist procedural steps. The age and condition of the patient needs to be accommodated, for example, when performing neonatal CPR on a newborn baby, and the risks involved with every emergency response are very real and should be addressed with caution.
Beware of Dangers
Accident and emergency sites can be dangerous, or part of a larger emergency situation. Emergency services personnel are trained to be pro-active, but even they have their limitations for safety's sake. Only approach a collapsed or unconscious person if it is safe to do so and there is no immediate danger to yourself or other helpers.
Quickly Ascertain to Patient's Condition
First aid and resuscitation attainments arm students with knowledge to make decisive decisions. Real Response course participants also experience immersive learning using simulations to replicate time-sensitive emergency situations requiring a rapid response. The results are impressive, with graduates developing increased confidence along with leadership and teamwork skills.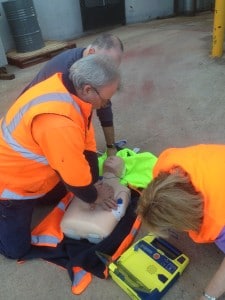 If Needed, Take Charge and Delegate Responsibility
If an emergency arises, there is every chance that no one present will know what to do, and the responsibility to take life-saving action will fall on your shoulders. By practicing emergency responses and cardiopulmonary resuscitation techniques in familiar (simulated) settings, the knowledge and skill-set can be easily recalled for situations where life saving measures are immediately needed. By imbibing the appropriate balance of theoretical knowledge and practical experience, clear decisions can be made, backed by the confidence to follow resuscitation guidelines correctly.
Check to See That Airways are Open
An unconscious person's neck muscles relax and they can easily swallow their tongue. The airways need to be cleared of all obstacles prior to performing mouth-to-mouth resuscitation. A person trained in first aid and resuscitation guidelines is equipped to perform all major resuscitation procedures, in contrast to an untrained person who is much less likely to offer substantial life-saving help.
Visually Inspect the Patient for Signs of Breathing
If the patient doesn't respond to verbal commands, a quick check to ascertain breathing or chest movement is in order. Occasional gasps aren't a sign of breathing, as they are not sufficient to maintain oxygen and blood flow essential for life.
Commence CPR if the Patient is Not Breathing
The sooner that CPR commences, the greater chance of successful outcomes. The aim of CPR and associated procedures is to sustain life until medical experts arrive. Advanced medical technology is continually developing, and devices that were previously inaccessible to the public, such as portable personal defibrillators, are now becoming more common. Chest compressions and artificial respiration are performed sequentially until help arrives.
There is no doubt that responding to an emergency can be a harrowing experience, but ignoring a victim's plight isn't an option, and there are times when something needs to be done immediately to save someone's life. Fortunately, emergencies don't arise every day, so Real Response courses are designed for maximum information retention in readiness for low-frequency, high-risk situations. With solid first aid knowledge and a life-saving skill-set in place, Real Response graduates are ready to face just about anything.