Newcomers to first aid training, and those whose qualifications have lapsed, will discover a wide array of accident and emergency techniques, skills and equipment. Recent developments, including the advent of portable life-saving devices have revolutionised the first aid training industry and transformed the lives of countless Australians for the better. Real Response innovators are at the forefront of change, offering entirely new ways to impart first aid knowledge using simulation training. Real Response courses teach emergency response skills that become life-skills to be applied whenever required for the benefit of family, friends, colleagues and even complete strangers.
Why are first aid skills required outside of hospital settings?
Anyone living in a major city will recognise the sight and sound of emergency services ambulances and motorcycle paramedics on a regular basis. People are bound to have accidents and suffer ailments where population density increases, and quality emergency response is often the only hope of survival in serious emergency situations. Trained first aiders now have access to portable defibrillators, oxygen equipment, adrenaline auto-injectors and other impressive devices used to revive and stabilise accident and emergency victims.
In addition, Real Response training assists with development of communication and teamwork skills, while also promoting leadership capabilities. Real Response was established with the intent of imparting deeper levels of first aid knowledge and ability, and our clients from all industries and walks of life are appreciating the difference that dedicated, real training experience can make. Saving lives is the goal, and when the skills, techniques and courage are gained in only a day or two of training, Real Response courses make perfect sense.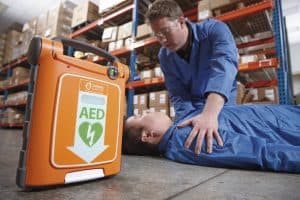 What are some important first aid skills?
Although Real Response training methods are progressive and encourage active participation in learning new procedures, all traditional first aid attainments remain incredibly important. Our courses have evolved to encompass every workplace and industry application, often requiring specialised emergency response skills, but the ability to perform common emergency procedures such as CPR and airway management remain core principles of first aid learning. Real Response attainments are all nationally accredited, with courses that include:
Provide CPR (HLTAID009)
Provide Basic Emergency Life Support (HLTAID010)
Provide First Aid (HLTAID011)
Provide Advanced First Aid (HLTAID014)
Our range of courses is extensive, including tailored learning such as Provide Advanced Resuscitation (HLTAID015) including oxygen training, and Provide an Emergency Response in an Education and Childcare Setting (HLTAID012) including adrenaline auto-injection for combatting severe allergic reactions.
What is basic first aid?
Basic first aid usually refers to the foundational first aid components. However, times have changed and basic first aid procedures are now complemented with portable life-saving equipment that turns simple basic first aid response into emergency intervention as used by trained paramedics and medical emergency staff. There is greater synergy than ever between medical professionals, emergency responders and trained first aiders who all perform with compatible ability for best possible emergency outcomes.
Should I have a First aid kit?
Every home, school and workplace should have a first aid kit on hand for dealing with accidents and injuries. It's also highly advantageous to have first aid qualified staff available at all times in case of emergency. There are several items that any basic first aid kit should contain.
Gloves
Face Shield for CPR
Dressings
Antiseptic
Industry-specific first aid kits contain additional items ready for use, and with appropriate first aid training and a designated first aid room it's now possible to have a range of equipment on site such as defibrillators and adrenaline auto injectors for treating severe allergic reaction. Real Response simulation training imparts skills that can transform any workplace or other setting into a safe and secure environment for everyone to appreciate.