Asthma is the most common form of chronic childhood illness suffered by Australians. Adults aren't immune from the debilitating effects either, with asthma and bronchial ailments often carried throughout life. Asthma triggers include pollen and other dust borne particles that are difficult to detect and guard against, making first aid response the most suitable countermeasure in many cases. Other illnesses or even exercise can create susceptibility to asthmatic attacks, and there is evidence to show a hereditary connection in many cases.
Real Response, established in 2014, has quickly expanded to become a leader in the fight against asthma and other illnesses that require timely response for healthy outcomes. Our asthma course in Sydney is proving extremely popular with residents of Australia's largest city, particularly for people working in care environments overseeing children, the elderly and other vulnerable people. Management of Asthma Risks and Emergencies in the Workplace (22282VIC) is the go-to course for Sydney caregivers who need to make a real difference in the workplace, at home, or wherever else an asthma attack is encountered.
What essential skills does the Sydney Asthma course provide?
Caregiving has become a tremendous growth industry in Australia, allowing parents to maintain work and other commitments while their children are well looked after. Caregivers are naturally compassionate people who want the best for those in their charge, and the position comes with responsibilities that need to be matched with capabilities.
Almost everyone is familiar with asthma 'puffers' noticed with regularity in classroom and other settings, but knowing how to assist asthmatics suffering severe symptoms is less understood. Real Response instructors are all highly qualified paramedics and medical emergency personnel with years of experience, enabling them to accurately impart life saving knowledge and skills that include:
Detailed understanding of asthma symptoms ranging from mild to life-threatening
How to implement risk and hazard management strategies in the workplace
Knowledge of triggers that can result in asthma attacks
Appropriate use of asthma medication and equipment
An approach that allows asthma sufferers to understand they are in good hands
Communication with victims, bystanders and emergency services personnel
Asthma symptoms can be a long-term challenge for many people, with symptoms that vary greatly from person to person. Approximately 10% of all Australians suffer from the condition and many thousands are hospitalised yearly with severe symptoms, making the Real Response asthma course a Sydney essential for a safe society. Some common symptoms of asthma include:
Shortness of breath (mild to extreme)
Wheezing
Dry cough
Chest pain or tightness
Difficulty breathing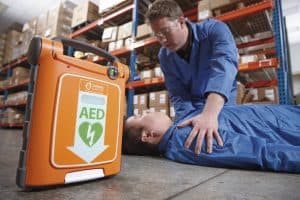 How long does the Sydney Asthma course take to complete?
Real Response courses are packed with essential information and skills, and although the course takes only 4hrs to complete, the attainments are highly regarded. Management of Asthma Risks and Emergencies in the Workplace (22282VIC) provides certification that is valid for 3 years, allowing caregivers to function as normal with skills at the ready in case of emergency. Our Sydney first aid trainers use the best simulation based techniques for developing appropriate asthma response during training and beyond.
Simulation training, or 'learning by doing' has been used by paramedics, the military, police and medical professionals for decades, and the introduction by Real Response has been a game-changer in the first aid training industry. Real Response was established to impart deeper levels of learning and greater knowledge retention for the benefit of first aiders, and employers and experts in care services are appreciating the difference our methods make.
Where is the Asthma course held in Sydney?
The Real Response commitment includes mobile asthma courses in Sydney where we come to your premises for tailored training. We are dedicated to making Sydney and Australia safer for everyone, including our most vulnerable citizens, and hold courses all around the city and suburbs. We encourage work groups, school groups and individuals, imparting the best asthma response techniques using the latest methods and technology, and ensure every course participant develops their natural ability for impressive first aid response. A first-hand appreciation of Real Response training programs can also be had at our dedicated Sydney headquarters located at Level 3, 50 York St, Sydney, in the heart of the CBD.
What are the course requirements?
As a foundational first aid training course, Management of Asthma Risks and Emergencies in the Workplace is a stepping stone to higher attainments. There are no pre-requisites required apart from a sincere desire to assist people in a time of need. Our training programs prove that example is indeed better than precept, allowing course participants to learn and flourish while training with genuine first aid equipment. Real Response simulation based training familiarises students with the reality of asthmatic attacks, appropriate first aid response, and the empowerment experienced by being part of the solution.