The ability to provide cardiopulmonary resuscitation (CPR) is within the reach of all Australians. CPR is an instantly recognised life-saving procedure and a foundational skill for all first aid training. Wherever safety is taken seriously, trained first aiders are on site with the capability for effectively administering CPR to victims of cardiac arrest, and the qualifications are an essential component in many occupations where danger is present.
Paramedics, lifeguards, police, care givers, military personnel and more all need to become proficient in CPR for dealing with low-frequency, high-risk situations. Provide CPR (HLTAID001) delivered by Real First Aid instructors using simulation based training is the best way to ensure course attainments are deeply learnt and established as genuine life saving skills to be called upon whenever required. The Real First Aid Provide CPR course in Sydney is saving lives every day, and we are honoured to be leaders of the first aid and CPR training revolution in Australia.
What is the cardiopulmonary resuscitation (CPR) course?
Although Provide CPR has been taught by highly-regarded first aid trainers for decades, the level of skills retention has been less than satisfactory. Real First Aid was established in late 2014 to improve outcomes for first aiders, employers, and most importantly the cardiac arrest victims themselves. Retaining skills and knowledge is understandably difficult when the procedures aren't used often or when qualifications lapse, and although approximately 26% of Australians have undertaken first aid training, only 4% are confident in their own ability to reproduce the life saving skills accurately during a real emergency.
This unfortunate statistic needed to change for everyone's sake, so Real First Aid introduced simulation based first aid and CPR training for development of long-lasting capabilities. The results have been outstanding, with Real First Aid graduates in high demand from employers who expect the best from their staff. Provide CPR (HLTAID001) in Sydney, as delivered by Real First Aid instructors, is a novel and exciting way to learn best emergency response practices and procedures that really do save more lives every day around Australia. Simulation based first aid training includes:
Transformation of your designated setting into a realistic emergency scenario
The addition of talented actors and realistic props to facilitate immersive learning
Realistic emergency lights, sirens, 000 calls and more
The use of genuine emergency equipment including defibrillators
Communication with bystanders and emergency services personnel
Timed emergency response for development of maximum life-saving potential
What are the CPR course requirements?
Appropriate emergency response can be learnt by almost anyone. Sydney is an expansive city where accidents and emergencies happen every day, and although our paramedics and medical emergency crews are some of the best in the world they can't be everywhere at once. The responsibility for saving lives falls on the shoulders of all of us, and Real First Aid is on hand to reach all corners of Sydney for delivery of essential CPR training. Apart from basic language and communication skills, all that's required to learn CPR is a desire to assist family, friends and colleagues when things go wrong.
Provide CPR (HLTAID001) is a stand-alone course, or stepping stone toward higher first aid attainments, and an essential component in many training courses for occupations where safety is a priority. It is an easily learnt life saving skill that also helps develop confidence and leadership capabilities, and there is no greater reward than the thanks from the person whose life you save.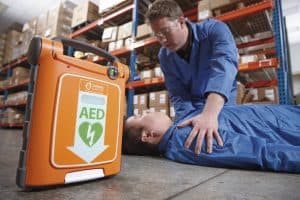 What are the course attainments?
Although a fundamental first aid training course, Provide CPR (HLTAID001) delivers an essential skill set that makes a real difference in life-and-death situations. We guarantee the highest attainment levels possible and a skill-set that lasts and is ready to be used whenever required. The course is an essential training component for occupations that include Health, Community Services, Transport and Logistics and many more, making it a valuable addition to any resume. Nationally accredited attainments gained in Provide CPR include:
Recognising an emergency situation
Identifying hazards and risks
Communication with emergency services
Assessing the casualty
Performing cardiopulmonary resuscitation (CPR)
Operation of an automated external defibrillator (AED)
Sydney course locations
Our Sydney Real First Aid team are simulations experts with the ability to transform your designated space into a mock emergency scenario for immersive training. We can train you in-house for development of all CPR and other first aid competencies. Additional benefits of on-site training include risk and hazard reduction strategies, employee/employer bonding, and creation of a designated first aid facility.
Real First Aid also conducts 'Public Courses' in Bondi and Parramatta for individuals and groups who want to learn first aid techniques for the benefit of their family, friends, and anyone else who needs timely assistance in an emergency. Provide CPR is ideal for public courses, and can be fully learnt in only 3.5hrs. The Public Courses are held at:
School of Arts building, 138 Bondi Road, Bondi
Lake Parramatta Reserve, Illawong Drive, North Parramatta