The ability to provide cardiopulmonary resuscitation (CPR) is within the reach of all Australians. CPR is an instantly recognised life-saving procedure and a foundational skill for all first aid training. Wherever safety is taken seriously, trained first aiders are on site with the capability for effectively administering CPR to victims of cardiac arrest, and the qualifications are an essential component in many occupations where danger is present.
Paramedics, lifeguards, police, care givers, military personnel and more all need to become proficient in CPR for dealing with low-frequency, high-risk situations. Provide CPR (HLTAID009) delivered by Real Response instructors using simulation based training is the best way to ensure course attainments are deeply learnt and established as genuine life saving skills to be called upon whenever required. The Real Response Provide CPR course in Sydney is saving lives every day, and we are honoured to be leaders of the first aid and CPR training revolution in Australia.
An appeal of living in Australia's largest cities is their relative safety. Real Response was founded in 2014 to increase awareness of first aid and improve training outcomes using simulation-based training. Our CPR Course Sydney participants actively engage in realistic emergency response practice, overseen by highly qualified instructors, resulting in deeply embedded first aid and CPR understanding, and making Sydney a safer place to live.
What are the different CPR courses in Sydney?
Cardiopulmonary Resuscitation (CPR) remains one of the most important and time-sensitive procedures for saving lives. Real Response incorporates CPR training into many courses, and Provide CPR (HLTAID009) can also be learnt as a stand-alone module for newcomers to first aid. An ideal introduction, Provide CPR takes only 3.5 hours to complete, while most of our other first aid courses are completed within only a day or two of enjoyable and enlightening training. Real Response CPR courses in Sydney include:
Introductory Courses
– Provide CPR (HLTAID009)
– Provide First Aid (HLTAID009)
Specialised Courses
– Provide Basic Emergency Life Support (HLTAID010)
– Provide Advanced Resuscitation (HLTAID015)
More Nationally Accredited Courses
– Provide First Aid in an ESI Environment (UETTDRRF10B)
– Perform Rescue from a Live LV Panel (UETTDRRF06B)
– Provide Emergency First Aid Response in an Education & Care Setting (HLTAID012)
The above are just a sample of Real Response training modules on offer. Our instructors are experienced in wide-ranging fields of employment, including paramedics, firefighters, medical emergency response, military emergency response and more. Our team is a unique mix of emergency and education professionals dedicated to delivering amazing life-saving capabilities in a fun learning environment.
Real Response is in demand, allowing us to expand our training reach throughout the CBD and Sydney metropolitan area. Major government organisations and prestigious companies appreciate on-site Real Response CPR courses, while individuals and small groups attend courses at our Sydney Headquarters, or public courses held regularly in different areas of the city and suburbs.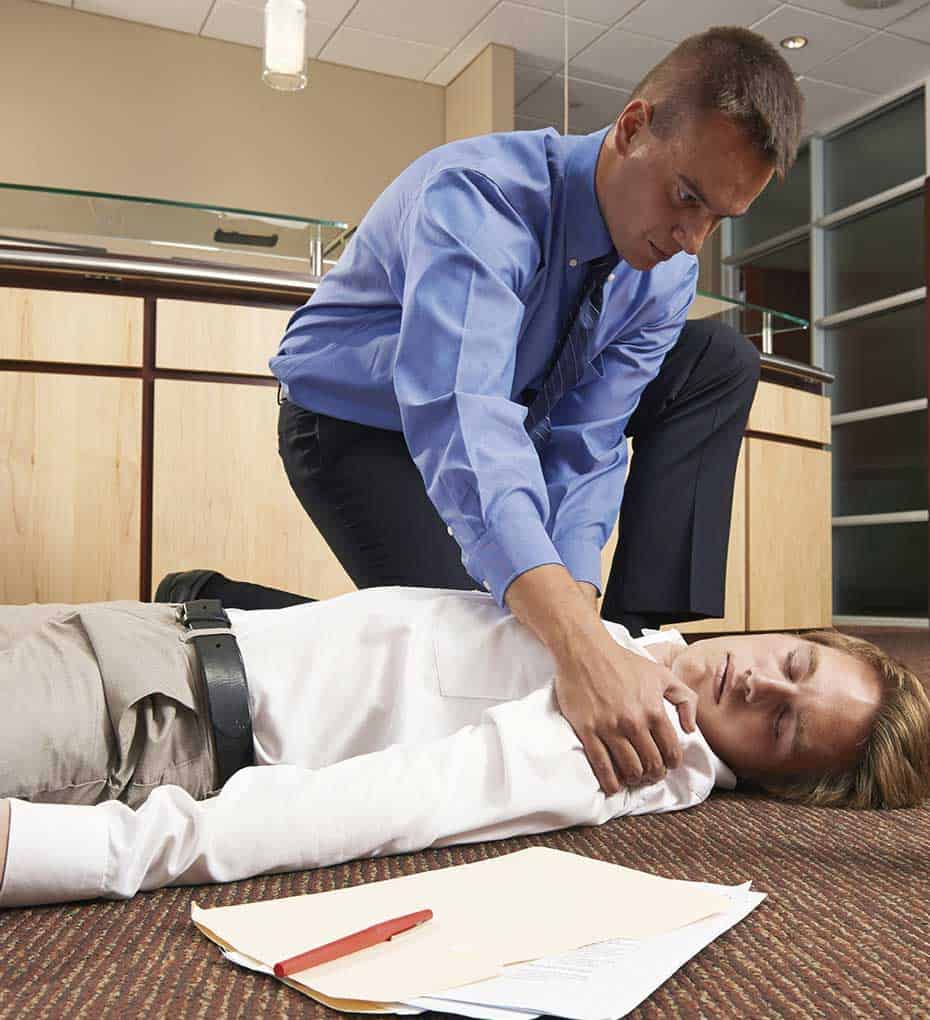 What is a CPR course?
In essence, a CPR course teaches response and procedures to assist people who have suffered cardiac arrest. Among symptoms are the sudden, and possibly temporary, cessation of heart functions. Cardiac arrest is accompanied by a lack of breathing and a loss of consciousness, and is usually fatal without life-saving CPR.
Our CPR course Sydney participants learn the techniques of reviving a person, or at least maintaining heart and lung functions until professionals arrive with emergency equipment. Real Response training courses satisfy all Australian Resuscitation Council guidelines, and are making a real difference in the health and well being of everyday Australians.
Real Response is reversing poor first aid and CPR knowledge retention rates. When we began as a registered training organisation (RTO) in 2014, Approximately 26% of Australians had learnt CPR, but only 4% felt confident to apply the procedures correctly. With lives on the line it was time for a change, and Real Response is proud of the transformation our methods provide.
What are the age requirements of the CPR Sydney course?
CPR is a skill that is easily learnt from a young age, and school groups are among the most enthusiastic learners. Cardiac arrest can happen any time to anyone, and kids are not immune, while the knowledge and skills can be built on and carried through life. CPR training is also obviously crucial for workers in care settings and others who are exposed to danger due to their employment. The causes of cardiac arrest are many, but the countermeasures are universally applicable, and the reward of saving someone's life can't be beat.
At Real Response, training is delivered face to face in a secure learning environment. Our courses develop people skills alongside emergency response skills, with improved communication and teamwork the result. Provide CPR (HLTAID009) is a bonding experience, and an opportunity to improve qualifications, increase responsibilities or gain a promotion at work. Course attainments include:
– CPR (cardiopulmonary resuscitation) trainin
– AED (automated external defibrillator) training
– Responding to an unconscious person
– Communicating in an emergen
– Airway management
– Artificial respiration
Provide CPR (HLTAID009) is a nationally accredited course with certification lasting 12 months before a short refresher course is required. Training includes CPR training, Automated External Defibrillator (AED) training and simulation training, all in 3.5 hours of impressive learning and development. Our 'learning by doing' methods empower trained first aiders to approach emergencies with the confidence and know-how to save lives.
How does simulation-based training help with CPR?
Practice makes perfect, but when someone's life is on the line it's no time to experiment. At Real Response, our training program uses simulations that mimic reality and result in a deeper, immersive learning experience. We get you away from the desk and into realistic situations that test your ability to focus and respond. Simulation training is a first aid and CPR training breakthrough for lots of reasons, including:
1. Simulation training is active and fun
2. Simulation training saves more lives
3. Simulation training creates a safer workplace or other environment
4. Simulation training tests emergency response and procedures
5. Simulation training develops teamwork and leadership skills
6. Simulation training is ideal for team-building exercises
7. Simulation training is suitable for people of all ages
We treat every student as a first aider with potential for improvement, and make sure the competencies attained are genuine and ready for use when low-frequency, high-risk emergencies occur. With simulation-based first aid and CPR training, knowledge is retained.
What first aid training course follows on from Provide CPR (HLTAID009)
A lot will depend on your career or profession, and Real Response provides training courses that will transform your life in 48 hours or less. The Senior First Aid (HLTAID011) course is an ideal step-up, with more advanced courses such as Provide Advanced First Aid (Level 3) another option.
Of all first aid procedures, CPR and artificial respiration (mouth-to-mouth) remain the most well-known, and their capacity to save lives is greater than ever. Our dedicated team of emergency response and education professionals are the secret behind our success, and we invite you to experience the Real Response CPR Course in Sydney for yourself.