First aid and CPR qualifications have become even more valuable with the addition of progressive life saving devices and technology. The capacity for trained first aiders to make a real difference has taken a quantum leap thanks to automated external defibrillators (AEDs), oxygen equipment, adrenaline auto-injectors, and other state of the are equipment. Provide Basic Emergency Life Support (HLTAID010), formerly called Level 1 First Aid, remains a standout first aid training course in Australia, and when delivered by the experts at Real Response in Sydney, the course attainments become genuine life-skills for emergency response capability.
What is emergency life support training?
Provide Basic Emergency Life Support is a first aid training industry foundation for anyone serious about assisting during life-threatening situations. There is a small window of opportunity to revive cardiac arrest victims, making on-site first aid staff a valuable addition to any workplace or community setting. Although not every first aid call-out is a life-or-death situation, it's reassuring to have qualified people on hand to form a vital link in the life saving chain.
Capabilities that were previously uncertain due to ineffective training methods are further bolstered by Real Response simulation based training that empowers first aiders with the skill set to approach any emergency with confidence the moment first aid training is complete. An absolute beginner will develop first aid fundamentals including cardiopulmonary resuscitation (CPR) in a training program that only takes 6 hours to complete, making first aid attainments a remarkable transformative experience well worth the investment. At Real Response, the knowledge becomes deeply embedded using techniques familiar to paramedics, the military and police, including:
A tailored approach that temporarily transforms learning into real emergency response
The inclusion of actors and props for enhanced reality and immersive learning
Realism that includes emergency lights, sirens, pyrotechnics, 000 calls and more
Fake wounds, fake blood and other simulations
Real first aid equipment including defibrillators and other devices
Timed first aid response for developing natural capabilities
Development of teamwork, communication and leadership skills
What emergency scenarios is the course useful for?
Although every emergency is different, there are also a lot of similarities. All emergency casualties require the assistance of a competent person with first aid qualifications, and your help will be appreciated whether you are new to first aid or a highly proficient paramedic. A targeted response is all that's required, and the best way to offer assistance whether the accident is minor or a life-threatening emergency. Provide Basic Emergency Life Support (HLTAID010) makes the difference between life and death every day around Australia, and when the competencies are delivered by Real Response simulation based training, the chances of a complete recovery are dramatically improved. Skills and knowledge imparted by our dedicated course instructors include:
Responding to an unconscious person
CPR for adults, children and infants
Provide artificial respiration
Airway management techniques
Automatic External Defibrillation (AED)
Anaphylaxis (severe allergic reaction) treatment using an adrenaline auto-injector
Communication with helpers and emergency services personnel
Development of teamwork and leadership capabilities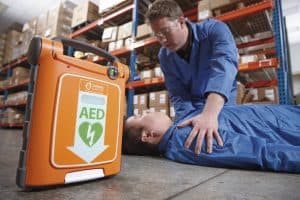 Are the course attainments difficult to achieve?
On the contrary, all first aid instruction is easy to assimilate when students are guided by highly-qualified paramedics and other medical professionals. The course is ideal for those who appreciate hands-on training using enhanced simulation based training, or 'learning by doing'. In only 6hrs, course participants develop all the skills necessary to respond to emergencies and save lives.
The course is also a great team-bonding experience, and when delivered on-site at a workplace or other premises it will also assist with development of risk reduction strategies and a dedicated first aid room complete with the latest cutting-edge equipment and devices. At Real Response we specialise in making complex procedures simple for everyone to learn and develop their maximum life saving potential.
Sydney course locations
Real Response specialises in on-site training where we come to you. We understand that time invested in first aid training needs to achieve workplace results, and our courses are a great team bonding experience for employees and managers who appreciate varied work experience training programs. Our course facilitators and simulations experts enjoy nothing more than transforming your space into an inspiring and enlivening learning environment.
Real Response Sydney also holds 'Public Courses' for teaching first aid fundamentals. These courses, held at Bondi and Parramatta are proving incredibly popular with individuals and groups who want to make a real difference in their lives and the lives of others. With Real Response, no one is left out and we invite you to join us in experiencing the Real Response difference.