First aid knowledge and skills are valued by individuals and communities. Trained first aiders provide safety and security in any situation and assist casualties until medical assistance arrives. First aid qualifications are life saving attainments that can be gained by almost anyone, and are useful in workplace, home and community settings. Low-frequency, high-risk accidents and emergencies happen every day around Australia, and learning appropriate emergency response techniques is an investment in time and money well spent.
Even basic first aid knowledge can make a difference in life threatening situations. The techniques and procedures are easy to learn and apply, and the addition of portable emergency equipment and devices will equip trained first aiders with the ability to perform procedures previously only accessed by experienced paramedics and medical emergency response teams. Successful first aid and CPR response is entirely possible, and when the techniques are delivered by Real Response instructors, the capabilities become life-long attainments.
What first aid course is most useful?
Real Response courses are designed to suit every individual circumstance. From assisting with sprains and strains to performing cardiopulmonary resuscitation (CPR) with the assistance of an automated external defibrillator (AED), the courses are tailored for every individual and structured for progressive learning. Since 2014, Real Response has grown to become a major Australian first aid training company, thanks to innovative learning methods and the best course instructors available.
Real Response offers nationally accredited courses such as Provide CPR (HLTAID009) and Provide First Aid (HLTAID011), along with industry specific courses including Perform Rescue from a Live LV Panel (UETTDRRF06B) and Remote First Aid (HLTAID013). Looking after the wellbeing of family, friends, colleagues and complete strangers has never been more important, and Real Response courses in Sydney and Melbourne are the solution employers and industry experts have been waiting for.
How do I apply for first aid courses in Sydney?
There are plenty of first aid courses available, but understanding the difference between training and genuine emergency response capability is the Real Response difference. First aid training isn't a new idea, and approximately 26% of Australians have undertaken a registered first aid course at some point. However, first aid skills are only useful if they are retained and recalled when required. Unfortunately, the vast majority of trained first aiders aren't confident of performing life saving procedures correctly when faced with a real emergency. This situation is untenable to Real Response, with the company founded in response to the glaring disparity between first aid qualifications and genuine emergency response capability.
Real Response introduces newcomers and previously trained first aiders to the benefits of simulation based training. This provides course participants with realistic first aid emergency response even during training, ensuring graduates are emergency-ready the moment training is complete. Simulation training has been used for decades by the military, medical emergency staff and paramedics to hone their skills, and at Real Response the same skill set is now available. Simulation based first aid training includes:
Creation of realistic emergency scenarios for tailored first aid training
The addition of actors and props for greater immersion and deeper learning outcomes
Sirens, flashing lights, pyrotechnics, fake wounds, 000 calls and more
Training using real equipment including defibrillators and adrenaline auto-injectors
Team bonding for emergency response at work, school or elsewhere
Development of communication and leadership capabilities
Experienced and dedicated course instructors who encourage and lead by example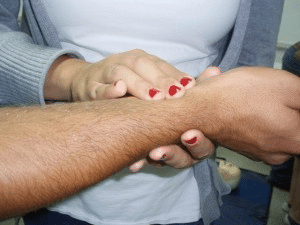 Can I complete my first aid refresher course in Sydney?
Real Response course expansion has been driven by employers and industry experts who are results-orientated. Our rise has been dramatic, and we are honoured to be a major player in Australia's first aid revolution, where simulation training provides real life-saving capabilities. First aid emergency response has evolved in recent decades thanks to the introduction of portable life saving equipment, and attainments require regular refreshing to ensure qualifications are up to date.
All Real Response courses include accredited attainments that are in demand by employers, along with the option to undertake short refresher courses for retaining first aid focus and skills. Our courses can also act as first aid building blocks, ultimately resulting in a fully equipped skill set for responding to any emergency. First aid and CPR skills are a positive employment move also, offering greater workplace responsibility, the opportunity for promotion, or the start of an entirely new career.
The list of Provide First Aid course attainments goes on, and with the qualifications nationally accredited, first aid training is an ideal way to improve chances of job promotion or establish an entirely new career pathway.
Sydney course locations
Real Response courses can be undertaken at our Sydney first aid course venue, Level 3/50 York St, Sydney, or if you prefer, we can visit you anywhere in the city or suburbs. Our simulation experts will transform a dedicated area of your establishment into a mock emergency scenario for tailored training that will benefit you and your staff. Additional advantages include the opportunity to minimise risks and hazards in the workplace, or even establish a dedicated first aid facility.
Real Response Sydney also holds 'Public Courses' perfect for individuals and groups who want to make a real difference in their life and the lives of those around them. Our public courses, held at Parramatta and Bondi, are staged throughout the year to provide an opportunity for everyone to learn from the best instructors in the business. Courses are held at:
Lake Parramatta Reserve, Illawong Drive, North Parramatta
School of Arts building, 138 Bondi Road, Bondi
Waverly Park, St. Mary's Avenue, Bondi
Enquire today and experience the Real Response difference.