The understanding and application of advanced first aid training skills provides an advantage for employees in any industry. Level 3 First Aid, now known as Provide Advanced First Aid (HLTAID014), is a Sydney Real Response course worth considering for people who want a complete understanding of the best first aid emergency response procedures.
In only a couple of days of dedicated training, newcomers to first aid can become adept in first aid, CPR and emergency response. The course provides knowledge and skills for responding to almost all first aid emergencies, and is the ideal course for first aiders who have previously attained other qualifications including Provide First Aid (HLTAID011) and Provide Basic Emergency Life Support (HLTAID010).
What essential skills does the Sydney Provide Advanced First Aid Course provide?
The diverse training in Provide Advanced First Aid (HLTAID014) delivers a skillset designed for wide-ranging employment opportunities. The attainments are appreciated by front-line emergency responders, and by anyone in occupations where there is potential for accident or injury.
Whatever your situation, the Real Response Provide Advanced First Aid course will provide life-skills as well as life saving skills, allowing you to be alert, decisive and capable whenever required to assist someone in need. Course attainments are vast and impressive, encompassing most commonly applied major techniques and procedures, including:
Safe approach to an accident or emergency site
Communication with the casualty and bystanders
Appropriate handling of casualties until arrival of medical backup
Cardiopulmonary resuscitation (CPR) for adults, children and infants
Understanding the use of an automated external defibrillator (AED)
Anaphylaxis response and use of an adrenaline auto-injector
Immobilisation for casualties with head, neck and spinal injuries
Appropriate response to seizure, epileptic attack and shock
Addressing multiple casualty (triage) situations
Assisting with emergency childbirth
What roles require the Sydney Provide Advanced First Aid Course?
As can be ascertained from the extensive list above, Level 3 Provide Advanced First Aid (HLTAID014) provides broad scope for application. Many industries and employers expect potential staff to hold relevant first aid qualifications, particularly workers in dangerous occupations where the likelihood of low-frequency, high-risk accidents is increased.
The advent of portable life saving equipment means trained first aiders are now an even stronger link in the life saving chain, assisting paramedics and other emergency medical personnel to help others. When training is delivered with Real Response simulation training, the course skillset is deeply embedded and ready to be recalled whenever required. Simulation based first aid training sets Real Response apart, and is ideal for workers in industries that include:
Aviation and air services
Health and Community Services
Hospitality and Tourism
Transport and Logistics
Forestry and Wood Industries
Sports, Fitness and Recreation
Level 3 First Aid courses delivered by Real Response can be held onsite at your workplace or other establishment. The course can be tailored to individual needs for risk minimisation, first aid administration, emergency response and more. Onsite courses are a great team bonding experience for workmates and colleagues, and a profitable way to invest in any business.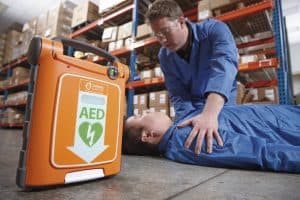 What are the course requirements?
The major requirement for the course is a commitment to appreciate 15 hours of enlightening knowledge and skills delivered by some of Australia's best first aid trainers. Level 3 Provide Advanced First Aid certification lasts for three years, and is valuable for people searching for greater responsibility, looking for a promotion, or considering an entirely new career direction.
The course is also a valuable stepping stone for previously trained first aiders wanting to increase their capability. Our deep learning methods include immersion in simulation training, or 'learning by doing', where actors, props, emergency equipment, realistic response and more heightens learning capability. Sydney is Australia's largest city, and emergencies aren't commonly experienced by everyone, but with Real Response trained staff across the city and suburbs, everyone is a lot safer.
Where are Provide Advanced First Aid Courses held in Sydney?
Our Simulation experts travel to all corners of the Sydney CBD and suburbs. Our programs are tailored for workplaces, schools and any other establishment where first aid training improves operations. Provide Advanced First Aid remains an extremely popular training course. With our Sydney headquarters located at Level 3/50 York St, in the heart of the CBD, Real Response is accessible to everyone in Sydney.
Real Response simulation-based training has changed the way first aid instruction is delivered. A new generation of capable and confident first aiders are emerging, empowered by training that delivers the life saving skillset even during practice, with genuine competencies ready for use whenever required.