Advanced first aid capabilities are the result of progressive training. Course modules at Real Response act as building blocks that ultimately transform into overall competency to respond to any accident or emergency situation. Provide Advanced First Aid (HLTAID014), previously called Level 3 First Aid, establishes solid emergency response foundations in one course, and when the subject matter is delivered by Real Response professional instructors, the skills become deeply entrenched and ready to be called upon whenever required.
Provide Advanced First Aid in Sydney encompasses 15 hours of dedicated training, and all procedures are easily learnt and assimilated. Real Response simulation based training, or 'learning by doing' enables course participants to develop first-hand experience, where qualifications are ready for use the moment the course is complete.
Who should undertake Provided Advanced First Aid training?
First aid courses have evolved, and now form valuable components of industry-specific training for wide-ranging occupations. The evolution has been triggered by state of the art equipment and devices designed for portable use, meaning first aiders now have abilities equalling those of paramedics, medical emergency crews, the police and military units. Industries that benefit from Provide Advanced First Aid (HLTAID014) include:
Aviation
Health Services
Community Services
Transport and Logistics
Hospitality and Tourism
Forestry Industries
Sports, Fitness and Recreation
In addition, first aid procedures and techniques are adaptable to any situation where people are injured and require assistance. Real Response training courses are for everyone in Sydney and Australia who wants to make a difference in the lives of those around them.
Is Provide Advanced First Aid a workplace approved qualification?
Provide Advanced First Aid is a nationally accredited qualification held in high esteem by employers and industry experts. Health and safety guidelines dictate workplace protocol in many industries, with the inclusion of trained first aiders and essential component. Employers expect workers with industry-ready qualifications for smooth transition into the workforce, along with the ability to undertake greater workplace responsibility.
The emergency response skills learnt in HLTAID014 are ideal for occupations where potential for high-risk, low-frequency emergencies is ever-present. The attainments empower course participants to approach any accident or emergency with confidence and competence, ultimately saving lives. Provide Advanced First Aid (HLTAID014) attainments include:
Safe approach and securing of an accident or emergency site
Appropriate communication and handling of an accident or emergency victim
Cardiopulmonary resuscitation (CPR) for adults, children and infants
Automated external defibrillator (AED) practice
Anaphylaxis response including use of an adrenaline auto-injector
Immobilisation procedures for casualties suffering head, neck and spinal injuries
Assistance for people suffering a seizure, epileptic attack or shock
Addressing multiple casualties where teamwork and communication is paramount
Appropriate reporting and documentation according to industry standards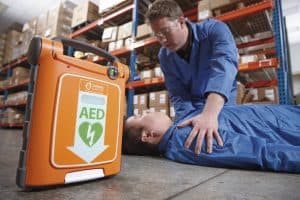 How is real life scenario training delivered?
Simulation based training has been used for decades to train paramedics, the military and emergency medical staff. Real Response was established in 2014 to bridge the gap between first aid qualifications and genuine capability, and the results have been extremely encouraging. Simulation training can be delivered on site for enhanced levels of industry-specific training. Although Sydney is Australia's largest city, emergencies aren't commonly encountered by most people, so first aid training needs to be immersive and deeply learnt for best results. Simulation based training includes:
Professional actors and props to bring out the best in course participants
Genuine life saving emergency equipment use and practice
Sirens, flashing lights, pyrotechnics and 000 calls
Fake wounds, fake blood and other special effects for greater immersion
Australia's best course instructors to ensure practice makes perfect
Sydney course locations
The expansion of Real Response training courses has been dramatic, and our Sydney courses are no exception. We travel to all corners of Sydney to deliver tailored training programs for every workplace, school or community establishment. Our personalised training encourages team bonding among colleagues and employers, while also providing the opportunity to undertake risk and hazard management strategies, or even establish a dedicated on-site first aid facility. We also undertake training courses at our Sydney headquarters located at Level 3/50 York St, in the heart of the CBD.
Real Response expansion also includes 'Public Courses' for gaining fundamental first aid attainments such as Provide CPR (HLTAID009) and Provide First Aid (HLTAID011). Courses are held in convenient locations at Parramatta and Bondi for easy access from all corners of Sydney. Public course locations are:
Lake Parramatta Reserve, Illawong Drive, North Parramatta
School of Arts building, 138 Bondi Road, Bondi
Waverly Park, St. Mary's Avenue, Bondi
Enquire today to get your first aid journey started the Real Response way.