Maintaining workplace-ready qualifications is important in any industry, and when life saving skills are involved, keeping up to date is essential. The ability for trained first aiders to deliver timely accident and emergency response is greater than ever, noted by the availability of automated external defibrillators (AEDs), adrenaline auto-injectors, and other state of the art equipment and devices. When lives are at stake it's important for all qualified first aid officers to periodically undertake a first aid refresher course in Sydney or anywhere else around Australia, for the benefit of everyone.
What are the learning outcomes of the CPR refresher course?
Of all accident and emergency response competencies, cardiopulmonary resuscitation (CPR) is the most widely recognised. Sydney is a huge, expansive city requiring highly trained paramedics, emergency medical services, ambulance crews and trained first aiders to be on the lookout for people who need help. Low-frequency, high-risk emergencies can occur anywhere and at any time, so being prepared for the inevitable is all part of the service for accident and emergency responders.
The CPR refresher course delivered by highly motivated and experienced Real Response instructors is the guaranteed way to ensure learning outcomes remain relevant and ready for use. In fact, Real Response was established in 2014 to deliver deeply-learnt first aid knowledge and skills in response to previously poor retention by trained first aid officers. Although 26% of Australians had undertaken professional CPR training, only 4% felt confident in their ability to respond appropriately in a genuine emergency; a situation unacceptable to Real Response. Our CPR refresher course will re-establish attainments that include:
Perform CPR compressions and ventilations on an adult, child and infant
Accurately follow prompts when using an automated external defibrillator (AED)
Safely manage accident victims, including management of vomiting and regurgitation
Communication with bystanders and emergency services personnel
Reporting accidents and incidents according to industry guidelines
Development of leadership and teamwork skills for superior emergency response
Where is the CPR refresher course held in Sydney?
Real Response course delivery is the flexible approach. Our enhanced simulation based first aid and CPR training experts can come to you, wherever you are located in the city or suburbs. Our simulations experts enjoy transforming workplace, school and community settings into first aid training scenarios that emulate genuine emergency situations. The CPR refresher course is ideal for tailored instruction in the workplace, with additional benefits of team-building, risk management, and even establishment of dedicated first aid facilities on offer.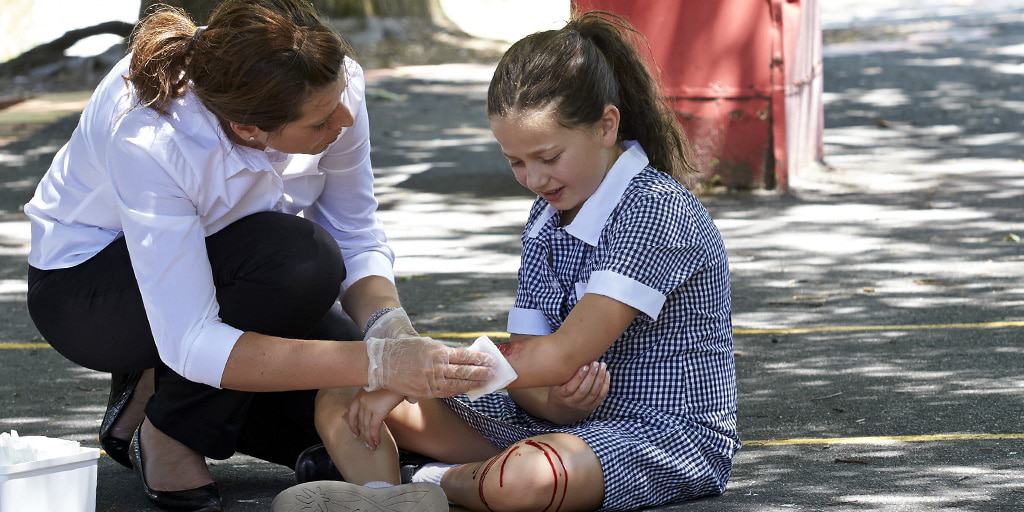 Simulation training has been developed by the military, paramedics, police and medical emergency staff for decades, and the methods transfer effectively to first aid training delivery. Real Response are the leaders in simulation based training for CPR, and workplaces are now safer than ever thanks to the commitment of our highly trained and experienced course instructors. Simulation training includes:
Professional actors and realistic props for greater immersion in CPR training
The addition of emergency lights, sirens, pyrotechnics, 000 calls and more
Use of genuine first aid equipment to ensure course participants are emergency-ready
Timed emergency response for establishment of nationally accredited qualifications
Personalised guidance to assist every student in reaching their full potential
Real Response also offers tailored training solutions at our Sydney headquarters located at Level 3/50 York St, Sydney. We also hold 'Public Courses' for CPR and first aid training at Parramatta and Bondi for individuals and groups who want to make Sydney a safer place to live.
Who should take a CPR refresher course in Sydney?
A lot of people undertake first aid and CPR training only to let the qualifications slide once training is complete. Although some first aid capability is better than none, the industry is constantly evolving, along with the availability of life saving equipment and devices. Maintaining genuine qualifications is reliant on periodically undertaking a refresher course that will keep CPR capabilities up to date and ready for use.
The attainments are valued by industry experts and employers around Australia, and remain a prized addition to any resume or portfolio. CPR qualifications are an ideal means of taking greater responsibility in the workplace, achieving a promotion, or even commencing an entirely new career. The knowledge and skills attained with Real Response training remain relevant and ready for use at work, home, or anywhere else.
How often should you undertake this course in Sydney?
Provide CPR (HLTAID009) attainments need to be renewed yearly. CPR is an incredibly valuable skill that deserves adequate attention from any trained first aid officer, and Sydney is a huge city where health and safety is prioritised for everyone's benefit. When taught by Real Response professionals, CPR knowledge and skills become permanent attainments at-ready for use in any emergency.