Australia is a vast country with much to do and many places to explore. Visitors to Australia, along with workers in remote environments are subject to isolation and prone to experience the unforgiving nature of emergencies that can occur when far away from our major population centres. Remote First Aid (HLTAID013) is an important course delivered by Real Response in Sydney that benefits people far and wide around NSW and the rest of Australia.
The Remote First Aid course is tailored specifically for people who require first aid and emergency response skills when other assistance isn't available. In other words, you will develop self-sufficient and self-reliant first aid attainments that go with you wherever you are. The knowledge and skills naturally translate into city and urban environments also, making the life saving capabilities worth attaining for work, home, or anywhere else people need assistance. Most people don't encounter life-or-death situations, but when high-risk, low-frequency emergencies do occur, it's reassuring to know you can act with speed and precision that saves lives.
Who would benefit from the Sydney remote first aid course?
Remote First Aid (HLTAID013) is an industry-standard first aid course tailored for active and outdoor people who are ready to experience the beauty (and harshness) of isolated Australian conditions. Australian occupations involve fly-in, fly-out employment where employees and employers spend weeks or months away from Sydney, so providing assurance to loved ones that you and your colleagues are in safe hands is essential. The beauty of Australia conceals a harshness that demands respect, and the Remote First Aid course delivered in Sydney is the appropriate response.
Many Australian industries and employers expect employees to undertake compulsory first aid training as part of industry-specific training, and as health and safety values are increasingly promoted, the employment opportunities for trained first aiders is regularly expanding. Training courses that include Remote First Aid (HLTAID013) as part of the curriculum include:
Certificate IV in Guiding
Advanced Diploma of Hospitality
Gas Supply Industry Operations
Certificate IV in Holiday Parks and Resorts
Diploma of Travel and Tourism Management
Where is the remote first aid course held in Sydney?
Real Response was established a few short years ago with a desire to provide greater first aid knowledge retention and capabilities. To facilitate this ideal, our highly experienced training experts travel to all corners of the Sydney CBD and suburbs to impart the requisite skills. We visit all locations including Parramatta, Eastern Suburbs, Northern Suburbs, Southern Suburbs and the Greater Western Metropolitan area. At Real Response, we understand that people lead busy lives, so we come to you to deliver training specifically tailored for your organisation.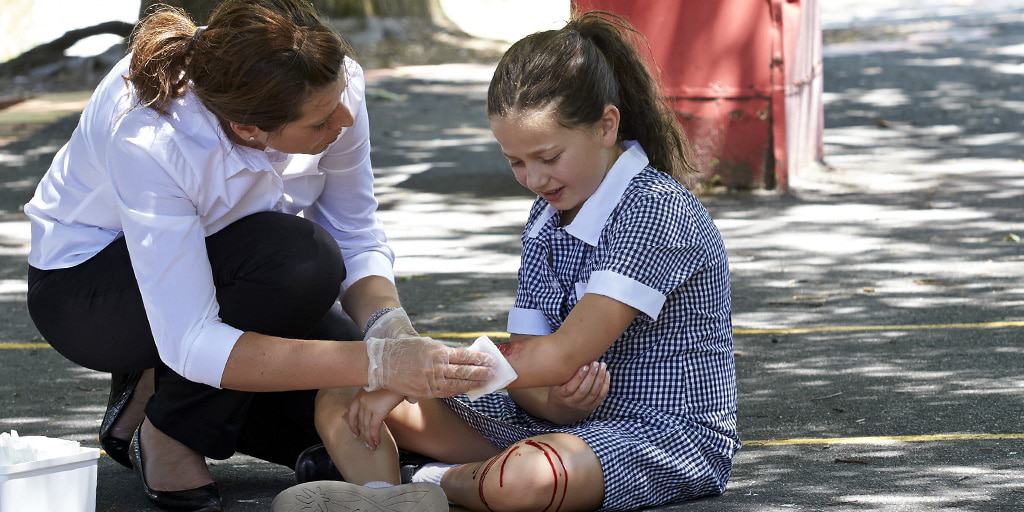 Real Response are the simulation training experts who will transform the training experience into a life-like accident and emergency response situation. Simulation training, or 'learning by doing', derives superior results to desk-bound learning and bridges the gap between first aid attainments and actual ability to respond to emergencies in a timely and effective manner. Simulation training includes:
Actors and props that mimic real emergencies for tailored learning
The use of genuine emergency life-saving equipment and devices
Enhanced reality using emergency beacons, lights, sirens, 000 calls and more
Timed emergency response for developing life-saving capabilities
Communication, teamwork and leadership development
Safe approach to emergencies and appropriate handling of casualties
Real Response courses and information can also be found at our Sydney headquarters located at Level 3, 50 York St, Sydney, in the heart of the CBD.
How long does the remote first aid course take to complete?
Remote First Aid (HLTAID013) in Sydney takes only 2 days to complete. The course delivers nationally accredited attainments that are recognised for 3yrs prior to a short refresher course. Our course instructors and facilitators are highly experienced emergency services personnel with backgrounds that include paramedics, medical emergency staff, military personnel and firefighters. At Real Response we employ only the best instructors for the best results. Remote First Aid is a serious business, but we guarantee your experience with us will be enlightening and enlivening, even providing additional opportunities for team bonding among your staff and colleagues.
What skills does the remote first aid course develop?
The Remote First Aid course is tailored specifically for situations where you become an essential link in the life saving chain. Although not every first aider encounters life or death situations, the course delivers skills and knowledge relevant to isolated emergency situations, with many capabilities also translating effectively to any environment where emergency assistance is required. This training course delivers effective communication strategies, plus contingency planning for people anticipating work or travel in remote locations.
Remote First Aid (HLTAID013) also includes psychological first aid (PFA) for empowering first aiders with the ability to provide emotional and practical support in times of emergency. Remote First Aid attainments include:
Perform CPR on an adult, infant and child
Bandaging and support for strains, sprains and fractures
Automated external defibrillator (AED) training
Airway management techniques and procedures
Adrenaline auto-injector use for treating anaphylaxis
Casualty care including psychological assistance
Communication with bystanders and emergency services personnel