The capability of first aid responders to assist victims and save lives is greater than ever. Technologically advanced first aid equipment means trained first aiders now have emergency response abilities comparable to paramedics and emergency medical stall. With improved capability comes greater responsibility, so Real Response was established in 2014 to deliver skills that can be accurately replicated during actual emergencies.
We believe in the best possible course outcomes for trainees, and our expansion to Sydney for delivery of courses that include Provide Advanced Resuscitation (HLTAID015) has been warmly welcomed.
What Is Advanced Resuscitation Training?
Advanced resuscitation techniques are applicable in wide ranging emergency situations. Provide Advanced Resuscitation (HLTAID015), previously known as 'Oxygen Training' showcases progressive life saving techniques using portable automated external defibrillators (AEDs), adrenaline auto-injectors, oxygen equipment and more. When training is delivered using simulations that mimic real emergencies the techniques become second nature and are ready to be called upon whenever required.
Genuine life-saving skills previously found wanting due to a disconnect between training and real life are at the forefront of Real Response course delivery. Employers, industry experts and course graduates strongly support simulation based first aid training that is revolutionising the way Australians approach emergencies. Provide Advanced Resuscitation in Sydney offers important training components for application in diverse fields of employment, including:
Health Care and Nursing
Occupational First Aid
Medical Service First Response
Correctional Practice
Aviation Rescue
What are the Advanced Resuscitation training techniques?
The elements and performance criteria of this nationally accredited course are the foundation of the most well-known first aid emergency response procedures. Course participants develop the skills and knowledge required of the Australian Resuscitation Council (ARC) for responding to complex and life-threatening situations in community and workplace settings.
Respond to an emergency situation
Recognise an emergency situation
Identify, assess and manage hazards to the health and safety of yourself and others
Assess the casualty and recognise the need for advanced resuscitation response
Seek assistance from emergency response services where required
Perform advanced resuscitation
Perform cardiopulmonary resuscitation (CPR) in accordance with ARC guidelines
Provide supplemental oxygen
Display respectful behaviour toward the casualty
Obtain consent from the casualty where possible
Use available resources to make the casualty as comfortable as possible
Monitor the patient's condition and rectify any issues preventing appropriate treatment
Communicate details of the incident
Accurately convey incident details to emergency response personnel
Report details of the incident according to organisational policies
Maintain confidentiality of records and information related to the incident
Evaluate the incident and response performance
Recognise possible psychological impacts of rescuers involved in critical incidents
Participate in a debriefing to address individual needs
Check, maintain and clean emergency equipment ready for future use
How qualified do you have to be to learn Advanced Resuscitation?
Learning first aid and advanced resuscitation isn't difficult when training is delivered by experienced and qualified professionals in the field. Real Response course facilitators and instructors guide newcomers to first aid through progressive stages of development, from beginner to advanced, over the space of 7 hours of enlivening training.
Course participants are expected to have completed Provide CPR (HLTAID009). Oxygen, suction and airway adjuncts are introduced alongside CPR in this course. You will also learn pulse oximetry and the use of oxygen therapy masks. The Advanced Resuscitation (HLTAID015) certificate is valid for 1 year prior to a short refresher course to ensure qualifications are up to date.
Advanced Resuscitation (HLTAID015) is for everyone, although you will need a reasonable grasp of spoken and written English. At Real Response, we keep class sizes small and manageable, allowing our dedicated instructors to guide every student with personalised instruction to ensure the knowledge is understood and the skillset is ready to be applied the moment training is complete. If you have a passion for learning and a desire to step in and help save lives when no one else can, Advanced Resuscitation training may be the best move you ever make.
Although the course focuses on resuscitation techniques, the procedures are often used in tandem with CPR and other first aid interventions, and your team can learn at a convenient location of your choice anywhere in the Sydney CBD or suburbs. It's certainly possible to rise from an absolute beginner to become a qualified and capable first aider when guided by some of Australia's best first aid training professionals.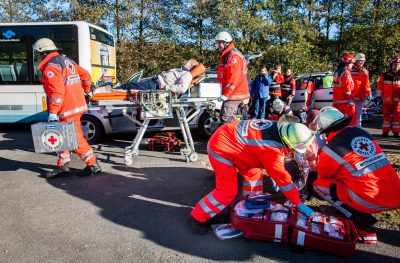 Who would benefit from taking this course?
This is one course where specific skills deliver broad-ranging opportunities. Many Australian industries and businesses now expect employees to have relevant first aid qualifications, and Provide Advanced Resuscitation is in demand. Of all first aid scenarios, resuscitation emergencies remain among the most common, and Real Response is ready to assist.
This course is useful for individuals and groups of all sizes. The procedures, techniques and equipment are the same as those used by emergency services personnel, making Real Response course graduates genuine links in the life saving chain. By dedicating only 7hrs to first aid training that delivers so much in return, you can help transform your world into a safer place for everyone.
Real Response simulation based first aid training has revolutionised the way Advanced Resuscitation is delivered, with major Australian employers and industries on board. Our beginner, intermediate and advanced training course clients include the Department of Foreign Affairs, the Salvation Army,  Charles Sturt University, Sanitarium, Fulton Hogan, the Australian Department of Meteorology and many more.
How Do Real Life Training Scenarios Assist?
Simulation based first aid training places course participants in realistic emergency situations that engender natural responses. With the onus on trainees to showcase their skills, deeper learning and greater knowledge retention is the result. Provide Advanced Resuscitation (HLTAID015) simulation training as taught by highly qualified instructors in Sydney is akin to 'learning by doing' with advantages that include:
1: Simulation training is an active and fun way to learn
2: Simulation training saves more lives
3: Simulation training creates a safer environment
4: Simulation training tests genuine emergency response times
5: Simulation training develops teamwork and leadership skills
6: Simulation training is ideal for team-building exercises
7: Simulation training is suitable for people of all ages
Book knowledge can only take a person so far when it comes to first aid, so rather than rote learning of information, our instructors encourage active learning in real-time for developing genuine capabilities. Real Response offers nationally accredited attainments based on both knowledge and performance. Knowledge related to all first aid procedures includes:
First aid codes of practice and workplace procedures
Legal and community considerations
Consent and duty of care requirements
The importance of debriefing
Privacy and confidentiality requirements
Understanding your own skills and limitations
Your role in the life-saving chain of survival
What Are The HLTAID015 Course Attainments?
Real Response course attainments provide much more than just a certificate of completion. We use training techniques previously only accessed by paramedics, the military and medical emergency responders for delivery of enhanced first aid outcomes. Simulation based first aid training techniques include construction of realistic emergency scenarios, with the addition of actors and props for greater first aid immersion.
At Real Response, we train using real emergency equipment, while emergency response practice is accompanied by sirens, c lights, 000 calls and more. We take first aid seriously, but make sure the course is enjoyable, enlightening, and an opportunity for team bonding with friends and colleagues. HLTAID015 is a nationally accredited course that takes only 7 hours to complete, with qualifications valid for 1 year prior to a short refresher course. Attainments include:
Cardiopulmonary resuscitation (CPR) for adults, infants and children
Automated external defibrillator (AED) practice
Safe approach and securing of an emergency site
Appropriate management of an unconscious person
Administering oxygen at correct flow rates
Response to breathing difficulties, vomiting and regurgitation
Real Response first aid training is tailored to your industry requirements, allowing you to employ on-site professionals who are alert to risks and hazards and ready to work individually or as a team for superior emergency response and greater life saving potential. Performance-based criteria of Advanced Resuscitation include conducting a visual and verbal assessment of the casualty, assessing vital signs (respiration, pulse, temperature) and responding to simulated first aid scenarios for specific workplace and community settings.
A lot is learnt in just 7 hours of first aid training, proving just how easy the techniques are to master. Real Response is transforming the way first aid training is delivered, and the skills are life-changing as well as life-saving. Our course participants develop greater awareness, confidence and self-belief as part of an Australia-wide network of trained emergency responders.
How long is the Advanced Resuscitation Course?
The impressive array of advanced resuscitation skills can be learnt in only one day of focussed learning. However, Real Response does much more than simply deliver information. We want our course graduates to stand out from the crowd with genuine capabilities that are ready for recall whenever required. That's why we hand-pick our highly qualified instructors from diverse first aid and emergency response backgrounds.
Advanced Resuscitation (HLTAID015) provides a comprehensive introduction to easily learnt techniques that really save lives. You are sure to be inspired, and can follow up Real Response first aid and CPR training with specialised and advanced courses that include Tactical First Aid, Crisis Management, Remote Area First Aid and other courses tailored for industry-specific application.
We aim to help you reach your full potential as a trained first aider, and open up a whole new world of opportunities for employment and career progression, all while making Australia a safer place for everyone. Here are some major advantages of first aid training delivered by Real Response.
First aid knowledge saves lives
Emergency situations are usually unexpected, requiring timely first aid intervention. A trained first aider has greater potential to save a life than an untrained bystander, including the skillset and knowledge to proceed with confidence.
Empowering primary care givers
We all age at different rates, so being on hand to assist an ailing spouse or loved one can help keep the family together. As a trained first aider, you will become acquainted with procedures for rapid emergency response and techniques for ongoing pain relief. First aiders are a crucial link in the chain of survival, and It's worth understanding that the majority of life-threatening incidents occur in domestic situations where the life you save could be a partner, child, friend or parent.
Encouraging a healthy approach to living
'An ounce of prevention is worth a pound of cure' is a well-known proverb with obvious first aid implications. Emergencies often involve dangerous elements such as live electricity, toxic substances and unfamiliar territory, so keeping everyone safe and healthy (including yourself) is a high priority. Without attention to personal safety, your ability to assist others may be compromised, so we make sure you learn how to keep yourself safe while assisting those around you.
Confidence and personal growth
The transformative potential of Real Response training is exceptional. Our course facilitators and instructors are the best in the industry, with a dedicated desire to empower first aid newcomers with life-saving capabilities. Course graduates gain nationally accredited attainments, wide-ranging skills, and the confidence to approach an emergency situation when no one else can.
Comfort and security
First aid provides the tools for loved ones to care for each other and stay together. With established headquarters in Sydney and Melbourne, and reach all around the city and suburbs, Real Response is on hand and ready to assist. Training is provided in-house, on-site and at public training locations, allowing everyone to experience the benefits of being in safe hands at all times.
Safety for all society
People are social, often gathering in large numbers for special occasions and events. At these times, it's essential to have trained first aiders on site for rapid emergency response, and your capability as a qualified first aid officer is sure to be appreciated.
Accidents and emergencies can happen to anyone at any time without discrimination. Progressive first aid knowledge is crucial and includes dramatically improved equipment, procedures and techniques. There is no better time than the present for commencing first aid training.
Sydney Course Locations
Provide Advanced Resuscitation (HLTAID015) is an extremely popular Sydney first aid training course. Our instructors are all highly trained and experienced emergency responders with a desire to impart the best skills and knowledge available. Real Response simulations experts provide in-house simulation training anywhere in Sydney for establishment of a safe workplace, with additional benefits that include risk and hazard reduction and the creation of a dedicated first aid facility.
We also welcome first aid training enquiries at our Sydney headquarters centrally located at Level 3/50 York Street. Real Response also delivers 'Public Courses' in Parramatta and Bondi for individuals and groups who want to make a real difference in health and safety, including best emergency response procedures. Real Response also offers Advanced Resuscitation training in Melbourne for transforming your potential into genuine life-saving capabilities that benefit everyone.