The capability of first aid responders to assist victims and save lives is greater than ever. Technologically advanced first aid equipment means trained first aiders now have emergency response abilities comparable to paramedics and emergency medical staff. With improved capacity comes greater responsibility, so Real Response was established in October 2014 to deliver skills that can be accurately replicated during actual emergencies. We believe in the best possible course outcomes for trainees all around Australia, and our expansion to Sydney for delivery of courses that include Provide Advanced Resuscitation (HLTAID007) has been warmly welcomed.
What is advanced resuscitation training?
Advanced resuscitation techniques are applicable in wide ranging emergency situations. Provide Advanced Resuscitation (HLTAID007), previously known as 'Oxygen Training' showcases progressive life saving techniques using portable automated external defibrillators (AEDs), adrenaline auto-injectors, oxygen equipment and more. When training is delivered using simulations that mimic real emergencies the techniques become second nature and are ready to be called upon whenever required.
Genuine life saving skills previously found wanting due to a disconnect between training and real life are at the forefront of Real Response course delivery. Employers, industry experts and course graduates strongly support simulation based first aid training that is revolutionising the way Australians approach emergencies. Provide Advanced Resuscitation in Sydney offers important training components for application in diverse fields of employment, including:
Health Care and Nursing
Occupational First Aid
Medical Service First Response
Correctional Practice
Aviation Rescue
How do real life training scenarios assist?
Simulation based first aid training places course participants in realistic emergency situations that engender natural responses. With the onus on trainees to showcase their skills, deeper learning and greater knowledge retention is the result. Provide Advanced Resuscitation (HLTAID007), as taught by highly qualified instructors in Sydney is akin to 'learning by doing' that delivers superior first aid training outcomes including:
Focussed student engagement
Superior knowledge and skills retention
Genuine life saving capability for any emergency
Establishment of safe work, school and community environments
First aid training programs suitable for people of all ages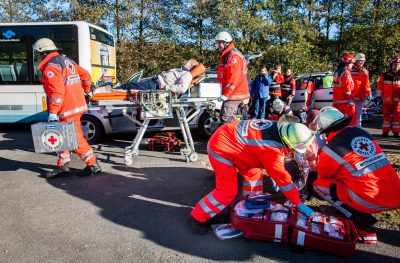 What are the HLTAID007 course attainments?
Real Response course attainments provide much more than just a certificate of completion. We use training techniques previously only accessed by paramedics, the military and medical emergency responders for delivery of enhanced first aid outcomes. Simulation based first aid training techniques include construction of realistic emergency scenarios, with the addition of actors and props for greater first aid immersion. At Real Response, we train using real emergency equipment, while emergency response practice is accompanied by sirens, flashing lights, 000 calls and more. We take first aid seriously, but make sure the course is enjoyable, enlightening, and an opportunity for team bonding with friends and colleagues. HLTAID007 is a nationally accredited course that takes only 7 hours to complete, with qualifications valid for 1 year prior to a short refresher course. Attainments include:
Cardiopulmonary resuscitation (CPR) for adults, infants and children
Automated external defibrillator (AED) practice
Safe approach and securing of an emergency site
Appropriate management of an unconscious person
Administering oxygen at correct flow rates
Response to breathing difficulties, vomiting and regurgitation
Development of teamwork, communication and leadership skills
Sydney course locations
Provide Advanced Resuscitation (HLTAID007) is an extremely popular Sydney first aid training course. Our instructors are all highly trained and experienced emergency responders with a desire to impart the best skills and knowledge available. Real Response simulations experts provide in-house simulation training anywhere in Sydney for establishment of a safe workplace, with additional benefits that include risk and hazard reduction and the creation of a dedicated first aid facility.
We also welcome first aid training enquiries at our Sydney headquarters centrally located at Level 3/50 York Street. Real Response also delivers 'Public Courses' in Parramatta and Bondi for individuals and groups who want to make a real difference in health and safety, including best emergency response procedures. Real Response courses are leading the industry change, transforming qualifications into genuine life saving capabilities that benefit everyone.