Australia has world-leading standards in occupational health and safety. Our stringent duty of care regulations provide the backdrop for individuals and workers to carry out duties in a safe and secure environment. Increased levels of first aid and emergency response capability have resulted in a surge of first aid training programs for the benefit of all Australians, and more trained first aiders than ever are overseeing our daily lives.
However, with the increase in training providers comes the potential for inexperienced course facilitators and instructors to get in on the act. To put things in perspective: 26% of Australians have attained CPR qualifications, yet only 4% are confident of following the procedures correctly if faced with a genuine emergency. The statistics are alarming, so Real Response was established to bridge the divide between first aid qualifications and actual ability to provide maximum life saving potential.
What first aid techniques are essential to learn?
Newcomers to first aid are introduced to the most commonly experienced first aid procedures. The ability to provide cardiopulmonary resuscitation (CPR) provides life saving abilities. When coupled with artificial respiration techniques, adrenaline auto-injector practice and appropriate management of casualties, the capability to respond to low-frequency, high-risk emergencies becomes empowering. Every first aid technique provides valuable assistance to those in need, making Real Response training worth serious consideration.
First aid techniques delivered by Real Response training are suitable for individual and group learning and are particularly useful for on-site workplace training programs. Our highly qualified instructors assist with hazard and risk minimisation, emergency response procedures, and tailored learning for a team bonding experience. We can even provide first aid kits and guidance for creating your own dedicated first aid facilities.
What course teaches basic first aid techniques?
Real Response courses are structured for progressive learning. Course durations of between half a day and two days are the norm, with results that will transform the way you approach and respond to emergencies. From the very start, our courses that include basic first aid techniques provide the skill set and confidence to assist anyone in a time of need. Some standout Real Response courses that teach basic first aid techniques include: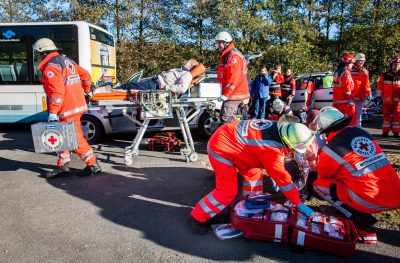 Provide CPR (HLTAID009): Taking only 3.5hrs to complete, Provide CPR introduces first aiders to cardiopulmonary resuscitation (CPR), automated external defibrillator (AED) practice and more. Qualifications are nationally accredited and last for 12 months prior to a short refresher course.
Provide First Aid (HLTAID011): This course includes Provide CPR attainments plus a whole lot more, including response to respiratory emergencies such as anaphylaxis (severe allergic reaction). The course instructs first aiders how to perform appropriate bandaging techniques, management of head and spinal injuries, response to shock, strokes, diabetes and seizures, plus other essential first aid interventions. Taking only one day to complete, Provide First Aid certification lasts for 3 years.
Other foundational courses delivered by Real Response include Provide Basic Emergency Life Support (HLTAID010) and Provide an Emergency First Aid Response in an Education & Care Setting (HLTAID012).
What courses teach first aid bandaging techniques?
The importance of appropriate bandaging techniques can't be overstated. For this reason, many Real Response courses incorporate bandaging techniques as part of training. Sprains, strains and fractures are injuries that almost everyone suffers at one time or another, while supporting damaged limbs and limiting blood loss can ultimately make the difference between life and death in some instances. From introductory courses such as Provide First Aid to advanced training in Remote First Aid (HLTAID013), Tactical First Aid (RFATAC001-3) and Perform Rescue from a Live LV Panel (UETTDRRF06B), appropriate bandaging techniques remain important first aid procedures.
What courses teach resuscitation techniques?
Resuscitation techniques are essential skills for any first aider. The ability to maintain life symptoms of blood and oxygen flow prior to arrival or emergency services makes first aiders an essential link in the life saving chain. The introduction of portable defibrillators, oxygen equipment, adrenaline auto-injectors and other devices has elevated first aid response capability to that of professional paramedics.
Almost all Real Response courses incorporate resuscitation techniques as part of training, while advanced courses including Provide Advanced Resuscitation (HLTAID015) and Provide First Aid in an ESI Environment (UETTDRRF10B) are typical of Real Response courses with major focus on resuscitation techniques. Every Real Response course can be tailored to your workplace or other needs, ensuring you maximise health and safety, empower colleagues and employees, and deliver the best possible emergency outcomes whenever required.