In a busy world where people are pressed for time it's important to provide flexible solutions. Real Response was established to fill the need for immersive first aid training that offers long-term retention of knowledge and skills. The response has been extremely encouraging, and the number of Real Response courses has grown to match demand. We take the extra steps to reach out to work, school and community groups on location or at our purpose-designed facilities in Melbourne and Sydney. As first aid and CPR courses only take between half a day and a couple of days to complete, there is no time like the present to upgrade skills and make Australia a safer place to live.
When are Real Response Course Times?
Real Response courses are taught all year round to give everyone a chance to improve their skill set. Our highly trained paramedic, emergency services and medically qualified instructors are ready to impart life-saving techniques using advanced simulation training for greater absorption in practice emergency scenarios. At Real Response, practice really does make perfect, with our course graduates far more likely to retain qualifications and respond in a timely and effective manner should a genuine emergency arise.
Real Response courses are structured, although we accommodate all class group needs whenever possible. In fact, Real Response instructors are ready to travel anywhere in Australia to spread first aid and CPR knowledge that saves lives. Short courses that provide high attainments are great value for money, and Real Response course facilitators make certain every student is encouraged to reach their maximum life-saving potential. If the safety of family, friends and colleagues is important to you, our helpful staff will assist in coordinating the first aid course time and location for maximum convenience and greater learning potential.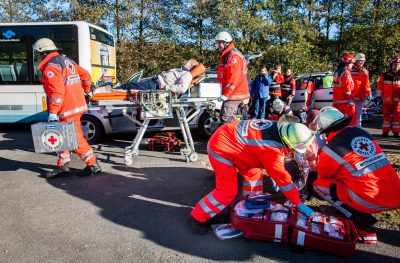 What first aid courses are available?
First aid and CPR qualifications are now pre-requisites for many occupations involving risks and danger. Occupational health and safety guidelines are enforced more than ever, and most larger businesses have trained first aiders on site in case of accident or emergency. First aid courses at Real Response satisfy expectations for industry-specific training, along with traditional first aid qualifications that will benefit anyone. Here is a sample of diverse Real Response training choices:
Provide CPR (HLTAID009)
Provide Basic Emergency Life Support (HLTAID010)
Provide First Aid (HLTAID011)
First Aid Management of Anaphylaxis (22099VIC)
Tactical First Aid (RFA0001)
Real Response courses extend to training for workers in education and care settings, the electricity supply industry, remote first aid and even fire warden training to ensure emergency procedures are streamlined and effective.
Are resuscitation techniques included in beginners' first aid courses?
With genuine first aid training, even beginners develop the ability to save lives. In fact, when taught using enhanced simulation training, the attainments become natural abilities that can be called upon whenever required. Resuscitation techniques are essential first aid skills that can be learnt by anyone and adapted to any environment. Resuscitation capabilities taught in the Real Response Provide First Aid (HLTAID011) course include:
Responding to an unconscious person
Airway management
Provide artificial respiration
Respiratory emergencies
Shock and anaphylaxis response
When the above nationally accredited attainments are coupled with defibrillation experience, adrenaline auto-injectors, oxygen equipment and other devices, the first aid response capability is dramatically enhanced. First aid and CPR qualifications and capabilities have evolved in keeping with progressive technology, and Australians are benefitting more than ever thanks to Real Response simulation training; the immersive way to develop real skills in real time for enhanced first aid ability.