Emergency medical responders undertake specialised Emergency Medical Technician (EMT) training for higher, adaptable attainments. EMT qualifications form a pathway for employment in emergency response positions requiring deeper knowledge and skills than are gained in shorter first aid and CPR courses. Australian standards are constantly evolving, and university level qualifications are now expected of professional paramedics working in urban and remote situations. The dedication required is understandable, as health and safety is a high priority in every industry and saving lives is the most important job of all.
Fortunately, Real Response first aid training has also moved with the times, delivering capabilities suitable for EMTs and other medical emergency staff. Even beginner and intermediate Real Response training courses include the use of state-of-the-art automated external defibrillators (AEDs), adrenaline auto-injectors for treating anaphylaxis, and a whole lot more. First aid and CPR responders have the devices, procedures and techniques to approach any emergency with confidence and deliver a timely response as an essential link in the life saving chain.
What Is Emergency Medical Technician Training?
Emergency Medical Technician training is a specialised course utilising innovative Emergency Medical Services (EMS) equipment and best emergency response techniques. Training provided by Real Response professionals offers genuine progression to career opportunities in fields that include rescue personnel, ambulance officers, paramedics, specialist security staff, firefighters and event/sports medics, to name a few.
This comprehensive course is for serious first aiders who have completed Provide First Aid (HLTAID003), and all assessments are completed within the Real Response framework. The course includes essential core competencies and elective competencies, allowing you to develop knowledge and skills applicable to your chosen field. Core competencies include:
Work legally and ethically
Confirm physical health status
Apply risk management processes
Provide pre-hospital trauma life support
Assess and administer emergency medical care
Move and lift patients in a pre-hospital care setting
Undertake comprehensive patient assessment and document results
Additional advanced competencies of emergency medical technicians and paramedics include:
Provide pain management
Apply and interpret electrocardiographs
Undertake intraosseous vascular access
Provide emergency care for suspected spinal injury
Undertake intravenous cannulation and fluid therapy
Undertake wound identification, management and closure
Implement the universal triage system for pre-hospital care
What Does An Emergency Medical Technician Do?
Emergency medical technicians are among the first to arrive when disaster strikes or an emergency arises. They work closely with paramedics and other highly qualified professionals in a variety of roles and you have probably seen them many times in the field or in ambulances, fire trucks, helicopters and hospitals. Emergency medical technicians are the most common type of emergency medical services provider, forming a vital link in the life saving chain.
EMTs develop essential capabilities for delivering assistance in life-threatening situations, with skills attained at Real Response forming a strong foundation for all other levels of emergency medical provider training. These are advanced 'foundational' skills that act as stepping stones toward a career as a paramedic, doctor, nurse or firefighter.
As an emergency medical technician you will learn how to safely respond to all life-threatening emergencies such as respiratory emergencies, cardiovascular emergencies, poisoning, overdose, environmental exposure, musculoskeletal injuries, spinal injuries, chest injuries, brain injuries and more. This course isn't for the faint hearted, but it is for people who want to keep the patient's heart beating. While saving lives, monitoring and recording the patient's status is equally important, and your Real Response course instructors will guide you through the steps that include:
Scene size-up (kinematics)
Medication administration
Risk assessment
Immobilisation techniques
Extrication and carrying devices
Communication with other emergency personnel
Patient assessment and history taking
Documenting records and reports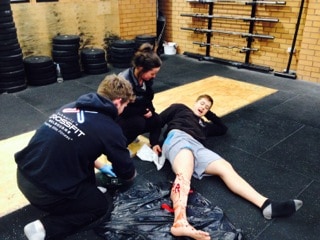 How Long Does It Take To Complete EMT Training?
EMT training is advanced first aid study that bridges the gap between shorter courses and professional careers in emergency medical services. Self-directed course assessments take approximately 300 hours to complete and are complemented by around 12 days face to face learning overseen by Real Response experts. The nationally accredited attainments are in greater demand than ever before, offering tremendous opportunities for career and personal development.
Although longer than other first aid and CPR courses, EMT training also offers greater opportunity for establishing yourself in emergency services fields. It is an ideal way to test the waters of emergency response and develop your preference for the career trajectory of your choice. Real Response course facilitators and instructors design courses to suit individual and collective needs, allowing students to hone a dedicated skill-set for industry-specific purposes, along with the ability to work in cooperation with others as part of a larger team.
What Are The Requirements To Partake In EMT Training?
If you have already completed Provide First Aid (HLTAID003) you are good to go with EMT training. Emergency Medical Technician is a specialist occupation, whereas most other first aid courses are designed for attaining additional qualifications in established careers where care, safety and appropriate emergency response are important considerations. EMT training is comprehensive and includes world-leading practices and procedures, particularly when students are guided by some of Australia's leading paramedics, firefighters and medical emergency responders at Real Response.
What Is The Difference Between An EMT And Paramedic?
EMT training forms the foundation for paramedic training. Trainee paramedics undertake dedicated study and practice that can take a year or more to complete, whereas EMTs can train part time. This allows trainee EMTs to gain a foothold in the emergency medical services industry while employed in their regular occupation. EMT and paramedic training both consist of lectures and hands-on training, although paramedic training is more intensive, including deeper understanding of anatomy, physiology, cardiology, medications and medical procedures.
EMTs don't generally perform functions that require breaking the skin, with the exception of using auto-injectors for responding to allergic reactions. Paramedics build on EMT qualifications by learning skills that include administering medications and starting intravenous lines. It's no secret that the world can be a dangerous place, with both EMTs and paramedics often working side-by-side to deliver the best possible outcomes for people suffering from high-risk, low-frequency accidents and injuries. Real Response training programs in Melbourne and Sydney are changing the way first aid is taught and delivered, and the thanks from those whose lives are saved is the greatest reward possible.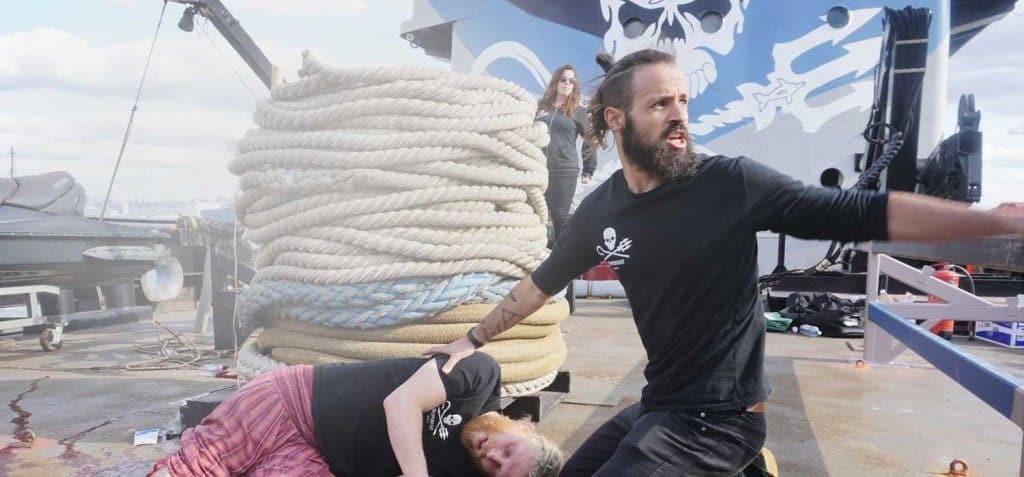 How Does EMT Training Lead To Higher Qualifications?
Health services providers and emergency responders require a consistent approach for optimum patient care, and EMT training forms an important link. In addition, it is a valuable platform for establishing yourself as a professional paramedic or undertaking higher-level medical studies. Our team at Real Response aims to educate and inspire you with a desire to reach your highest potential, whether you hope to become a firefighter, paramedic or even a qualified doctor. The sky is the limit at Real Response, and we do everything we can to turn your dreams into reality.
EMT training is a great stepping stone toward ambulance technical training, an emergency medical certificate, medical technical training and other prestigious medical and health care training initiatives where patient care is the highest priority. The emergency medical training course at Real Response utilises ground-breaking simulation based first aid training that places you in the action even while learning, allowing you to develop core life saving skills that are ready to be implemented the moment training is complete.
How Long Do Other First Aid Training Courses Take?
The appeal of first aid training courses is their ability to deliver dozens of competencies in the space of one or two days. This proves just how easy the techniques are to learn, making first aid and CPR skills a valuable addition to any resume or portfolio. However, the capabilities are only valuable if the knowledge and skills are retained for use in low-frequency, high-risk situations where appropriate response is essential.
Although 26% of Australians have undertaken a CPR training course, only 4% are confident of their ability to apply the training correctly in a genuine emergency. This situation isn't acceptable to Real Response course facilitators, so we deliver enhanced simulation based training familiar in military and medical training institutes. The results are extremely encouraging, with Real Response graduates appreciating greater learning immersion and superior knowledge and skills retention.
How Often Do You Need To Renew Your First Aid Training?
Regular people don't experience life-threatening emergencies often. For this reason, all trained first aiders are required to undertake refresher courses at regular intervals to sharpen their life saving skills. All Real Response training courses are nationally accredited, providing between one and three years certification. Emergency response capabilities are continually improving, and Real Response is dedicated to ensuring your qualifications are up to date and in demand by employers across wide-ranging industries. Employment opportunities include:
Health Services
Education and Childcare
Transport and Logistics
Electricity Supply Industry
Forestry and Wood Products
Sports and Fitness
Tourism and Hospitality
Aviation Services
Security Guard
Biosecurity Officer
What Training Courses Do I Require?
Real Response delivers the full range of first aid and CPR training courses. Our courses are suitable for individuals and groups who require industry-specific training. The courses are equally valuable for anyone who wants to make a difference to health and safety for all Australians. Our courses act as building blocks from beginner and intermediate to advanced training tailored for your precise needs. Introductory courses (with advanced capabilities) include:
Provide CPR (HLTAID001)
Provide First Aid (HLTAID003)
Provide an Emergency Response in an Education and Care Setting (HLTAID004)
Our advanced and specialised courses include:
ESI (electricity supply industry) First Aid (UETTDRRF10B)
Remote First Aid (HLTAID005)
Fire Warden Training (PUAWER005B)
These are just a small sample of Real Response courses for a tailored training experience. First aid professionals can expand their knowledge and skills with additional courses or even commence tertiary EMT training with real life experience and an educational advantage.
What Is Simulation Training?
There are a few more secrets to the success of Real Response. Firstly, our course instructors are among the most qualified and proficient in Australia. They come from backgrounds that include professional EMTs and paramedics, along with firefighters, medical emergency responders, military emergency responders and more. Secondly, our simulation training techniques take enhanced learning to the next level. Simulation training, or 'learning by doing' is known to provide deeper immersion in learning and superior knowledge and skills retention. Simulation training includes:
Actors and props for establishing realistic emergency scenarios
The addition of emergency lights, signals, 000 calls and pyrotechnics
Realistic practice dummies including fake wounds, fake blood and more
Real emergency equipment including defibrillators and adrenaline auto-injectors
Timed emergency response practice for honing genuine life-saving skills
Communication, teamwork and leadership development
We are fortunate that health care is prioritised in Australia, and you won't find better value first aid training courses than those delivered by Real Response. Accredited emergency medical technicians are in demand around the country, and the specialised programs at Real Response are transforming the first aid training industry and making Australia a safer place for everyone.
Established in 2014, Real Response has quickly grown to become a leading Australian first aid training provider, and we are constantly expanding and upgrading our course options to match industry needs and employer requirements. We empower every course participant to develop genuine capabilities and optimum life-saving potential. Our courses have changed the way first aid training is delivered, and we invite you to experience the Real Response difference.