The first aid training industry has benefited tremendously from medical science breakthroughs during recent decades. The introduction of adrenaline auto-injectors, portable defibrillators, breathing apparatus and other devices provides first aiders with a life-saving tool-kit for responding to almost any emergency where casualties require assistance. Real Response arms graduates with knowledge, skills and competency in place, ready to be used in the real world whenever required.
Simulation training content provides a comprehensive first aid learning experience, empowering course participants to discover leadership talents, teamwork skills, emergency responses and communication strategies, all within the context of simulated real-time emergency procedures. Real Response courses are short but extremely immersive, providing optimum learning outcomes and an entertaining way to develop valuable skills. Course graduates are ready to step in and provide the gift of life when other people simply stand aside and look, all thanks to immersive simulation training.
What skill set do you learn with simulation training?
Outmoded first aid training organisations utilise simulation training sparingly, usually in the form of CPR practice dolls. Real Response simulation training, on the other hand, imparts every first aid attainment with simulation training. Simulations that mimic reality create immersion within the learning experience, allowing natural abilities to shine unhampered by traditional classroom expectations. In fact, many people naturally flourish in 'learning by doing' simulations that encourage communication and teamwork, while also fostering leadership skills.
Whether you want to learn basic CPR, or are interested in developing a comprehensive first aid skill set, Real Response course facilitators ensure that simulation training is an important component of total learning. Theoretical knowledge is always important, acting as reference material whenever procedures require clarifying, but there is no denying that not everyone is academically inclined, and many people learn far better in a learning by doing, active environment.
Who needs to undertake simulation training?
Simulation training isn't compulsory for first aid training, but prospective first aid students are advised to investigate trainers that include simulations as core first aid learning components. Since introducing greater levels of simulation training to the first aid arena, Real Response has rapidly become a premier training organisation recommended by high profile clients, competent graduates, and fortunate casualties receiving life-saving Real Response assistance. The value of simulation training is noticed in businesses, schools, and industrial enterprises where safety of staff, students and visitors is a high priority.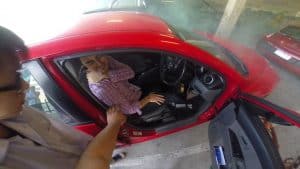 Industry-specific simulation training can be incorporated into any occupation. First aid and CPR attainments are core components of larger learning initiatives in diverse fields including shipping, aviation, biosecurity, entertainment, sport, tourism and more. In other words, trained first aiders are becoming all pervasive in Australian society, often fulfilling dual roles in their place of employment. Hiring managers appreciate solid community citizens capable of making a difference in their organisation, and first aid attainments are an obvious sign of social responsibility and a desire to assist when needed. Simulation training received from Real Response provides the highest attainments, national accreditation, and the skill set to enter emergency situations safely to attain life-saving results.
Is simulation based training necessary for learning first aid?
Simulation-based training is useful in many occupations, but the benefits derived for first aid are truly outstanding. Simulation training has long been used by the military, police and other government organisations for achieving an at-ready response force at completion of training. First aid education benefits from both online resources and real-world practice, resulting in knowledge and skills that are applied appropriately for optimum emergency response outcomes.
Although theory provides essential surety that procedures are correct, there is often little time for reading a first aid manual when a casualty has possibly just taken their final breath. Simulation training bridges the gap between theory and experience by providing realistic simulacrums of familiar workplace, school, or community settings. When familiar surroundings experience an emergency, natural rescue responses kick in for assisting friends and colleagues, with genuine immersive learning results ready to be called on whenever required.
Why is Real Response simulation training superior?
Innovative Real Response simulation training is the result of genuine concern for the first aid training industry. Although intentions had been admirable, first aid attainments are only useful if they are ready to be applied instantly, and some trainers were falling short of the mark. Immersive learning was the obvious answer, and after only a few short years Real Response simulation training has revolutionised the industry.
Simulation training isn't a Real Response invention, but expanding on the concept is, with results that provide employer confidence, trainer satisfaction, and course graduates equipped with an amazing skill set for saving lives when no one else can. Real Response are the simulations solutions experts ready to introduce your business or corporation to the amazing immersive learning potential of simulation training.