When it comes to flexible learning solutions, simulation training ticks a lot of boxes. Learning methods that adapt to industry-specific requirements get better results with employers and employees, and first aid training is ideally suited to simulated reality that develops emergency response skills. When simulations are overseen by Real Response course instructors, reality is further enhanced by real emergency equipment, devices, and life-saving procedures in real-time scenarios designed for an immersive learning experience.
Real Response adapts training methods using effective simulation training guidelines. All first aid and CPR courses benefit by the introduction of active learning where students engage in role-play, using teamwork and leadership skills to achieve emergency response solutions. The advanced role of simulation training at Real Response has taken the industry by storm, with knowledge and skill-set outcomes that really do save more lives. Real Response was founded to provide better first aid attainments, and the strategy is helping more Australians recover from accidents and incidents every day.
Why is simulation training more effective?
Simulation training is now commonplace in a range of industries. The method is favoured by military, medical and emergency services training providers who require graduates to enter dangerous environments with the right skill set in place and ready to be used. First aid and CPR attainments are increasingly demanded in a range of occupations, including aviation, shipping, child care, transport, security, tourism and more. Real Response attainments provide genuine stepping-stones toward fulfilling and highly-valued careers.
First aiders who have undertaken simulation training are more likely to retain key information, ready for retrieval when fast action is required. Chances of survival are enhanced when decisive life-saving procedures are performed as quickly as possible, particularly if heartbeat or breathing can't be detected. First aid and CPR procedures mimic natural bodily mechanisms for maintaining blood flow and air circulation until emergency services personnel arrive and take over the rescue operation. Progressive first aiders carry portable defibrillators, adrenaline auto-injectors, and other devices ready for immediate use in saving lives.
What features make simulation training different?
At Real Response, every student is encouraged to develop first aid skills at their own pace. Not everyone can be a leader, but even those with a little first aid training can save lives when the need arises. In some medical fields, vast knowledge and learning is required prior to commencement of practice, but first aid attainments are different, reaping rewards that last a lifetime from courses that take only a day or two to complete. Every first aid technique is simple to master, and when taught with simulation training, it's possibly to develop comprehensive first aid and CPR capabilities that can be utilised in any emergency.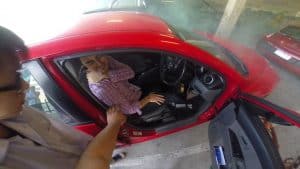 Although simulation training has been a first aid attribute for decades, realism had been neglected, creating dissonance and detachment from learning initiatives. Real Response, on the other hand, takes simulations to their natural conclusion by creating scenarios that emulate work, school and community settings for greater learning immersion and knowledge retention. Course facilitators enjoy the challenge of tailoring simulations to provide best learning outcomes, while also ensuring every student keeps up. Real Response was established to create improved first aid learning outcomes, and the results are appreciated every day by Australians receiving life-saving treatment.
What do simulations do?
Simulations are designed to closely emulate reality, allowing students to immerse themselves in practical learning initiatives. This 'learning by doing' environment empowers students with newfound abilities and the confidence to assist people in need. Simulation features include:
Role play exercises to test emergency response skills in realistic environments
Industry-specific simulations mimicking work, school or community settings
Simulated 000 calls for communicating with emergency services personnel
Real first aid equipment including defibrillators, breathing devices and other state-of-the-art equipment
Real Response is now one of Australia's leading simulation training organisations, dedicating considerable resources toward improving first aid attainment levels for the benefit of all Australians. First aid and CPR training is more popular than ever, but results are only as good as the instructor. Fortunately, at Real Response, all instructors are highly skilled and fully qualified emergency services personnel with the capability to spread first aid knowledge far and wide. Real Response encourages all Australians to undertake first aid training for the benefit of family, friends and colleagues.