Provide Advanced first aid otherwise known as the Level 3 first aid course is designed for those who are looking for a more comprehensive and deeper understanding into first aid events and emergencies. The course delves into the pathophysiology of many more conditions and discusses the anatomy in the way which it relates to a first aider's role. The expectation is that participants leave capable of conducting a complete assessment of a casualty and begin steps for treatment. Throughout the course, realistic simulations are run incorporating all the course
content
.
What You Will Learn?
All the elements covered in Provide First Aid and;
Use of a bag valve mask
Spinal Immobilisation
Emergency Child Birth
Triage
Drug overdoses
Who are the real first aid trainers?
Our qualified instructors are world-class legends. They're paramedics, firemen, critical care nurses and former military. These are people who know how to think on their feet and will teach you to do the same. Our trainers want you to be involved, ask questions and have a go. Great effort and planning is taken to ensure an inclusive, safe and non-intimidating learning environment. We don't want you to memorise a stack of information on 'how to apply first aid', we want you to experience it for yourself.
Meet The Team
How to choose a course?
Think of first aid training as a toolbox for life. The more training you complete, the more tools you will have in your toolbox. The more tools in your toolbox, the more you have to draw upon should you ever be faced with a real-life emergency. A great way to get your toolbox started is to think about why you want to complete first aid training. This will help determine what skills you may like to acquire first. There are many reasons why people complete first aid training. It could be to create a safer workplace at home or school or just to have the ability to help others. Your reasons can, and most likely will, change over time – and that's OK! You can always add to your toolbox.
Choose a course
Want to know more about Real First Aid training sessions?
Real First Aid training is conducted in groups. This can be at one of our venues, or we can come to you. If you're looking at first aid training for staff for example, this is an easy option – no travel required. Over the duration of the course you will take part in a series of 'simulated' emergency situations where you will be guided to respond effectively. Our priority is to ensure everyone in the group leaves feeling confident that they could apply first aid should they ever need to. We encourage team learning, problem solving and participation. One other thing, while we don't think emergencies are a laughing matter, we definitely don't shy away from making training sessions as engaging and enjoyable as possible.
Why choose Real First Aid?
There's a reason why Real First Aid receives on-going endorsements, industry and peer acknowledgement and positive reviews from graduates. Our dedication to delivering world- class first aid training is paramount. We truly want every student to engage, enjoy and learn from their experience with us. We understand that choosing a first aid trainer provider requires trust, and we want you to always feel like you're in safe hands.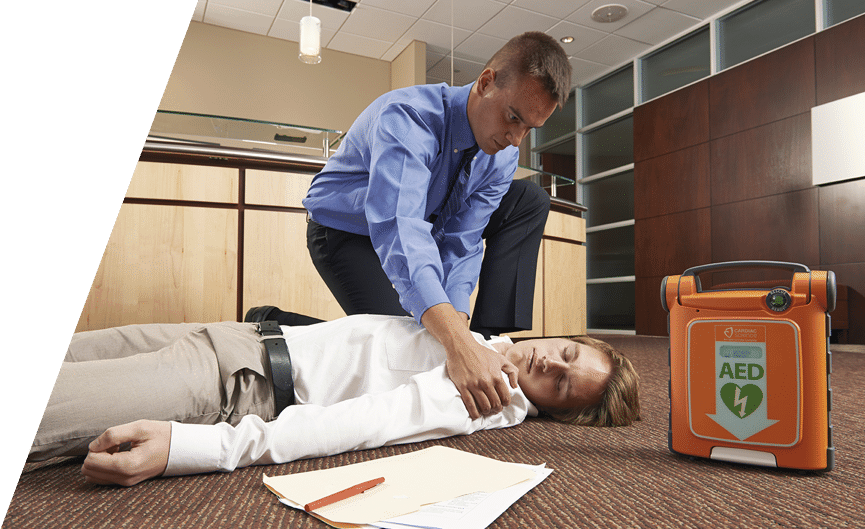 Provide Advanced First Aid [Level 3 first aid]
Level 3 First Aid and CPR skills are easily learnt by anyone. At Real First Aid, we believe that everyone should attain the occupational skills necessary to save lives in emergency situations. Appropriate emergency response is possible when first aid techniques are thoroughly understood, especially if confident leadership qualities have been fostered in an immersive learning environment. Provide Advanced First Aid enables graduates to act decisively in coordinating emergency responses while taking a lead role in patient management.
Real First Aid courses facilitators strongly support first aid
level 3
and CPR attainments by placing participants in simulations that elicit natural responses. A core feature of Real First Aid courses is 'learning by doing', where students are actively engaged instead of simply being idle onlookers in a traditional classroom setting. Provide Advanced First Aid is a nationally accredited course taking 2-3 days, with certification lasting for three years. In the course of those few days, Real First Aid empowers graduates with the knowledge,
facts
and skill-set required to respond to an emergency, assess the situation, act quickly, and save lives.
Provide Advanced: Level 3 First Aid Attainments
First Aid and CPR procedures are comprehensively addressed in Provide Advanced First Aid. An understanding of functional changes experienced by injured or unconscious persons is developed, along with the skills required to respond successfully. Provide Advanced First Aid empowers students with the leadership qualities needed for timely assessment of a casualty, along with the confidence to take appropriate treatment steps. Provide Advanced First Aid attainments facilitate greater levels of First Aid and CPR knowledge and application.
The CPR component of Provide Advanced First Aid Courses cover all essential CPR steps. The course includes responding to an unconscious person, airway management and the provision of artificial respiration. CPR techniques suited for use on adults, children and infants are learnt, along with two-rescuer CPR, the principles of Automatic External Defibrillation (AED) and communication in an emergency. Simulation training is well known for improving knowledge and skills retention, and a major reason Real First Aid stands out from competing first aid and CPR course providers.
Realistic Training For Real-life Emergencies
First Aid and CPR knowledge is essential for saving lives. However, when knowledge isn't used it is soon forgotten. Real First Aid was established with the desire to immerse students more deeply in first aid courses and CPR practices so they are ready to act whenever an emergency arises. Simulation training, as used by military and medical training institutions, is a Real First Aid difference, where first aid study is hands-on, realistic and challenging. Life-saving potential is fully realised when emergency responders are competent and confident to quickly take the right steps while simultaneously guiding others and communicating with emergency services.
Simulations include realistic accidents and emergencies requiring CPR, using props that include fake blood, fake wounds, sound effects and emergency phone calls. Learning under pressure can be daunting for some students, but Real First Aid teachers ensure participation is an enjoyable experience that results in greater assimilation of advanced first aid practices,
principles
and knowledge. Real First Aid shifts the focus from disengaged learning methods and provides a real difference when life and death situations occur. We are dedicated to bringing out the best in all our students and empowering them with the ability to take decisive action in situations where leadership is needed and
advanced first aid
skills are essential.