What You Will Learn In Provide CPR Course?
Responding to an unconscious
Airway management
Provide artificial respiration
Provide cardiopulmonary resuscitation to an adult & child infant
Two person operated CPR
Understand the basic principles of: automatic external defibrillation(aed) communicate in an emergency
Who are the real first aid trainers?
Our qualified instructors are world-class legends. They're paramedics, firemen, critical care nurses and former military. These are people who know how to think on their feet and will teach you to do the same. Our trainers want you to be involved, ask questions and have a go. Great effort and planning is taken to ensure an inclusive, safe and non-intimidating learning environment. We don't want you to memorise a stack of information on 'how to apply first aid', we want you to experience it for yourself.
Meet The Team
How to choose a course?
Think of first aid training as a toolbox for life. The more training you complete, the more tools you will have in your toolbox. The more tools in your toolbox, the more you have to draw upon should you ever be faced with a real-life emergency. A great way to get your toolbox started is to think about why you want to complete first aid training. This will help determine what skills you may like to acquire first. There are many reasons why people complete first aid training. It could be to create a safer workplace at home or school or just to have the ability to help others. Your reasons can, and most likely will, change over time – and that's OK! You can always add to your toolbox.
Choose a course
Want to know more about Real Response training sessions?
Real Response training is conducted in groups. This can be at one of our venues, or we can come to you. If you're looking at first aid training for staff for example, this is an easy option – no travel required. Over the duration of the course you will take part in a series of 'simulated' emergency situations where you will be guided to respond effectively. Our priority is to ensure everyone in the group leaves feeling confident that they could apply first aid should they ever need to. We encourage team learning, problem solving and participation. One other thing, while we don't think emergencies are a laughing matter, we definitely don't shy away from making training sessions as engaging and enjoyable as possible.
Why choose Real Response?
There's a reason why Real Response receives on-going endorsements, industry and peer acknowledgement and positive reviews from graduates. Our dedication to delivering world- class first aid training is paramount. We truly want every student to engage, enjoy and learn from their experience with us. We understand that choosing a first aid trainer provider requires trust, and we want you to always feel like you're in safe hands.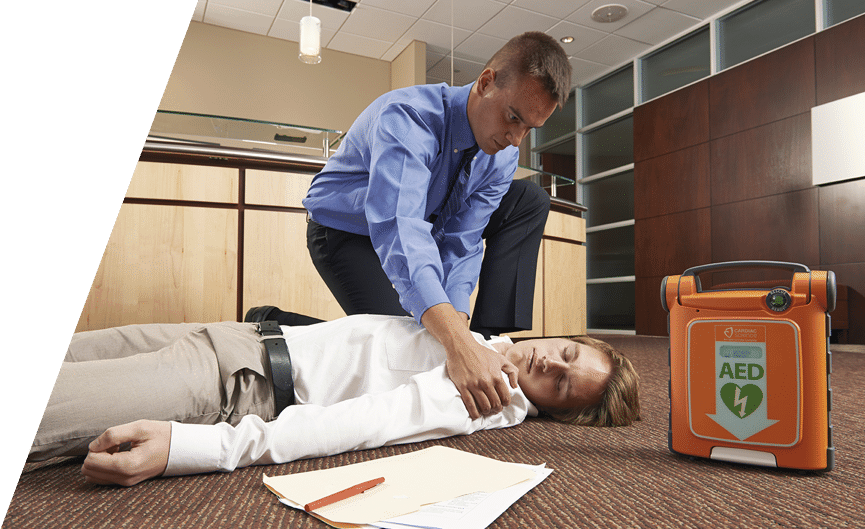 Provide CPR
We live in a fast-moving world full of responsibilities, but is there any valid excuse for not dedicating 3.5 hours to learn how to save lives? That's as long as it takes to learn the practical aspects and resuscitation techniques of CPR (Cardiopulmonary Resuscitation), including the skills required to respond quickly in an emergency. Since inception in 2014, Real Response has raised the CPR profile, educated business and industry leaders, and introduced innovative learning strategies so students achieve life-saving and life-changing results.
The Provide CPR course empowers students to act with clarity and confidence in any situation where a person suffers cardiac arrest. Real Response courses are designed to facilitate maximum information retention; an absolute necessity if CPR learning is to transfer adequately in life-threatening situations. Real Response Courses instructors are experienced and highly qualified emergency services personnel who desire to bring about real change in CPR awareness through new and improved teaching methods.
Provide CPR

Attainments

Provide CPR is one of the foundational first aid courses for advanced first aid studies, or a stand-alone attainment resulting in a nationally accredited certification that is valid for 12 months.

Although short, this course dramatically improves the way graduates think and act under pressure when administering CPR. The steps involved in CPR aren't complex when taught by experts using real-life scenarios, hands-on CPR training and novel simulations that mimic actual emergencies. The classroom environment and simulations can even be fine-tuned for industry-specific needs.

Provide CPR attainments include all the steps required to satisfactorily perform CPR, including how to respond to an unconscious person, how to manage airways, and the proper technique for performing artificial respiration. CPR procedures for treating adults, children and infants are thoroughly learnt, along with the fundamental principles of Automatic External Defibrillation (AED) and communicating in an emergency. That's a lot to learn in 3.5 hours, and one reason information retention by students has been unsatisfactory in the past. From a Real Response perspective, CPR knowledge is easily retained if it is taught effectively.
CPR-Learning By Doing
The course encourages teamwork and fosters leadership qualities in an inclusive environment where students become participants rather than idle onlookers. Practical involvement, role-play and genuine interaction are key elements of knowledge retention that Real Response fully understands, and the results are encouraging to say the least. Real Response have deservedly garnered high praise during the past few years for dedication to CPR and first aid awareness, along with glowing endorsements from former students who have become empowered and confident enough to save lives.
Real Response utilises 'learning by doing' concepts that have been employed by paramedics and military professionals for decades. Simulations are incredibly realistic when participants are forced to test knowledge and ability under pressure, especially while simultaneously considering a range of factors or variables. Outcomes include deeper learning and greater awareness, with the potential to make a real difference in the outcome of a person suffering cardiac arrest. Students appreciate the safe learning environment, while the high level of competency and knowledge retention achieved is a great reward for Real Response staff who are dedicated to facilitating the highest standards of CPR and first aid courses training.