Of all first aid procedures, cardiopulmonary resuscitation (CPR) is the most familiar. CPR certification is a major foundation on which to build first aid knowledge and skills for saving lives. Real First Aid is proud to offer Provide CPR (HLTAID001) using simulation training for immersive learning and recall of procedures when faced with emergency situations in the real world. Employers expect duly qualified first aiders to have relevant CPR certifications, and the attainments are equally valuable at home, school or in community settings. CPR certification from Real First Aid is a progressive and powerful attainment worth real consideration.
What CPR certification skills will I learn?
Effective CPR techniques are easily assimilated at Real First Aid thanks to highly qualified instructors and course facilitators. In fact, Real First Aid was established to improve the disparity between first aid qualifications and their practical application. By engaging in simulation training, course participants develop real-time response skills for optimum first aid intervention outcomes. CPR certification includes:
Safely entering the emergency site without risking harm to oneself or others
Providing CPR to adults, children and infants
Understanding the principles of Automatic External Defibrillation (AED)
Airway management and resuscitation techniques
Communication with onlookers and emergency services personnel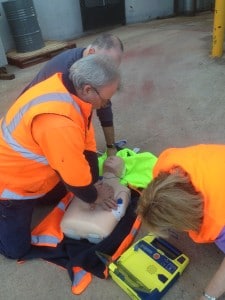 Provide CPR includes both academic and practical attainments gained by first hand use of real emergency equipment overseen by the experts. Simulation training develops genuine emergency response skills that include personal initiative, teamwork and leadership capabilities, ultimately resulting in a confident and capable emergency response.
How do I tell if Provide CPR (HLTAID001) is the right course for me?
First aid qualifications are now standard pre-requisites in many occupations where a safe workplace is encouraged. Provide CPR is learnt in only 3.5 hours, delivering life-saving skills that are unmatched, with nationally accredited certification lasting for 12 months prior to undertaking a quick refresher course. The attainments are long-lasting and always up to date at Real First Aid. Provide CPR is an ideal first aid starting point for many reasons.
CPR can be learnt and performed by anyone
CPR capabilities are the same as those used by emergency services personnel
CPR skills can be called upon anywhere and at any time
CPR qualifications are in demand by employers around Australia
What occupations require CPR certification?
Highly regarded CPR certification gained at Real First Aid is extremely timely for Australians wanting to broaden their work or career prospects. Attainments are now essential in diverse industries including construction, transport, electricity services, tourism, healthcare and childcare, with Real First Aid course outcomes meeting expectations admirably. As occupational health and safety takes on broader powers around the country, Real First Aid has developed CPR training techniques that ensure CPR certification is in high demand.
CPR can be learnt by anyone, and Real First Aid encourages group learning for additional workplace, school and community safety. Our training is an enjoyable bonding experience with colleagues or classmates, along with an opportunity for personal development and attainment of the best possible emergency response skills.
Why do I need CPR re-training after one year?
CPR attainments are an essential component of the first aid tool kit. Appropriate response to emergency is reliant on instant recall of information and techniques learnt in HLTAID001, so periodic brushing up on CPR certification techniques is essential for maintaining certified status. First aid qualifications are only as valuable as the first aider's competency, and Real First Aid instructors give every student the opportunity and guidance required to proceed with confidence.
Life-saving first aid and CPR capabilities continue to evolve, as noted by the ability of paramedics, lifeguards and emergency services to respond to unconscious casualties in a variety of ways. Cutting edge medical science provides first aiders with portable devices such as defibrillators, adrenaline auto-injectors, oxygen and other equipment previously only available in hospital environments. The capacity to save lives is greater than ever, and with Real First Aid CPR certification, Australia has become a safer place to live.