CPR is an important component of first aid training, and the knowledge needs to be accurately retained for appropriate use. Real Response engages course participants in a 'learning by doing' environment, encouraging immersive learning and the building of a skill-set that lasts. In addition, Real Response provides CPR refresher training to ensure course attainments are sound and qualifications up to date. CPR and first aid training courses are short, some lasting only half a day, yet the qualifications and attainments will be appreciated for your entire lifetime.
Most first aid courses contain CPR instruction and practice, although Provide CPR (HLTAID009) is a great starting point. Many hirers in business and industry expect relevant first aid qualifications as part of the job application, while other employers simply appreciate occupational health and safety guidelines that make work, home and community spaces safer.
Real Response Skills for All Australians
Australians who were previously reluctant to attain first aid skills are realising the value of first aid applications for work and home. Real Response has achieved remarkable success in just a few short years, and is honoured to be a major contributor toward first aid and safety. CPR attainments are highly regarded, and CPR Content (HLTAID009) is applied in a wide range of training packages including:
Health
Community Services
Transport and Logistics
Agriculture and Horticulture
Information and Communications Technology
There are dozens of qualifications that include CPR Content, and prospective course participants, especially those planning a change of occupation, are encouraged to choose Real Response courses that provide the right career pathway. CPR Content is a component in qualifications that include:
Diploma of Engineering Technology
Certificate II in National Broadband Network Cabling
Certificate IV in Electrical – Renewable Energy
Certificate IV in Rail – Communications and Network Systems
Diploma of Anaesthetic Technology
Diploma of Alcohol and Other Drugs
Certificate II in Telecommunications Technology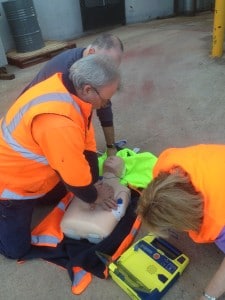 What Skill-set Do You Learn in a CPR First Aid Course?
At Real Response, course participants are instructed by qualified and experienced emergency services and medical personnel. In addition, learning is structured to be both academic and practical, with plenty of first-hand experience using genuine emergency equipment. Real Response training techniques develop emergency response skills, teamwork, initiative, leadership and confidence, supporting a strong knowledge base courtesy of Real Response course facilitators. The result is an extremely well rounded first aid and CPR skill-set.
CPR Content includes the procedural steps required to effectively perform CPR. The steps are easily assimilated thanks to Real Response simulation training that induces realistic emergency response. CPR content quickly becomes a skill-set acquisition when simulation training is included, with attainments that include understanding of Automatic External Defibrillation (AED), communicating in an emergency, CPR procedures for adults, children and infants, airway management and more.
Real Response CPR Refresher Training
The majority of first aid and CPR attainments are valid for between 1 – 3 years, and all will require renewing at some point. Although first aid practices are tried and tested, technology still provides ground-breaking innovations that are adopted by first aiders. First aid and CPR refresher training ensures all qualified first aiders are attuned to the latest first aid developments and practices, while also cementing previous attainments and improving overall first aid skills.
An alternative to first aid and CPR refresher training is to broaden first aid skills with further attainments. Real Response courses include Provide Advanced First Aid and First Aid Management of Anaphylaxis, with qualifications ultimately resulting in a fully equipped skill-set to deal with almost any emergency. Real Response CPR content and training can be tailored for industry-specific purposes relative to work, school or community settings. Employers appreciate Simulation Training, a Real Response training industry initiative using realistic accident and emergency scenarios.
Simulation Training uses actors, props, sirens, first aid equipment, teamwork and time-frames to elicit natural responses. Course participants quickly learn the value of co-operation and communication during emergencies where leaders and followers both have valuable roles to play. Real Response believes every student is an individual capable of emergency response, and once training is complete, our students also have the self-belief required to save lives.