What is a Level 2 first aid certificate?
Level 2 First Aid is an ideal introduction to first aid practices and principles. The certificate is a nationally accredited statement of attainment recognised by the Australian Resuscitation Council. The capabilities Level 2 First Aid delivers are transformative, allowing everyday Australians to prioritise health and safety at work, home or anywhere else. Level 2 First Aid qualifications are an opening to greater job satisfaction, promotion, or an entirely new career.
Real Response is leading the change in first aid and CPR instruction, using simulation-based first aid training that immerses students in the learning experience. Simulation training is revolutionary, providing genuine emergency response practice. Course graduates are ready to approach life-threatening situations with knowledge, skill and confidence the moment training is complete.
How long does a Level 2 First Aid certificate last?
A Level 2 First Aid certificate is recognised Australia-wide, and lasts for 3 years before a short refresher course is required. The first aid training industry continues to evolve, aided by scientific breakthroughs, the uptake of life-saving devices, and the demand from employers for proficient and qualified first aid staff. When trained by Real Response professionals, life-saving skills are life-changing, and can be carried with you wherever you go.
Real Response Level 2 First Aid (Provide First Aid HLTAID003) training includes instruction and practice to familiarise course participants with innovations such as Automated External Defibrillators (AEDs) for responding to cardiac arrest, and adrenaline auto injectors for anaphylaxis response. At Real Response, course participants train in realistic emergency scenarios, overseen by some Australia's best paramedics, military medical personnel, firefighters and more.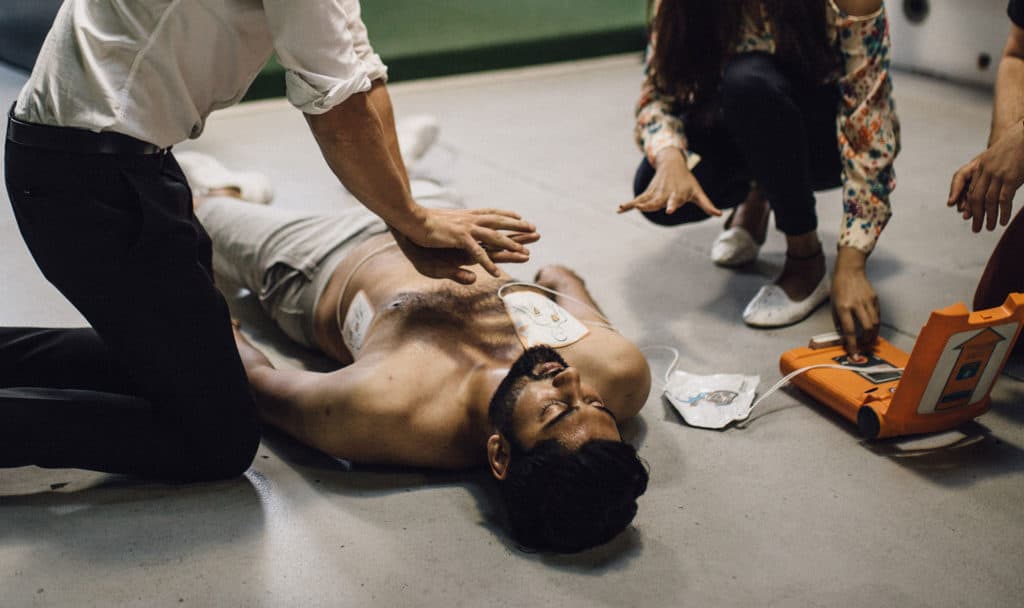 How do you get a Level 2 First Aid certificate?
This is where Real Response stands out from the competition. We bring simulation-based first aid training to your premises anywhere in the Sydney CBD and suburbs. Level 2 First Aid is also delivered with in-house training programs at our Sydney Head Office, along with extremely popular public courses in various locations. When prioritising health and safety, everyone should have the opportunity to learn first aid, a value Real Response course developers and instructors deliver in style.
Level 2 First Aid certification is completed with one or two-day first aid courses options focusing on first aid essentials. You will also benefit from risk management and team-building strategies that can strengthen any organisation. Simulation-based training, similar to that employed by the military and police, is an incredibly effective first aid training method that really does save more lives. Simulation training used in Level 2 First Aid includes:
Realistic emergency response practice for developing genuine capabilities
Simulation-based training at you workplace, school, or other premises
Talented actors and realistic props for enhanced learning
Fake wounds, fake blood and life-like props
Active and timed emergency response practice
Emergency lights, sirens, pyrotechnics, 000 calls and more
The use of defibrillators, auto adrenaline injectors and other first aid equipment
With so much to learn, it's no surprise that first aid knowledge and skills retention isn't easy during real emergencies. Real Response was founded in late 2014 to address the situation, and simulation-based first aid training has quickly transformed the industry. A Level 2 First Aid certificate attained at Real Response empowers regular people to transition from innocent bystanders to active first aiders at a moment's notice.
What does Level 2 First Aid cover?
Level 2 First Aid covers a skill set that can be carried with you for life. Low-frequency, high-risk accidents, incidents and emergencies can happen anytime to anyone, making first aid an empowering addition to personal qualifications. Here are just a few of the attainments gained in Level 2 First Aid (Provide First Aid HLTAID003):
Provide cardiopulmonary resuscitation (CPR) to an adult, child and infant
Automatic External Defibrillation (AED) practice
Anaphylaxis response using an adrenaline auto-injector
Treating seizures and other debilitating ailments
Immobilisation techniques to address head and spinal injuries
Treatment of sprains, strains, fractures and dislocations
Management of bleeding along with bandaging techniques
Additional first aid skills learnt in Level 2 First Aid include communication in an emergency, respiratory emergencies, environmental injuries, animal injuries, and eye, ear and nose injuries. Employers in Australia expect relevant first aid and CPR qualifications from employees, with first aid training expanding to fulfil multiple roles in the workplace.
Simulation-based first aid training, or 'learning by doing' is an ideal emergency response training method for cardiopulmonary resuscitation (CPR), artificial respiration (mouth to mouth), anaphylaxis, and other life-threatening situations.
What does Level 2 first aid enable you to do?
In only a day or two of dedicated first aid training, you will develop skills and knowledge applicable to the most commonly experienced accidents and emergencies. Level 2 First Aid qualifications are useful at home, work, and any place where people gather. Safety and security in Sydney is important, making Real Response training courses a good move for your business or other enterprise.
If you are a business owner or manager, Real Response Level 2 First Aid training for your staff is highly recommended. Real Response educators and simulations experts will design an approach specific to your needs and use the most progressive simulation techniques for realistic first aid training.
First aid training encourages personal growth along with skills and knowledge acquisition.  Level 2 First Aid (Provide First Aid HLTAID003) is a great introductory course and essential step in gaining higher first aid qualifications that can open up dozens of opportunities. Level 2 First Aid packs a lot into a short training course, and Real Response is here to deliver results.