What Is A Level 2 First Aid Certificate?
Level 2 First Aid is an ideal introduction to first aid practices and principles. The certificate is a nationally accredited statement of attainment recognised by the Australian Resuscitation Council. The capabilities Level 2 First Aid delivers are transformative, allowing everyday Australians to prioritise health and safety at work, home or anywhere else. Level 2 First Aid qualifications are an opening to greater job satisfaction, promotion, or an entirely new career.
Real Response is leading the change in first aid and CPR instruction, using simulation-based first aid training that immerses students in the learning experience. Simulation training is revolutionary, providing genuine emergency response practice. Course graduates are ready to approach life-threatening situations with knowledge, skill and confidence the moment training is complete.
What Does Level 2 First Aid Cover?
Level 2 First Aid covers a skill set that can be carried with you for life. Low-frequency, high-risk accidents, incidents and emergencies can happen anytime to anyone, making first aid an empowering addition to personal qualifications. Here are just a few of the attainments gained in Level 2 First Aid (Provide First Aid HLTAID011):
Provide cardiopulmonary resuscitation (CPR) to an adult, child and infant
Automatic External Defibrillation (AED) practice
Anaphylaxis response using an adrenaline auto-injector
Treating seizures and other debilitating ailments
Immobilisation techniques to address head and spinal injuries
Treatment of sprains, strains, fractures and dislocations
Management of bleeding along with bandaging techniques
Additional first aid skills learnt in Level 2 First Aid include communication in an emergency, respiratory emergencies, environmental injuries, animal injuries, and eye, ear and nose injuries. Employers in Australia expect relevant first aid and CPR qualifications from employees, with first aid training expanding to fulfil multiple roles in the workplace.
Simulation-based first aid training, or 'learning by doing' is an ideal emergency response training method for cardiopulmonary resuscitation (CPR), artificial respiration (mouth to mouth), anaphylaxis, and other life-threatening situations.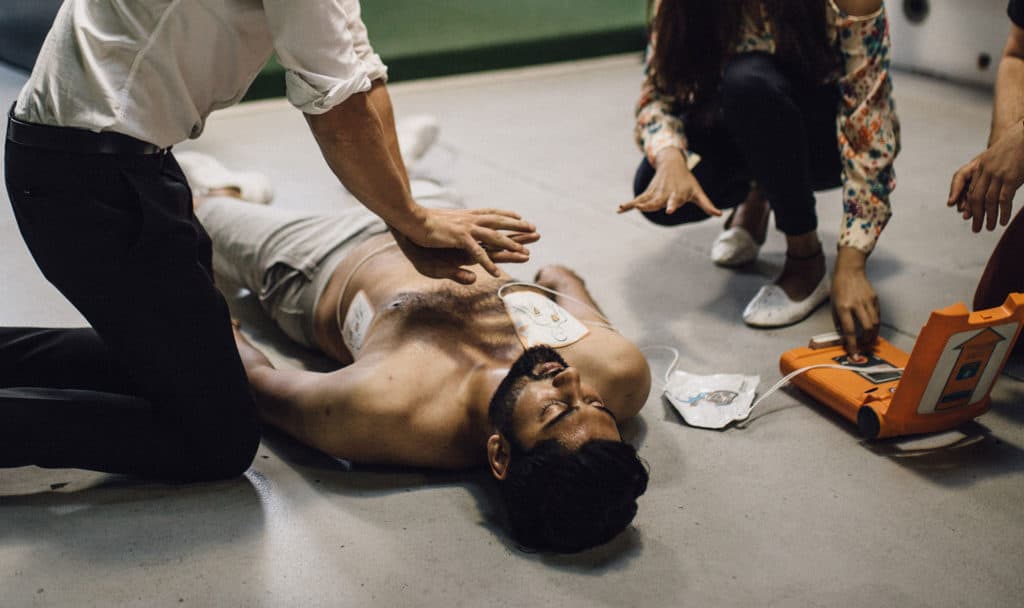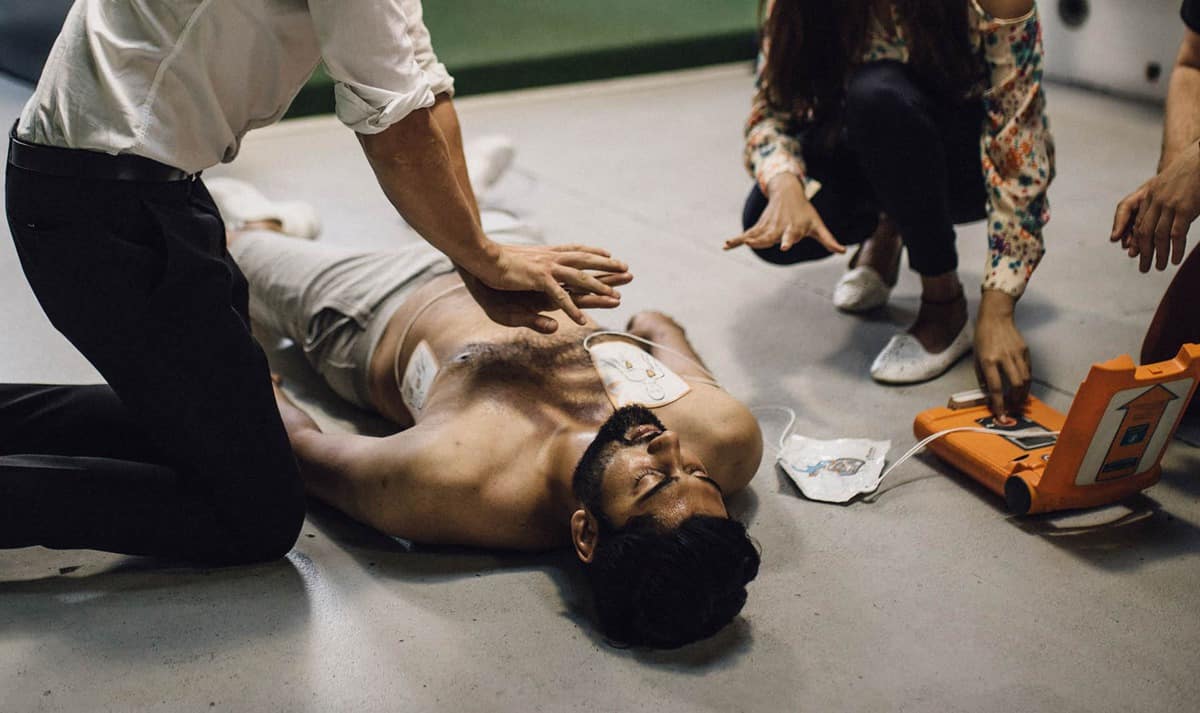 What Does Level 2 First Aid Enable You To Do?
In only a day or two of dedicated first aid training, you will develop skills and knowledge applicable to the most commonly experienced accidents and emergencies. Level 2 First Aid qualifications are useful at home, work, and any place where people gather. Safety and security in Sydney is important, making Real Response training courses a good move for your business or other enterprise.
If you are a business owner or manager, Real Response Level 2 First Aid training for your staff is highly recommended. Real Response educators and simulations experts will design an approach specific to your needs and use the most progressive simulation techniques for realistic first aid training.
First aid training encourages personal growth along with skills and knowledge acquisition.  Level 2 First Aid (Provide First Aid HLTAID011) is a great introductory course and essential step in gaining higher first aid qualifications that can open up dozens of opportunities. Level 2 First Aid packs a lot into a short training course, and Real Response is here to deliver results.
What are the requirements to complete a Level 2 First Aid course?
If you have a desire to take leadership in emergency situations and can dedicate two days for learning the correct procedures and techniques, you are good to go for Level 2 First Aid training. By completion of the Level 2 First Aid course you will have the skills and knowledge required to approach an emergency situation, assess the condition of injured persons and deliver appropriate first aid. Progressive first aid equipment includes automated external defibrillators (AEDs) and adrenaline auto-injectors for providing the best basic emergency life support possible.
Real Response instructors employ simulation-based training methods that ensure you develop optimal first aid capabilities for addressing wide-ranging medical conditions, including life-threatening situations. You will learn everything from basic first aid, bandaging, communicating in an emergency, and even how to stabilise a casualty and maintain their essential bodily functions until professional medical assistance arrives. Level 2 First Aid (Provide First Aid HLTAID011) is an ideal introductory course covering the most commonly applied emergency first aid response procedures.
How to enrol in a Level 2 First Aid course in Sydney?
Sydney is a huge city, and Real Response is committed to delivering the best first aid training outcomes for everyone. We have training options suitable for individuals, groups, the workplace, schools and other establishments where health and safety is prioritised. Our simulations experts can transform your workplace or other premises for tailored Level 2 First Aid training using actors, props, sirens, 000 calls, pyrotechnics and more for developing genuine on-site emergency response capability.
Alternatively, you can train at our dedicated Sydney headquarters or join a public training course. Our public courses are held at convenient locations around the city and suburbs so you and your friends can enrol for training at a time and place that suits you. Real Response Level 2 First Aid courses are among the best value qualifications available and a great introduction to higher-level attainments. Connect with our helpful staff online or over the phone for more information about the First Aid Level 2 course (HLTAID011 Provide First Aid) and other Sydney first aid courses that can be tailored specifically for your requirements.