The vast expanse of Australia necessitates a tailored first aid response for many accidents and emergencies. Our country is beautiful, but also often inhospitable and sometimes inaccessible, with danger potentially lurking around every corner. Visitors to our shores can be unfamiliar with the challenges Australia presents, making Remote First Aid (HLTAID013) an essential service skill in many industries and fields of employment.
The skills developed in Remote First Aid training can also be transposed into city and regional environments where casualties are isolated and require assistance that only a trained first aider can provide. For those involved in a low-frequency, high-risk emergency, local assistance is what they require, no matter where the emergency occurs. Real Response Remote First Aid training provides emergency survival techniques and procedures that sustain life while waiting for emergency services personnel to arrive, ultimately making the difference between life and death in some situations.
What is the remote first aid course held in Melbourne?
Remote First Aid (HLTAID013) is a nationally accredited first aid course suitable for persons working in a wide-ranging employment fields. Although city-based, Real Response in Melbourne was established to benefit all Australians no matter where they reside. The knowledge and skills are learnt using enhanced simulation based first aid training that empowers course participants with life saving skills even while undertaking the course. Simulation training, or 'learning by doing' has revolutionised the first aid training industry in Australia, using methods that include:
Actors, props and simulations that emulate genuine emergency situations
The use of real emergency equipment purpose-designed for tailored response
Enhanced reality using pyrotechnics, sirens, 000 calls and more
Timed emergency response for developing the appropriate first aid skill set
Communication, teamwork and leadership skills development
Appropriate handling and treatment of casualties according to industry expectations
Who would benefit from the Melbourne remote first aid course?
Melbourne is linked to the rest of Australia via vast networks of transportation, energy and infrastructure. Many residents of Melbourne are employed in regional and outback locations, while visitors are keen to explore the countryside and coastline. With so many people accessing remote locations for employment or adventure, Remote First Aid (HLTAID013) becomes an industry-standard course worth considering.
Melbourne and the rest of Australia is embracing first aid training relevant to employment, with many industries now expecting potential employees to attain tailored qualifications. Health and safety issues have become paramount, making Remote First Aid qualifications essential components of other training courses that include:
Certificate IV in Guiding
Advanced Diploma of Hospitality
Gas Supply Industry Operations
Certificate IV in Holiday Parks and Resorts
Diploma of Travel and Tourism Management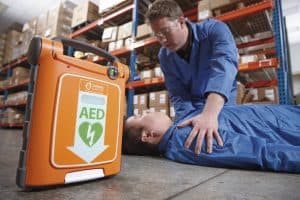 What skills does the remote first aid course develop?
Remote First Aid (HLTAID013) includes all emergency response techniques and procedures regularly faced in isolated situations. The skills developed also translate to urban and regional environments where a swift emergency response is required. In addition, the course also develops dedicated skills training such as contingency planning and communications applicable to remote situations. Remote First Aid includes psychological first aid (PFA) that empowers first aiders with the ability to provide emotional and practical support for victims experiencing a traumatic event. Remote First Aid attainments and skills include:
Perform CPR on an adult, infant and child
Bandaging first aid for treating injuries
Automated external defibrillator (AED) training
Airway management techniques and procedures
Adrenaline auto-injector use for treating anaphylaxis
Casualty care including psychological assistance
Communication with bystanders and emergency services personnel
How long does the remote first aid course take to complete?
The Real Response Remote First Aid course in Melbourne is completed in 2 days of enlightening and enlivening training. The course provides nationally accredited attainments that are recognised for 3yrs prior to a short refresher course. Remote First Aid is serious business taught by Australia's finest instructors who are all highly trained and qualified paramedics and medical emergency personnel. Real Response training results in superior qualifications and skills that are easily recalled whenever and wherever a life-threatening emergency occurs, making our Remote First Aid course in Melbourne an essential attainment for workers in remote and wilderness areas.
Established in late 2014, Real Response is at the forefront of change in the first aid training industry, reversing unacceptable levels of first aid knowledge retention among trained first aiders. Our training methods are making a real difference in the lives of first aiders, and particularly in the lives of those who they save. Our commitment to superior first aid training is unwavering, and we invite you to experience the Real Response difference.