What You Will Learn?
CPR without equipment
CPR with equipment (bag valve mask, pocket mask and oxygen)
Bag valve mask resuscitation
Bag valve mask ventilation
Clearing the airway using suction
Oropharyngeal airways (OPAs)
Oxygen pathophysiology
Oxygen theraphy utilising nasal prongs, Hudson mask and non rebreather
Oxygen storage and safety
Pulse oximetry
Who are the real first aid trainers?
Our qualified instructors are world-class legends. They're paramedics, firemen, critical care nurses and former military. These are people who know how to think on their feet and will teach you to do the same. Our trainers want you to be involved, ask questions and have a go. Great effort and planning is taken to ensure an inclusive, safe and non-intimidating learning environment. We don't want you to memorise a stack of information on 'how to apply first aid', we want you to experience it for yourself.
Meet The Team
How to choose a course?
Think of first aid training as a toolbox for life. The more training you complete, the more tools you will have in your toolbox. The more tools in your toolbox, the more you have to draw upon should you ever be faced with a real-life emergency. A great way to get your toolbox started is to think about why you want to complete first aid training. This will help determine what skills you may like to acquire first. There are many reasons why people complete first aid training. It could be to create a safer workplace at home or school or just to have the ability to help others. Your reasons can, and most likely will, change over time – and that's OK! You can always add to your toolbox.
Choose a course
Want to know more about Real Response training sessions?
Real Response training is conducted in groups. This can be at one of our venues, or we can come to you. If you're looking at first aid training for staff for example, this is an easy option – no travel required. Over the duration of the course you will take part in a series of 'simulated' emergency situations where you will be guided to respond effectively. Our priority is to ensure everyone in the group leaves feeling confident that they could apply first aid should they ever need to. We encourage team learning, problem solving and participation. One other thing, while we don't think emergencies are a laughing matter, we definitely don't shy away from making training sessions as engaging and enjoyable as possible.
Why choose Real Response?
There's a reason why Real Response receives on-going endorsements, industry and peer acknowledgement and positive reviews from graduates. Our dedication to delivering world- class first aid training is paramount. We truly want every student to engage, enjoy and learn from their experience with us. We understand that choosing a first aid trainer provider requires trust, and we want you to always feel like you're in safe hands.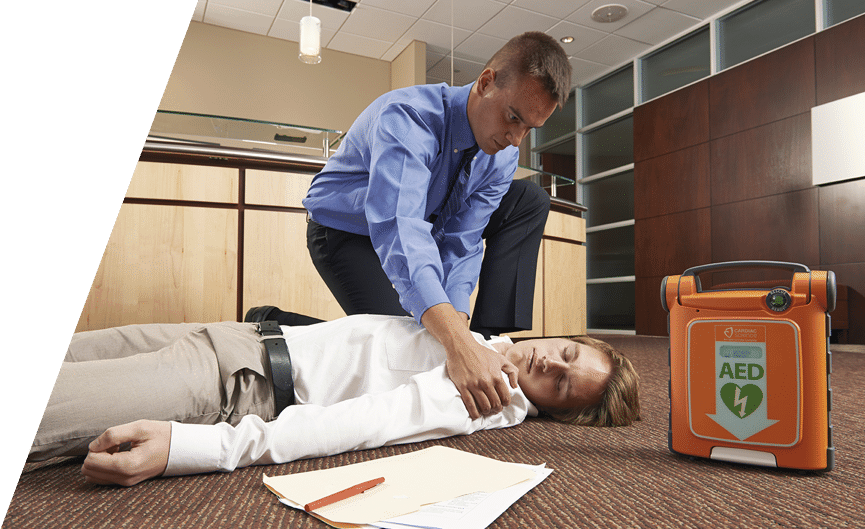 Provide Advanced Resuscitation
Professional emergency services personnel arrive at an emergency scene armed with everything they need to help save lives. Oxygen equipment and other medical devices are on hand for a variety of critical functions that help revive an unconscious person, while correct procedural steps guarantee the best chance of recovery. Provide Advanced Resuscitation course aims to expand and strengthen CPR knowledge and facts, and is a natural progression for people who have already attained Provide CPR accreditation. First aid courses encourage students to use real equipment in realistic settings.
Our simulation training is one reason Real Response courses are so popular, and when training is overseen by committed Real Response instructors, retention of essential information is easy. There is no doubt that courage is required to take the lead in an emergency, so our courses help students become comfortable with emergency equipment so it can be used effectively when the need arises. Provide Advanced Resuscitation is a real insight into emergency services careers such as paramedic or life guard, and the qualification is highly regarded by employers across all sectors.
Provide Advanced Resuscitation Attainments
A wide range of important skills are attained in Provide Advanced Resuscitation course. Real Response encourages teamwork to solve problems, while leadership skills needed to save lives are developed. Real Response instructors take their job seriously, but also know how to make learning a successful bonding session. The Real Response Provide Advanced Resuscitation course content and attainments include:
Hazard and risk control measures
Isolation of electrical faults
Safe function of emergency equipment and devices
Understanding workplace emergency procedures
Isolating live LV panel apparatus and safely removing the victim
Applying CPR and other life-saving procedures
Contacting emergency services personnel
Co-ordination of helpers and onlookers
Maintaining a safe and secure LV panel worksite
Reporting accidents, incidents and related safety issues
Provide Advanced Resuscitation is a life-changing and life-saving course. Preparedness for emergency is half the job done, and course attainments provide the mind-set required to respond to any emergency.
Real Response For Everyone
Course facilitators tailor simulation training for every purpose. Immersive learning at Real Response becomes a life-advantage, allowing people to enter difficult situations with confidence and purpose. Our props, staging and role-playing can be personalised to represent familiar workplace, school or other real-life situations where CPR skills are required. Real Response knowledge is retained deeply when students 'learn by doing' in settings that are familiar to them.
Thankfully, emergencies don't happen every day. For this reason, Real Response courses simulate high-risk, low-frequency events that require fast recall of life saving
techniques
. When combined with skills training and team building, the Provide Advanced Resuscitation course and other Real Response courses are easily assimilated and recalled whenever an emergency arises.