What You Will Learn In Provide CPR Course?
Responding to an unconscious
Airway management
Provide artificial respiration
Provide cardiopulmonary resuscitation to an adult & child infant
Two person operated CPR
Understand the basic principles of: automatic external defibrillation(aed) communicate in an emergency
Why choose Real Response?
There's a reason why Real Response receives on-going endorsements, industry and peer acknowledgement and positive reviews from graduates. Our dedication to delivering world- class first aid training is paramount. We truly want every student to engage, enjoy and learn from their experience with us. We understand that choosing a first aid trainer provider requires trust, and we want you to always feel like you're in safe hands.
Have questions? Let's chat, click here to get a call back in less than 28 seconds.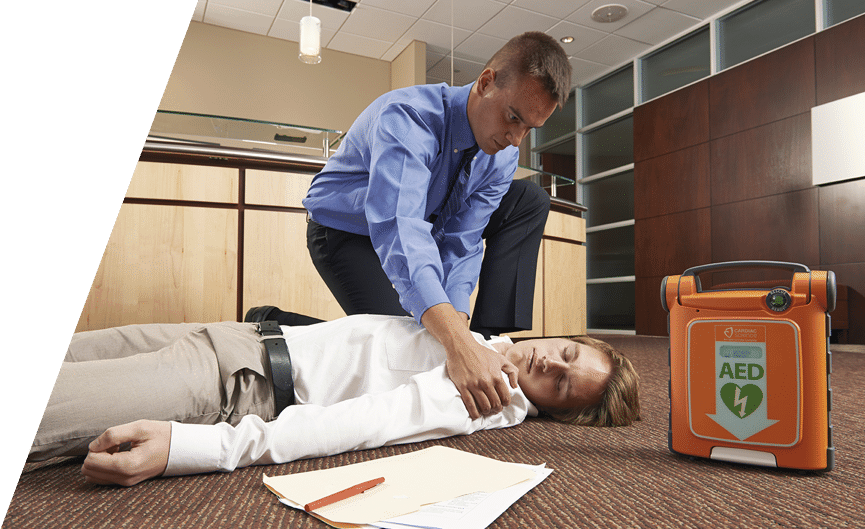 Can Anyone Apply First Aid In An Emergency?
Emergencies can happen any time and to anyone. It's natural that friends and onlookers want to assist, and any attempt is better than none at all. For example, a person suffering cardiac arrest can be benefitted by chest compressions alone, even when performed by someone without any formal training. However, the chances of recovery and survival are dramatically increased when chest compressions are performed by a trained first aider. The addition of rescue breaths performed correctly also increases the odds of survival.
When chest compressions and rescue breaths are quickly followed with automated external defibrillation, the patient has an even greater chance of recovery. Real Response can impart the above capabilities in only one or two days of enjoyable and enlightening learning. Simulation training also includes teamwork, leadership and communications skills for all-round emergency response capability, with nationally accredited qualifications held in high esteem by employers and business owners everywhere. Real Response courses are a life changing experience from the moment you apply, with knowledge and skills that can be carried through life and used decisively whenever an accident or emergency occurs.
Is Provide First Aid HLTAID011 A Good Choice For A Beginner?
Real Response training is progressive, with attainments fitting seamlessly together for greater depth of first aid understanding and ability. The knowledge and skills imparted by experienced emergency services personnel are second to none at Real Response, and HLTAID011 is a great option for people wanting to learn the most commonly utilised first aid procedures. Provide First Aid (HLTAID011), formerly known as Level 2 first aid, offers an outstanding array of attainments including:
• Provide CPR for adults, children and infants
• Provide artificial respiration
• Automatic external defibrillation (AED) training
• Shock and anaphylaxis response
• Accessing and managing injuries, fractures and bleeding
• Communication in an emergency
There are many more skills learnt in HLTAID011, and for newcomers wanting to apply, it's a foundational course that won't let you or anyone else down when the time comes to stand tall and take decisive action.
Do Trained First Aiders Provide Adequate First Aid Response?
Real Response was established for this very purpose. For too long, optimum emergency response was stifled due to inadequate knowledge and skills retention; an unsatisfactory outcome for those in the first aid training industry with a desire to impart genuine emergency response qualifications. Enter simulation training, a dedicated Real Response initiative and the first of its kind in Australia. Enhanced simulation training, formerly used only by medical emergency personnel and the military, is perfect for first aid training, where practice is the only way to develop an appropriate skill set that can be retained for life.
At Real Response, we encourage students to participate in simulated reality, where workplace, school and community settings are re-jigged to replicate actual emergency environments. With the addition of actors, props, real emergency equipment, sirens, flashing lights, pyrotechnics, teamwork, and life-saving timelines, course participants become immersed in genuine first aid and CPR procedures, all safely overseen by highly qualified Real Response experts. In other words, on completion of the course, lasting between half a day and three days, Real Response graduates are ready, willing and able to respond to accidents and emergencies with confidence, courage, knowledge and skills that are second to none.