First Aid training in Australia has undergone a revolution since 2014 when Real Response was established. Traditional deskbound learning has been overhauled, and the addition of simulation training, or 'learning by doing' is changing the face of first aid and CPR training for the better. Practicing emergency response in realistic situations provides deeper learning, greater knowledge retention, and the confidence to step forward and help when no one else can. The reputation of Real Response is spreading fast, and the company is now established in Melbourne and Sydney, with first aid trainers reaching all around Australia and abroad to impart higher levels of first aid competency.
What first aid classes are offered?
We set ourselves high goals at Real Response, and take steps to reach our clients wherever they are. Our mobile first aid trainers visit workplaces, schools and other organisations to deliver on-site classes for enhanced safety in familiar surroundings. Conversely, our classes are also held at our training centres in Melbourne and Sydney. Real Response course instructors are highly experienced emergency response personnel, firefighters and medical staff who have witnessed first-hand the complexity of emergency response across wide-ranging situations.
To meet expectations, Real Response classes are tailored for all situations where a fast response is essential for best first aid and CPR outcomes. We naturally teach the foundational courses such as Provide CPR (HLTAID009), Provide Basic Emergency Life Support (HLTAID010), and Provide First Aid (HLTAID011). In addition, our classes include industry-specific attainments to ensure the safety of colleagues working in dangerous industries. Specialised courses include:
Tactical First Aid (RFA0001)
Remote First Aid (HLTAID013)
Perform Rescue from a Live LV Panel (UETTDRRF06B)
Provide First Aid in an ESI Environment (UETTDRFF10B)
Provide an Emergency First Aid Response in an Education & Care Setting (HLTAID012)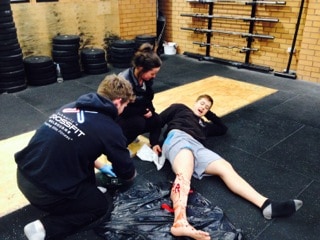 What is occupational First Aid?
From external appearances, safe workplaces look like any other, although there are differences that aren't always visible. Progressive employers and industries incorporate occupational first aid into the workplace to create a safe and healthy work environment, with the qualifications useful for any employee to attain. With first aid training, employees can carry out regular work functions, while the life-saving first aid knowledge and skills are ready for use when required.
Many workplaces have already established first aid protocol, including trained first aiders in building management, security, human resources and other roles where the maximum first aid benefit is achieved. Tailored occupational first aid classes are a Real Response speciality, transforming workplace settings into simulated emergency situations for realistic learning. Our knowledgeable instructors uncover workplace risks and dangers that need to be mitigated, while simultaneously helping employees discover emergency response capabilities for the benefit of everyone.
How do I know what first aid course to take?
Real Response courses are delivered to work, school and community groups requiring emergency response skills specific to their organisation. Our courses are adaptable to every need and can be held in-house or on location to provide added incentive for creating a safe and secure environment. We can guide you through the training process, suggest safe work procedures, assist in the establishment of a dedicated first aid area, provide first aid equipment and empower natural first aid emergency response leaders.
The skills and knowledge attained with Real Response simulation training become life skills that can be built upon, from essential CPR and airway management all the way to tactical first aid including ballistics, explosives and an introduction to triage (multiple casualty situations). Starting with the life-saving basics is a good idea, although for the person whose life is saved, basic first aid procedures are the most important of all.