There are a lot of first aid training organisations that deliver first aid qualifications – and then there is Real Response. Prior to undertaking a first aid course, it's worth investigating the methods and outcomes of various training organisations for delivering appropriate first aid, CPR and anaphylaxis management outcomes, along with other relevant attainments. In extreme cases, first aid emergency intervention is a life or death matter, and Real Response focuses on the most important capabilities for use in low-frequency, high-risk situations.
Why is it important to know about first aid?
No matter how safely a person leads their life, there is always the potential for an accident or emergency to arise. Real Response was founded to impart first aid knowledge for the benefit of everyone using revolutionary emergency response training methods that translate accurately into the real world. Whether at work, school, childcare or elsewhere, the presence of qualified first aiders makes it a safer place to be, and when first aid has been taught using simulation training, the capabilities are ready for use the moment training is complete. Real Response courses cover the full spectrum of first aid and emergency procedures applied around Australia daily, and the attainments are held in high regard by employers and industry experts without exception.
In fact, first aid and CPR qualifications are now essential attainments for employment in diverse industries including aviation, construction, childcare, health, transport, tourism and the electricity supply industry. Real Response courses contain important industry-specific competencies that lead to workplace progression and promotion.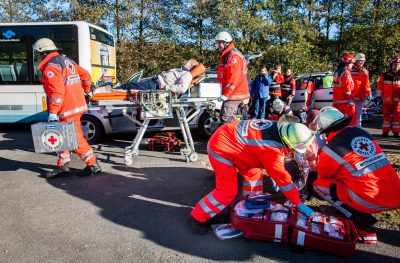 How do I know which first aid course is most important?
At Real Response, we treat every training module and course with equal importance. From the moment our enjoyable, interactive training commences, valuable information and competencies are delivered. In addition, the courses are compatible, providing attainments that form the foundation for enhanced life-saving techniques and additional career pathways. Our methods stand out from other training organisations due to the application of simulation training that emulates real-world situations for practising emergency response. Realism is a teaching tool overlooked in traditional classroom environments where students remain fixed to the desk in dormant inattention.
Our courses are tailored for industry-specific purposes. Familiar work, school and community settings are constructed using props, actors, special effects, 000 calls, simulated fire and more to create total immersion in the learning experience. Realistic simulation training is a Real Response innovation transforming the first aid training industry, and the life-saving results are being appreciated by fortunate recipients of quality first aid intervention. Real Response is dedicated to bridging the gap between theory and application of first aid and CPR procedures in ground-breaking courses that include:
Provide CPR (HLTAID009)
Provide Basic Emergency Life Support (HLTAID010)
Provide First Aid (HLTAID011)
Provide Advanced First Aid (HLTAID014)
First Aid Management of Anaphylaxis (22099VIC)
Are there other important Real Response courses worth learning?
Real first aid training is tailored to meet individual and collective needs. Our course facilitators and instructors are all highly qualified emergency services, medical and teaching professionals with the experience and know-how to deliver personalised outcomes. Group training is also encouraged to develop relevant teamwork, leadership and emergency communication skills. Real Response courses are an important bonding experience that increases life-saving capabilities, and select courses such as Provide First Aid in an ESI Environment are directly related to common industry-specific workplace dangers, hazards and appropriate emergency responses.
Are the first aid courses nationally accredited?
Every Real Response training course results in nationally accredited qualifications. Due to immersive learning, the knowledge and skills attainments are deeply entrenched and ready to be applied whenever required. Not every first aid situation is a life or death emergency, but it's reassuring to know that capable first aiders are on hand when required. Apart from the accredited qualifications, usually lasting between one and three years, Real Response graduates develop personal qualities and capabilities that count, and our capable instructors ensure every course participant develops their maximum level of first aid capability.
Real Response course qualifications are conveniently renewed with a quick refresher course, ensuring capabilities are up to date, along with the latest advances in first aid equipment and technology, including portable defibrillators, oxygen equipment, breathing devices and adrenaline auto-injectors for treating severe allergic reaction. The high-profile reputation of Real Response has spread rapidly since inception in 2014, and revolutionary 'learning by doing' first aid training is now available to Australians from all walks of life.