First aid courses are structured for achieving relevant attainments along with the potential for progressive learning. Real Response courses include all first aid industry standard courses for developing immense life-saving capabilities along with personal growth and self-confidence much appreciated by employers and industry experts. Our commitment to training excellence remains unwavering, supported by highly qualified instructors and course facilitators dedicated to making a real change in Australian society. The courses are tailored for industry-specific needs, making progressive course level attainments relevant for every occupation.
Are there different levels of first aid courses and what is the difference between them?
The first aid training industry has grown to match industry and employer expectations, and first aid qualifications are now the norm in a range of occupations and employment pathways. Real Response training course levels accurately reflect the changing needs in society, including the role of paramedics and onsite first aiders to perform life-saving procedures any place and at any time. First aid evolution includes portable defibrillators, oxygen equipment, airway management devices and adrenaline auto-injectors, all with the capacity for rapid and successful emergency response.
With a little dedication and practice overseen by the experts, first aid course levels aren't difficult to achieve, and with courses ranging from half a day to three days, the impact trained first aiders have in their workplace or community is immediate. Course attainments include first aid essentials with capabilities magnified by innovative Real Response simulation training for an immersive learning experience and greater knowledge retention. Course levels include:
Provide CPR (HLTAID009)
Provide Basic Emergency Life Support (HLTAID010)
Provide First Aid (HLTAID011)
Provide Advanced First Aid (HLTAID014)
First Aid Management of Anaphylaxis (22099VIC)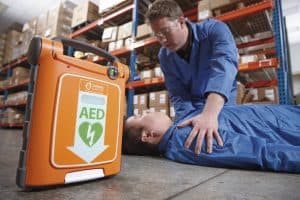 Why are there so many different first aid course levels?
The above courses are just a sample of extensive Real Response courses and the various levels of attainment. As more Australian industries and employers dedicate time and resources to safe work practices, the first aid training industry has adjusted to align procedures for industry applications, such as Electricity Supply Industry (ESI) workers who are required to undertake Provide First Aid in an ESI Environment (UITTDRRF10B) training applicable to their occupation.
Advanced first aid courses include Tactical Emergency Casualty Care (RFATAC001-3) with training relevant to police, the military, emergency services, security forces and diplomatic personnel. Attainments include introduction to triage, trauma injuries, explosive theory and ballistic theory. Provide Advanced Resuscitation (HLTAID015) is another extremely popular Real Response course including oxygen pathophysiology, pulse oximetry and many other innovative and progressive resuscitation techniques and procedures.
Do all course levels provide permanent first aid attainments?
First aid and CPR capabilities are easily learnt by anyone. However, it's important to retain the knowledge and skills required for performing correct emergency response procedures. For this reason, all first aid course attainments are kept current by undergoing a short refresher course periodically. All Real Response courses provide nationally accredited qualifications that last for between one and three years prior to renewal. Additionally, progressive medical science and technology provides ever-increasing scope for successful first aid intervention, and keeping up to date with the latest advances does save lives.
Are Real Response course level attainments useful for everyone?
Although tailored industry-specific first aid training is a Real Response specialty, we also encourage all regular Australians to undertake basic training for the safety of their family and friends. Real Response was established to close the gap between first aid knowledge and practical application that had been lacking, and the results have been outstanding. Real Response course participants appreciate innovative and hands-on simulation training that delivers superior knowledge and skills retention that translates accurately into real emergency situations.
Saving lives is everyone's responsibility, and when life-saving skills can be learnt in a few hours to a few days there is every reason to embark on your journey through our progressive first aid course levels. From childcare assistants to government minister minders, everyone is on an equal playing field at Real Response, with the same capacity to perform life-saving procedures. Along with course attainments, our students experience personal growth and the ability to provide a safe and secure environment for colleagues, friends and family. Real Response Course levels ensure emergency response capabilities are up to date, relevant, and ready to be implemented whenever required.